Montgomery Fired Up for Game One Against Western Carolina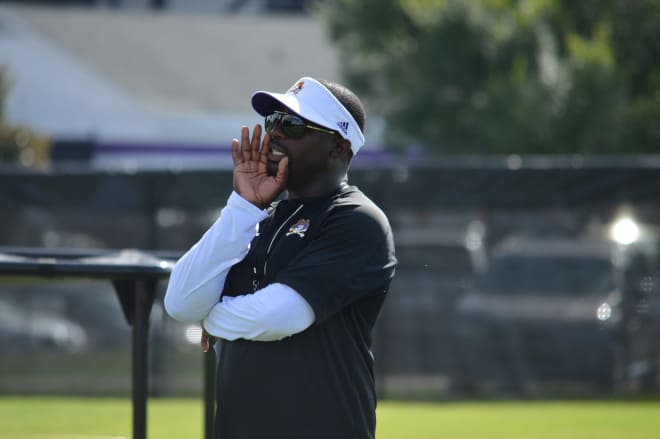 SCOTTIE MONTGOMERY WCU WEEK PRESS CONFERENCE
First year ECU head coach Scottie Montgomery is as ready as one can expect in this kind of situation. He hasn't figured out how it will all go yet and he talked about that on Monday.
"No, I don't have a routine figured out yet. I wish I were that good, but every 20 or 30 minutes, there's another part of the routine to add to. If I could close everybody out, I'd have a great routine. I've got a routine I put together five years ago for the first time I'd become a head coach, but unfortunately, that routine gets a curveball thrown in it every now and then. What I'm learning is you can't swing at all curveballs. Some of them have to hit the glove."
That's part of it right now," said Montgomery, "We're just trying to figure out the best way to make sure our team is ready, then that our fan base gets what they deserve and our coaches get what they deserve so they are energized and ready. It's easy for me to adjust. I'd like that routine to get tighter and tighter as the year goes on for me and my mentality, but right now, it's a learning process to be quite honest. I'm looking forward to it. It's going to be special and there is a certain level of excitement."
Montgomery has his team fired up and hopefully will be ready to go with the two teams tee it up Saturday night at 6pm in Dowdy-Ficklen Stadium to open the season.
"There is a lot of excitement in our building as we enter game week. We started this morning as a staff with a devotional about focus. I think that was a good segue to where we are," Montgomery said, "We prepared a long time for this week and weeks to come. Great opportunity to see where we are as a team on September 3. We're looking forward to the energy and enthusiasm that Dowdy-Ficklen provides us. We're really excited to get a chance to get in front of our entire fan base and give our kids a chance to play against someone else as we move forward."
Western Carolina head coach Mark Speir stands at 17-29 in five years in Cullowhee.
"Coach Speir has a good football team at Western Carolina. We've been able to watch them for a while now offensively. They return seven to eight starters. The scheme presents a few challenges for us defensively. One of the things that you see is they use the scheme to benefit their players. They do a good job in the zone read scheme. The triple option presents some problems from the fly motion and some of the things that they do."
6-1, 195 pound Wes Holcombe is listed as the starter at quarterback for the Catamounts with Tyrie Adams behind him.
"They have a quarterback battle going on right now between Wes and Tyrie but it's a good quarterback battle. A lot of people are always fearful when you have quarterback battles and you're trying to figure out who the quarterback is going to be, but both of those quarterbacks are capable. The challenge that is presents is because they are different at that position. Also, number 21 (Detrez Newsome) every place he shows up into, he plays well. He's a hard tackle and not only is he quick, but if he gets two to three yards out in front of you, he can take it the distance. If you don't believe that you can ask some of the big time opponents that they've faced."
A guy who is not talked about a lot is their "adjuster" the tight end (Michael Helms). He will line up in multiple positions in the run game. He can also quickly transition in the pass game to give you some difficulties in coverage. So he is also a big time part of their offense."
"Defensively I have a tremendous amount of respect for Coach Landry. He brings a different amount of pedigree on their defensive side of the ball," said Montgomery, "He's been in big time situations in the SEC and in the ACC he's been mentored by some big time football coaches. We think we know what they're going to do but there is always the concern of the unknown. The best thing about that is our defense has been playing against an offense all camp that uses multiple fronts."
"Their linebackers in my opinion are the strongest part of their team."
As we enter week one of the 2016 college football season, the first year ECU head football coach has made a few adjustments in his own opening day lineup.
First off, Messiah Rice and Demage Bailey will be out with a one game suspension dating back to last season and defensive end Darius Commissiong was exited from the program last Friday after an animal abuse incident.
ECU will be without the services of linebackers Joe Allely and Anthony Gutierrez along with offensive linemen Jack Doyle, Jered Huneycutt and Justin Sandifer and defensive lineman Randall Anderson. Davon Grayson remains out as well at wide receiver.
Justin Sandifer will get the start at left tackle for the Pirates and is a guy who Montgomery says is "flexible, has a good understanding of the offense and we trust him."
The Pirates will enter the season with new quarterback Philip Nelson under center. Behind him James Summers and junior college transfer Gardner Minshew are listed in that order.
Mike Myers will step up at defensive end in place Commissiong. Justin Brown is listed behind Myers at defensive end. Fred Presley will start at the other defensive end with Demetri McGill anchoring the nose tackle position for the Pirates on Saturday.
Corey Seargent, Bobby Fulp, Travon Simmons and DaShaun Amos (nickel) are listed as the starters in the secondary, but look to see a good deal of Colby Gore at the boundary corner and Xavier Smith at free safety too.
Versatile 6-4, 306 pound senior J.T. Boyd moves over from guard will get the start at center with Christian Matau backing him up. Will Dancy at 6-4 310 will start at right guard.
Minnesota and Rutgers transfer Phillip Nelson is listed as this week's starter at quarterback with James Summers or Gardner Minshew listed as the backups in that order.
It will be 5-9, 189 junior Anthony Scott at running back with 5-9 208 sophomore Devin Anderson listed behind him.