National Freshman of the Week Gardner and ECU Host Temple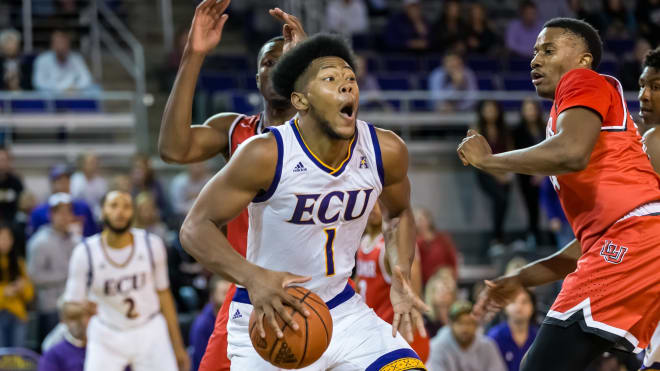 Temple (13-3/3-1 AAC) comes in as one of the hottest teams in the league. They are coming off an 82-80, overtime win over USF on Saturday afternoon at the Liacouras Center to improve to 13-3 overall and 3-1 in American Athletic Conference play.
Their numbers don't really stand out stat wise as overly impressive but the Owls are a scrappy bunch on the defensive end of the floor and they are crafty on the offensive end.
Jayden Gardner, who was named National Freshman of the Week on Tuesday by the US Basketball Writers Association, scored a personal best 35 points to go along with 20 rebounds in ECU's loss at UCF over the weekend and he is excited to get back home after the recent conference road trip.
"Against Temple we've got to get back in transition and ultimately we've got to guard our yard. We've got to take our man off the dribble and try to score," Gardner said on Tuesday, "We've got to rebound and play solid. I'm excited. I feel like we've been on a little vacation. We've been on the road like five days and it's just nice to come back home, see our fans. I love seeing our fans. It was packed the last time we were here so hopefully we'll have something similar."
Even though ECU came out on the short end of the last two games in conference play, Shawn Williams said it was still a confidence boost to see that his team could compete against the best in the league.
"I feel like it helped us a lot with our confidence knowing that we can play with any team in the conference. Every team in the conference is competitive. USF was at the bottom of the conference last year and now look at them, so we've just got to be prepared to play," Shawn Williams told PirateIllustrated.com, "UCF was predicted to win, Cincinnati was second. It's just a good conference and even though we lost we know we can play with other people."
ECU's guards had their issues hitting shots this past weekend against UCF. Getting shots to fall from the outside could prove to be pretty important to ECU's fortunes Wednesday night against the Owls in order to open things up in the paint.
"It's going to be very important because they play fast in transition and they swarm the ball once we drive so me and the other shooters, K.J., we've got to be ready to shoot," Williams said.
"After the last game it's good to get in front of our fans. Hopefully we'll have a great crowd and draw some of the energy. I think the guys are excited and I think they can see that we're getting better," said ECU head coach Joe Dooley, "We're trying hard. We just need to try a little smarter. That's part of the progression. We are giving good effort but the flip side of that deal is we should always try hard. Playing hard is an every day deal not just a some day deal."
The Owls dominated the first twenty minutes of their most recent game against USF game and Temple led by as many as 17 points. USF came out after halftime and outscored Temple by 13, hitting 70.4 percent from the floor including 5 of 8 from the arc.
It could have been a blowout win for Temple if not for 22 Owl turnovers, including a career-high eight from senior guard Shizz Alston who leads the team in scoring at 19 points a game and 5.4 assists per outing.
Temple guard Nate Pierre-Louis led the Owls with 22 points and sophomore forward J.P. Moorman scored 12 points and pulled down 13 rebounds for his second career-double against USF this past weekend. The other came in a win over ECU last January.
"Their three guards provide 66 percent of their points which is a big part of it. I think they have 58 or 59 more steals than their opponents so they do turn you over and get out in transition which is a major thing," Dooley told PI, "Alston is an elite player. Their guards are all very good. (Quinton) Rose and (Nate) Pierre-Louis, those guys can all score a bunch of different ways so we've got to get back and guard our yard."
"Our best basketball is really ahead of us. We're winning games, but we're not really winning games. We're not playing our best, Pierre-Louis said after the USF game, "Our best basketball is ahead of us, and it's going to get scary."
"We just have to put together a whole 40 minutes," said Moorman, "That's the main thing. We just struggled putting together a whole 40 minutes of any game. So once we do that, I feel like we'll be playing our best ball."
6-10 center Damien Moore and backup guard Alani Moore were both held out of the game with sprained ankles. Moore leads the team in field goal percentage at 65 percent and the Owls hit 74 percent of their free throw attempts.
Dunphy said he's hopeful the pair could return for for the ECU game Wednesday night.
"They're both sprained ankles and hopefully they'll be OK," Dunphy said. "I knew they were out today. Hopefully we can get them back for Wednesday, but that'll be up to the trainer and the doctor and those two guys, we need them."
Meanwhile, freshman big man Arashma Parks was in uniform Saturday and participated in warm ups. Parks has been out after undergoing shoulder surgery on Oct. 10 and as a result has not appeared in a game this season.
Catch PI Audio from ECU guard Shawn Williams, Jayden Gardner and ECU head coach Joe Dooley who discuss the upcoming Temple game in Minges Coliseum Wednesday night at 7 o'clock.
PI AUDIO: ECU HEAD COACH JOE DOOLEY PREVIEWS TEMPLE
PI AUDIO: SHAWN WILLIAMS & JAYDEN GARDNER PREVIEW TEMPLE