Nzege's Expectations Are High Coming Into His Senior Season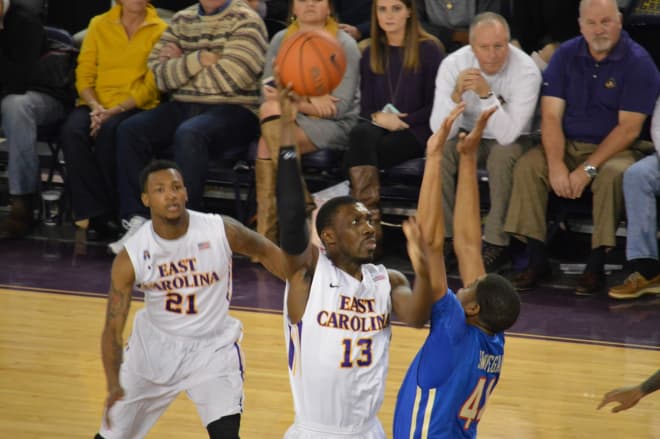 Power forward Michel Nzege came to ECU from Winston-Salem State two years ago and has averaged just over five points and 4.2 rebounds a game in a Pirate uniform. The 6-8, 220 pounder is a Geneva, Switzerland native, but played high school hoops at Mount Zion Academy.
Last season, Nzege gained great experience making 15 starts and averaging 4.4 points and 3.7 boards in 18 minutes of play per game. The Pirate senior sported a nearly 52 percent field goal percentage and hit 80.5 percent from the stripe. He also led the team in blocked shots with twelve.
Nzege's best game was against Charlotte last year where he poured in 21 points. He pulled down five rebounds or more in eleven games last year. After starting the first six games of the season Nzege sat out three games with an injury before returning.
As a sophomore Nzege played in all 33 games, starting in 32 of them, averaging 5.8 points per game and 4.7 rebounds after sitting out a year under transfer rules. He made the All Freshman squad in the CIAA in his first year at Winston-Salem State.
Entering this season, Nzege is very optimistic and continues to improve. He should benefit from having more size in the paint around him which will free him up to play power forward and he even hopes to step outside and fire some mid and longer range jumpers facing the basket.
PirateIllustrated.com caught up with Nzege who is excited about the upcoming season and talks about what he hopes to accomplish in this his senior year at East Carolina.
Click into the Michel Nzege interview as PirateIllustrated.com continues our preseason coverage of Pirate basketball.