Ole Miss Rallies to Sweep ECU 8-6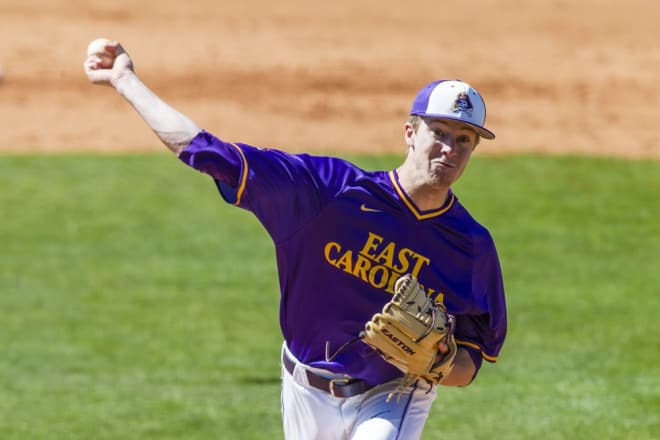 A five-run sixth inning rally from a four-run deficit highlighted an 8-6 game three win for Ole Miss and three-game sweep of East Carolina Sunday afternoon in front of 9,500 at Swayze Field.
Freshman Dallas Woolfolk came on in relief late in the game to strike out three straight Pirates with the bases loaded in the eighth inning to seal the victory and he picked up the save.
Pirate reliever Hunter Hood took the loss for East Carolina(0-3)
Ryan Rolison came on in relief to pick up the victory for Ole Miss(3-0)
Dwayna Williams-Sutton and T.J. Riles found their way on base with hits in the top of the first inning for the Pirates. A passed ball advanced both runners. With two outs Travis Watkins' base hit past short stop Grae Kessinger delivered ECU a pair of runs to give the Pirates an early 2-0 lead.
Will Golsan's seeing eye single past second baseman Charlie Yorgan got the bottom of the second off to a good start for the Rebels. Cole Zabowski then tagged a two-run home run off of freshman Trey Benton to tie the contest at 2-2.
ECU did some more damage in the sixth when Watkins doubled down the right field line off of Ole Miss starter Brady Feigl. That scored Eric Tyler and advanced Brickhouse to third.
Ryan Rolison came on in relief for Feigl for Mississippi and Luke Bolka was intentionally walked to load the bases. Charlie Yorgan then singled to score Watkins and Brickhouse to give ECU a 5-3 lead.
Bolka added to the damage, scoring from third on Nick Barber's bunt when Rolison slipped while attempting to throw to home plate. That extended the Pirate lead to 6-2.
Right hander Matt Bridges came on in the bottom of the sixth for ECU, replacing Joe Ingle.
Bortles was hit by a pitch. He then advanced to second base on Chase Cockrell's ground out to third. Then Will Golsan singled to score Bortles to cut the ECU lead to 6-3.
Ole Miss kept the rally going when Cole Zabrowski singled up the middle to score Dillard and Golsan in a 6-5 contest.
Hunter Hood came on for Bridges who only lasted a third of an inning after giving up three runs.
Hood walked pinch hitter Michael Fitzsimmons who was replaced for Carson Kepzig to pinch run. Hood was then lifted for Chris Holba.
The Rebel fireworks continued as Grae Kessinger reached on a fielders choice and Zabowski advanced to third. Then Olenek doubled to right center to score both Kessinger and Zabowski as Ole Miss retook the lead 7-6.
Chase Cockrell doubled down the right field line off of Holba in the bottom of the seventh and then scored on a passed ball to make the score 8-6 Ole Miss.
Dallas Woolfolk struck out three straight batters after ECU had loaded the bases in the top of the eighth.
Kessinger had three hits while Zabowski had two hits, scored two runs and had four RBI for Ole Miss. Travis Watkins went 3 for 5 for ECU and had three RBI to lead the Pirates.