Ole Miss Tops ECU 5-4 in Opener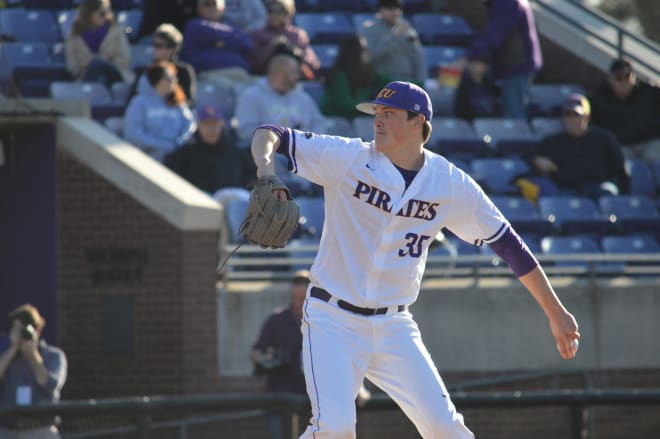 The Pirates got off to a good start, but Ole Miss got the better of it in the end in the season opener of a three-game series for both teams in a 5-4 win in front of an all-time record record crowd of 12,117 at Swayze Field in Oxford.
Rebel lefty David Parkinson(1-0) picked up the opening day victory, giving up three runs in seven innings of work.

ECU All-American Evan Kruczynski(0-1) went seven innings for ECU giving up four runs and took the opening day loss for the Pirates. Will Stokes picked up the save for Ole Miss(1-0)
ECU(0-1) got on the scoreboard first when Dwanya Williams-Sutton's homer to left-center put the Pirates up early 1-0 on the first at-bat of the season.
Ole Miss scored on an error in their half of the first frame. Then Will Golsan homered off Kruczynski for a 2-1 Rebel lead in the second inning.
The Pirates took the lead in the fourth inning when Brickhouse, Luke Bolka and T.J. Riles doubled to give ECU a 3-2 cushion before Ole Miss responded, taking advantage of two ECU errors. Thomas Dillard's double then gave Mississippi a 4-3 lead.
Ole Miss added to the lead when Chase Cockrell's single off of ECU relief pitcher Matt Bridges extended the Rebel lead to 5-3 before Spencer Brickhouse's first homer as a Pirate got ECU back to within one run at 5-4 with two outs in the 9th inning.
The Pirates will look to reload in game two of the three-game series at 2:30 Saturday afternoon.