Pirate Rally Falls Short in 73-66 Wednesday Night Loss to Radford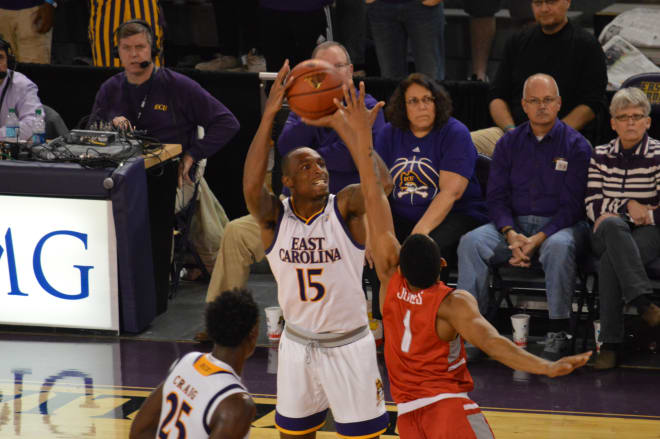 Radford held off a furious ECU late first half and early second half rally to pick up a 73-66 win over the Pirates Wednesday night in Minges Coliseum.
Ed Polite tossed in 17 points and pulled down six rebounds to lead the Highlanders who also got nine points each from Carlik Jones and Caleb Tanner.
The Pirates were led by senior guard B.J. Tyson who scored 16 points. ECU got thirteen points from Kentrell Barkley and ten each from point guard Shawn Williams and 6-10 Jabari Craig who also registered a double-double with 11 rebounds.
Tyson talked about the loss after the game and what makes it the hardest.
"The fight in the second half. In the first half we were down by fourteen and we went into halftime down by seven," Tyson said, "I was telling the guys we're only down by seven and we can make a comeback. We've got to show them how to play Pirate basketball. When we came back out, the guys bought in and that's what we did and I'm proud of my brothers because we fought until the end."
"Once we took the lead I felt like we should have slowed down and took control of the game and some good things would have happened," said Tyson.
But much of the story was Radford(2-1) getting to the free throw line 34 times where they made 23 while ECU hit just 38 percent from the floor and only got to the charity stripe a far fewer twenty times. Even though the Pirates made 16 of them it proved to be much of the difference in the end.
There were five technical fouls called in the contest, most of which were of the dead ball tick-tack variety. There were 47 fouls called between the two teams combined and ECU head coach Jeff Lebo addressed the play of his young players after the game.
"Defensively we did well other than the fouling. That was what hurt us more than anything was the foul shots. This time of the year there is a lot of fouling. You see it a lot early in games. You've got to be able to adjust your game for that. Our young guys had a hard time fouling tonight and they had a hard time guarding (Ed) Polite who really got them off the bounce multiple times and got us in foul trouble," Lebo said.
"Getting beat is one thing but when you have the self inflicted wounds that's harder to handle. That is something we can fix there."
Shawn Williams came on to hit a pair of three-pointers to go along with going 4 of 4 from the charity stripe, but he went just 2 of 8 from the field overall as the maturation process continues for the redshirt freshman out of Little Rock.
"Shawn made a couple of big shots for us. He's a freshman, He had a late turnover that they get a dunk on. He jumped in the air late on a close out when he should have stayed on the floor, but he's just learning, he's a freshman," Lebo said.
"Our young big guys got beat off the dribble a little bit by Polite. That was the big area defensively. Offensively they were fine, but defensively we had a little bit of trouble guarding the athleticism of Polite out there with his speed, quickness and strength."
6-10 senior Jabari Craig hasn't played a lot in his two years at ECU after transferring over from Pearl River Junior College but he is getting better every night for the Pirates who will need his presence in the lane if the Pirates are to be successful.
"I thought Jabari played very well. He had a couple of big baskets for us. He got to the free throw line for us and was four of six from the foul line. He blocked a shot. He had eleven rebounds for us and a couple of man rebounds for us," Lebo told PIrateIllustrated.com, "He's going to be an important part. Hopefully he will get some confidence from this game. He had a double-double. We've got to get him confident. That's the one thing. He hasn't played a lot so hopefully it will be a good step forward for him."
Radford went up by as much as fourteen points in the first half before B.J. Tyson scored five points of his own right before halftime to cut the lead to 37-30. Kentrell Barkley led ECU with eight points to go along with seven first half points from Tyson and Pirate point guard Issac Fleming.
Justin Cousin, Travis Fields and Donald Hicks had five first half points each to lead the Highlanders.
ECU got twenty of their first half points in the paint while Radford got 22 of theirs from their bench. The Highlanders got to the charity stripe 19 times in the first half, connecting on twelve of them. The Pirates went just one for nine from the arc in the first half and were called for a pair of technical fouls. Both teams shot at a 38 percent clip in the first twenty minutes of the contest.
Jabari Craig got ECU on the scoreboard first in the second period to trim Radford's lead to 37-32. Two Kentrell Barkley free throws then cut the lead to four at the 17 minute mark. Tyson then added a pair of points from the charity stripe to make it a three-point game.
Tyson's fast break dunk cut the lead to two before a pair of Radford buckets pushed the lead back out to six. But ECU was able to cut the lead back to just two on a Tyson back door layup with 13:41 to play. A Shawn Williams' three point bomb tied the game at 49-49. The Pirates then took their first lead of the contest on Williams' second three-pointer at 55-53. Then Kentrell Barkley's three from the top of the key as time ran out on the shot clock kept ECU up by three with 7:52 to play.
But Radford retook the lead by one point on a pair of Carlik Jones free throws with just under five minutes to play. The Highlanders maintained a two-point 62-60 lead at the three minute mark. Then a pair of ECU turnovers led to two Radford layups and a five-point Highlander lead with a minute and a half to play.
An ECU steal and basket by Issac Fleming kept the Pirates within three. Two dead ball technical fouls, one on each team, resulted in Fleming's fifth foul for ECU. The Pirates were down by three points at 66-63 with 1:01 to play. Christian Bradford's trey and two Carlik Jones free throws iced the game for the Highlanders at 71-63 with twenty seconds to play.
ECU won the rebound battle 40 to 34 and scored 20 points in the paint but Radford converted 16 ECU turnovers into 18 points and some of those came down the stretch when the young Pirates showed less patience offensively. Radford also scored 15 second chance points in their second win of the season.
The Pirates return to the floor Friday night when the host Central Connecticut State in Minges Coliseum. Game time is at 7 o'clock.
Jeff Lebo's Postgame Press Conference
B.J. Tyson Recaps the Radford Game