Pirate Receivers Have a Big Day in Second ECU Stadium Scrimmage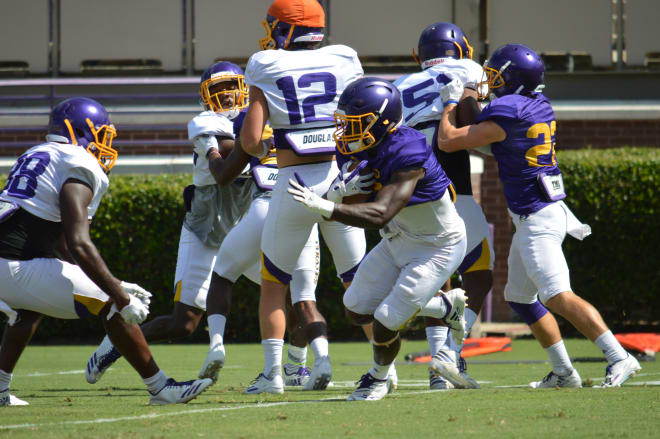 GREENVILLE, N.C. - Before tonight's Meet the Pirates night that has been moved to Minges Coliseum to avoid the chance of rain, Scottie Montgomery's team held their second official fall scrimmage in Dowdy-Ficklen Stadium.
The ECU offense got the better of it on this day with 353 yards of total offense.

Likely Pirate starter Reid Herring threw for 190 yards, nine first downs and a pair of touchdowns on an amazing catch in traffic from Blake Proehl for a 25-yard score and a Deondre Farrier 9-yard score in red zone work.
Kingsley Ifedi also got in the act when he threw a 13-yard strike to Leroy Henley who led all receivers with six catches for 51 yards. Ifedi led all rushers with 26 yards scampering out of the backfield. Ifedi also accounted for six first downs while freshman Holton Ahlers advanced the football for three first downs on 3 of 9 passing for 15 yards.
Defensively, linebacker Ray Tillman and defensive back Michael Weatherspoon had four tackles apiece to lead the ECU defense on Saturday.
Montgomery gave his perspective on his team's play with just two weeks go to before the season opener on September 1 against N.C. A&T.
"I thought we ran the ball a lot better today. We stayed on our double teams a lot better in our interior. We had almost our entire offensive line out there working together today so that was one thing that jumped out," Montgomery said afterward, "I thought we protected the quarterback a lot better and the mobility of our quarterbacks showed up today."
"Defensively we clogged up a lot of stuff. We were a lot of places to make plays in contested areas. We just had some spectacular plays today. We've been seeing plays like that in camp going both ways - offense and defense," said Montgomery, "Those receivers made just some spectacular, unbelievable catches today. I thought our backfield really showed some versatility today in the protection part of it. We ran it well and caught it well out of the backfield."
Montgomery stated that Reid Herring has created separation between himself and the other quarterbacks for ECU at this stage for the starting nod.
"He's separated himself. The one thing that has separated him is the time in the system. Both of those guys are really talented but his time in the system, he gets us out of bad plays," said Coach Mo, "He has the ability to stop tackles for losses just with his mind right now and he gets us out of bad plays from the sidelines. We're growing Kingsley and Holton to that point but that's third year stuff and they're already starting to do it."
"I'm just trying to keep getting better," said Herring, "The guys behind me are really competing as well so they're pushing me to get better every day and I'm helping them with some things but I'm focused on getting better every day."
Herring is showing a senior like comfort level in this year's fall camp and he could prove to be much better than expected.
"I'm just calm. I've been doing this a long time. Playing quarterback all of my life, I've got a lot of experience playing it. I love being in the moment, I love big time plays and that just helps me stay calm and confident and that really helps me," said Herring, "The receivers were making some great catches, the line was blocking pretty well. We ran the ball pretty well too and that helps the passing game."
Offensive coordinator Tony Petersen came away encouraged as well with Herring's progress.
"For me, I'm not having to coach a guy who is in his first year. I've got a guy who has been in my hip pocket for two years and that makes a huge difference," Petersen said, "Now the flip side of that is that's Reid's personality and that's what I love about Reid. Nothing bothers him. He doesn't get too high or too low and that's what you've got to do as a quarterback."
Petersen described what happened overall on offense on Saturday.
"We had a couple of illegal procedures and we had a sack. Those are the two negatives. The positives are we ran the ball hard downhill," said the third year ECU offensive coordinator, "We got some great runs from our running backs and our wide receivers made plays on the outside, so if people want to play us in tighter coverage or in one-on-one we have to take advantage of that because we have the height and the depth at the wide receiver position and we've got the skill at the quarterback position. If we can make those plays then it forces them into situations where we can run the ball in the lighter boxes."
Defensively, it is still a work in progress for new ECU defensive coordinator David Blackwell.
"It was one of those kinds of days. I was really disappointed and we were not good in the red zone. It was the worst we have been in the red zone," Blackwell said, "The offense took it to us in the red zone. Coming off the line we were okay. Open field we were fine. There is some give and take as there has been the entire camp. Really good in the two-minute drill but average on third downs. It was a punch-counter punch kind of day. Too many deep balls. We've got to do a better job playing the ball in the air. Overall it was a solid day but not a great day. The red zone puts a bad taste in your mouth. If it wasn't for the red zone period, it was a pretty good day."
There were a lot of bang bang plays in close quarters and the offense got the better of it on Saturday.
"Close don't count but in horseshoes and hand grenades. We've got to make those plays period. In today's football, you're going to be in one on one situations and we have had practices here in the red zone where we made those plays. Today they made them and obviously good players make plays but we've got good players too and they've got to make those plays in those situations."
For Trevon Brown, it was just another day at the office for both he and the receiver corp.
"It was unbelievable. To come out here and see these young boys play like this, it means everything because I've seen how hard they work. I work so hard - we work so hard as a group and it's showing up and everybody is making a play. That's how it's supposed to be. Not just one person. I am that thousand yard receiver but now everyone is going to see that everybody can play and you're going to have to watch out for everyone."
Bandit defender Kendall Futrell had yet another solid day and he has become one of the real leaders on defense for the Pirates.
"I just feel like I'm in the right system this year. During the offseason I really took it to another level. I wanted to go hard in the weight room, learn football more and anything I could do to up my game," said Futrell, "I definitely like standing up more. I just feel more natural being able to do what I do, just rushing the passer."
With the threat of possible rain on the way, Saturday night's annual Meet the Pirates night has been moved inside Minges Coliseum for the safety of both the team and the fans.
Catch PI complete post scrimmage reactions below from ECU coaches and players after this morning's scrimmage in Dowdy-Ficklen Stadium.
SCOTTIE MONTGOMERY RECAPS 2ND FALL SCRIMMAGE
ECU COORDINATORS & PLAYER 2ND SCRIMMAGE REACTIONS