Pirates Advance to AAC Title Game After a 4-0 Shutout of UCF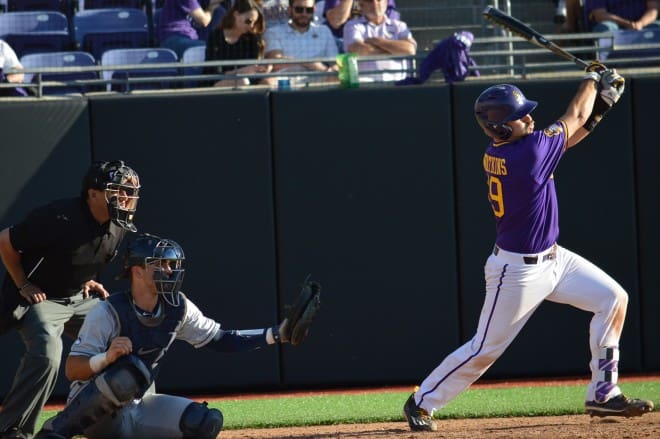 East Carolina advanced to the championship bracket of the 2017 AAC Baseball Tournament after serving up a 4-0 three-hitter over top seeded UCF Saturday afternoon at Spectrum Field in Clearwater, Florida.
The Pirates will move on to face Houston at noon on Sunday afternoon in the championship game.
ECU starting pitcher Jake Agnos went seven scoreless innings yielding just a pair of hits on 97 pitches for the Pirates to get the win to move to 3-3 on the season. Jason Bahr fell to 0-2 after UCF's second straight loss to the Pirates in this tournament.
"I just wanted Jake to go out there and trust his stuff and be aggressive," ECU head coach Cliff Godwin said, "The only time he gets in trouble is when he when he's passive. I wanted him to go for as long and as hard as he could go and what a performance by a freshman in that situation."
Agnos assessed his performance after the game and what he was trying to do out there.
"Don't act like a freshman. I think in some of these games I've come out a little hesitant and didn't trust my stuff and didn't have full faith in the guys on defense," Agnos said, "I couldn't have done what I did today without them. The plays they made were unbelievable and I wouldn't be standing here if not for them. Travis getting us one early was big and I knew if I just came out and I knew we were coming out hot, so if I just kept us in the game we were going to win it."
Travis Watkins' solo homer in the first inning got East Carolina off to quick start and a 1-0 lead.
Jason Bahr yielded his second home run of the day in the fourth inning when East Carolina's Spencer Brickhouse launched a long bomb to deep centerfield to give the Pirates a 2-0 lead.
Wes Phillips put another ECU run on the board in the seventh frame to make it 3-0 when Charlie Yorgen reached on an error and wound up stretching it to third base. Then Watkins provided some late inning insurance when his single to center brought Yorgen home to make it 4-0 Pirates.
Tyler Smith came on in relief of Agnos in the bottom of the eighth and induced three ground outs to get the Pirates into the ninth inning where they shut the Knights down to close out the game.