Pirates Cruise Past Coppin State 76-50 in Season Opener in Minges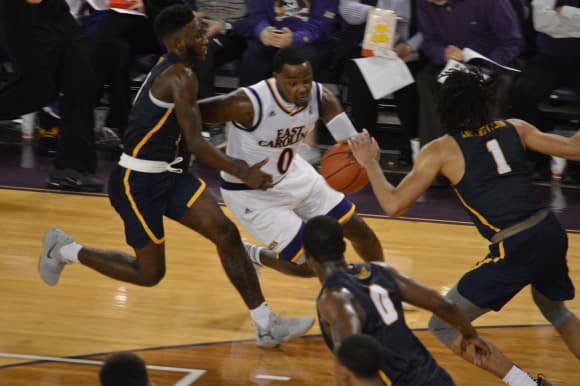 Kentrell Barkley and Shawn Williams scored 14 points and Issac Fleming added twelve in leading ECU to an opening night 76-50 win over visiting Coppin State in Minges Coliseum.
Barkley added seven boards and a pair of assists in just twenty minutes of play for the Pirates who hit nearly 45 percent from the floor despite going just 4 of 18 from behind the arc.
Adam Traore led Coppin State in scoring with just ten points and to go along with six rebounds while Dejuan Clayton added eight points for the Eagles who fall to 0-2 after an opening night loss at Oregon earlier in the weekend.
The Pirates got 36 of their points in the paint and 36 overall points from the bench. For a first game, those are sound aspects from which to build.
"We wanted to get to the paint. We knew they didn't have a shot blocker. We've got quick guards and you can get to the paint with a post feed or you can get in their with your guards and get a piece of the paint and we did that very well," said Jeff Lebo,"We got to the free throw line and converted there. The first half we took care of the ball with just three turnovers. The second half we were a little sloppier."
"Shawn Williams I thought played very well for us. Justin Watley I am very excited about with what he's going to be able to bring to our team. He brings a lot of intangible things. He shoots the ball, doesn't make a lot of mistakes and had a great game here with eight points and six rebounds and playing major minutes for us. Defensively he was as smart as anybody on the floor," Lebo told PirateIllustrated.com, "Issac Fleming did some good things in the floor. You can see his talent level there. K.B. got in foul trouble but you look down and he still played twenty minutes for us and got 14 and 7 in a limited amount of time. It was a good team win and I thought we had good balance. We shared the ball pretty well and defensively I really liked what we did."

"It was nice to get that first one under wraps here. I was very worried particularly defensively about this game because of their ability to shoot the ball from the perimeter," Lebo said, "We knew they were going to shoot a ton of threes. Watching them play against Oregon who was in the final four last year, it was a ten point game with under three minutes to play and they had the ball. So I thought defensively we did a great job. It was an odd game for our post players to have to play. Defensively our post guys did a great job guarding smaller guys and we made it very difficult for them to get an open look."
"Offensively they bothered us a little bit with how they guarded the ball screens. We worked on it for three days and didn't handle it particularly well, but I thought is was a good team effort. I thought our freshmen played some good minutes and I'm real excited about those guys. You're going to see them play a lot this year with some of the attrition we've had so I'm very pleased with the outcome of the first game."
Five Kentrell Barkley points, two Shawn Williams' three pointers and a pair of Aaron Jackson free throws had ECU up 18-8 with nine minutes to go in the first half. Coppin State closed to within seven at 20-13 on a Lucian Brownlee trey. Then a pair of Issac Flemings's circus drives and a nifty assist underneath to Usman Haruna for his first Pirate career bucket increased the ECU lead to twelve at 27-13 with six minutes to go in the half.
Fleming who is originally out of Wilmington, Delaware, talked about reacclimatiing to game play after transferring to ECU from Hawaii and sitting out last season.
"I wouldn't say jitters, it was moreso me just getting back comfortable with the speed of play and playing forty minutes. Once I was getting past that second wind I knew it was a go time," Fleming said after the game.
Shawn Williams echoed those same sentiments in the postgame press conference.
"I knew I was going to be comfortable. I really was just hoping that I made my shots because I knew that was what Coach needed me to do. They went down so I was going to keep shooting."
Lebo saw a lot of positives in Shawn's first game as a Pirate.
"Shawn can shoot the ball and he can score. That's the one thing that he can do. It's going to take him a while to get back into the flow of things. He's itching to get back out there and show what he can do. When he lets the game come to him, he's a very good player. He can play the one and he can play the two for us but we're going to rely on him a lot to be able to shoot the basketball. That's what he does best and that's an area that we're going to have to get better at. We didn't shoot it very well from the perimeter this game but as he gets into the flow of things he's going to get much more comfortable knowing what a good shot is for him."
Lebo also had high praise for 6-8 freshman forward Justin Whatley who scored eight points in his first outing to go along with six rebounds for the Pirates Sunday night.
"His IQ is as good as any freshman that I've been around in thirty years. He's earned the trust of the upper classmen, he understands the game as good as anybody that I've had. That's exciting and he's young. He should really be a senior in high school. He just turned 18 about a month ago. He can shoot it. He picks up things fast, he can play multiple positions, he understand defense and he's a basketball player. That's very exciting for us as we move forward."
KJ Davis' trey and an Issac Fleming drive for his tenth point put ECU up by twenty-two at intermission at 40-18. Coppin State hit just 5 of 17 shots in the first period for 18.5 percent. ECU hit 45 percent of their shots on 15 of 23 from the floor in the first twenty minutes.
Chad Andrews-Fulton's hoop and some harm and a Trey Thomas lay-in trimmed the ECU lead to 44-29. Then a Lamar Morgan basket cut further into the Pirate lead at 48-32 with twelve minutes to go.
But Whatley's three-point jumper' from the right arc found ECU up by twenty-three midway into the second half.
Coppin State did trim the ECU lead to sixteen on a pair of occasions in the second half before a Kentrell Barkley three-point play allowed the Pirates to maintain control, going back out in front 61-41 at the six minute mark.
Shawn Williams' three point play along with a Coppin State technical foul that resulted in two more Williams free throws found ECU up by as much as twenty-seven late in the contest and the Pirates had little problem cruising in from there to win by twenty-six.
ECU held Coppin State to just eight points in the lane and just 22 points from their bench on what has been a long travel weekend for the Eagles.
"I thought the North Carolina scrimmage helped us a little bit because we got played in front of people before we played this game. I'm really trying to figure out with the new people who I'm going to trust," Lebo said, "I'm starting to learn. Different games are for different people. We trust some of those freshmen so they're going to have to get in there and play. I think you're going to see a lot of guys playing. Those ten guys are going to be playing some minutes for us."
Overall, Coppin State went 14 of 57 from the floor including just 9 of 39 from behind the arc. ECU managed to get to the charity stripe and hit 20 of 27 while the Eagles went 13 of 17 from the free throw line in their second loss of the season.
ECU returns to the floor Wednesday night when they host Radford at 7 o'clock in Minges Coliseum.
PI was there to bring you the post game comments of Coach Jeff Lebo along with Isaac Fleming and Shawn Williams in their entirety.
Jeff Lebo's Coppin State postgame Press Conference
Isaac Fleming and Shawn Williams Recap Coppin State Win