Pirates Dip to 0-8 in AAC Play After a 9-4 Friday Loss to Central Florida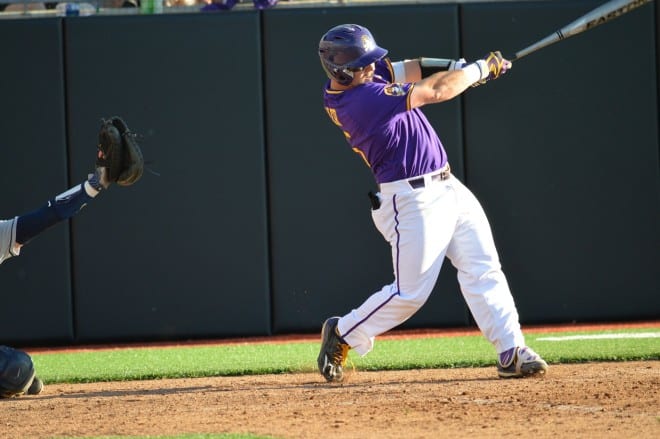 UCF scored nine runs in the eighth, eight of which were with two outs to erase a 2-0 ECU lead and the Knights went on to cruise to a 9-4 game two win Friday night in Greenville.
With the win, UCF moves to 25-11 and they evened their record in AAC play at 4-4. With the loss, ECU dips to 19-17 and remain winless in AAC play at 0-8.
Right hander Juan Pementel got his sixth win against just two losses for UCF. With the loss, ECU's Ryan Ross falls to 0-1.
It was another game full of strange plays that led to pivotal breakdowns in the eight inning especially on defense.
"We got the double-play ball and Eric chose to go home with it. They're trying too hard. They're doing things out of characteristic. Eric and Travis are two of the most savvy players in the country. They do two things that are out of body experiences. It's just that they want it so bad for everybody else and we've just got to trust our preparation," ECU coach Cliff Godwin said.
"The kids are trying, they're battling hard. I'm sure everybody is losing hope, but I'm telling you we're going to play our best baseball down the stretch. Yeah, we're probably going to have to win the conference tournament and that's fine, but we've just got to continue to play better."
The Pirates scored a run in the bottom of the fifth on a Travis Watkins single that brought Bryce Harman home after a fielding error. But even then, ECU left the bases loaded to end the inning.
Eric Tyler got in the act in the bottom of the seventh inning when he homered to left field to put the Pirates up 2-0
With Knights on second and third, Luke Hamblin doubled off of ECU's Ryan Ross to bring Kam Gellinger home to cut the ECU lead to 2-1. Wes Covington replaced Ross and with a man on third, Eli Putnam was hit by a pitch to load the bases for UCF. Mathew Mika then reached on a fielder's choice, but Bryce Peterson was thrown out at home.
The bases remained loaded with Knights in the eighth for Kyle Marsh. Wes Covington walked him to score a run and tie the contest at 2-2. Then Rylan Thomas added to the damage in the next at bat on a bobble from Charlie Yorgen at short that produced two more runs to make it 4-2 UCF.
As the top of the eighth inning continued, Covington walked Ryan Crile to load the bags again for Central Florida and he was then lifted for Tyler Smith. Then Brennon Bozeman walked to score another run to extend the lead to 5-2. That brought up Kam Gellinger and with the bases full of Knights and he knocked it out of the yard to right as the score ballooned to 9-2.
ECU picked up a pair of runs in the bottom of the ninth when Bryce Harman's two-run shot to right field made it 9-4.