Pirates Fall 87-81 to N.C. A&T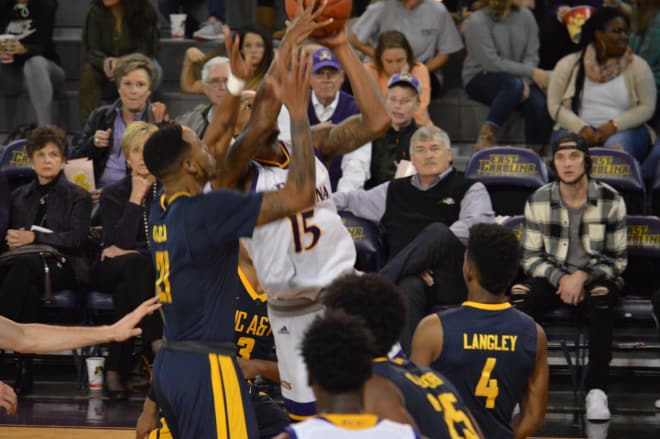 Aaren Edmead bombed in 23 of his 25 points in the second half and the nation's leading scorer Femi Olujobi added 23 more to lead North Carolina A&T to an 87-81 win over ECU Sunday night in Williams Arena.
Edmead controlled the action from his point guard position for most of the very tightly officiated game hitting 7 of 12 from the floor including a pair of three-pointers to go along with 11 of 12 shooting from the foul line in the win.
"We've got to lock in more, pay attention and focus on the small details and we've got to do it every day because that's where it starts, in practice," ECU's Kentrell Barkley said after the game, "They sped us up. They got us out of East Carolina basketball and we just weren't doing the things we were good at well towards the end."
Pirate point guard Isaac Fleming expressed his frustration with how the game went on Sunday.
"It's very frustrating, but with us being captains it wouldn't be good team chemistry if we were just sitting up here pointing fingers at everybody. It was a team loss. We fell short and it hurts," Fleming said, "It was a lot of iffy fouls being called in the first half and really throughout the whole game. If you look at the foul shot percentages the only reason they were up was because they were living at the foul line. The points they scored in the half court set were not that many."
Pirate head coach Jeff Lebo talked about the solid play of Edmead at point guard along with Oakland transfer Femi Olujobi who both played terrific in the second half. Olujobi had 13 at intermission and added ten more in the second half to go along with nine rebounds. Meanwhile Edmead scored 23 points in the last twenty minutes to lead all scorers.
"They had two players out there on the court who were terrific tonight particularly number one (Edmead) in the second half," Lebo said, "We could not keep him out of the paint, we couldn't guard him late in the clock. He made some key jumpers for them. We put a lot of emphasis on Olujobi. He's leading the country in scoring coming in and it's hard to imagine him at Oakland just getting one point a game."
"You're not going to be able to win basketball games when you foul as much as we foul. It's impossible. Anybody can beat you if you put them on the line 34 times," said Lebo, "They're shooting unguarded and they made them tonight. (29 of 34 from the charity stripe) We had a hard time guarding the ball. They spread us out, they beat us one on one late in the clock. We could not keep them out of the paint and make them miss. We struggled defensively trying to keep them in front of us."
The Aggies jumped out to a quick 15-5 lead over the Pirates on baskets from Olujobi, Devontae Boykins, who scored 13, along with Kamron Langley and Japhet Kadji. ECU then cut the led to three at 13-10 on an Isaac Fleming three-point play with 13:51 in the half. Dimitri Spasojevic's post up and Kentrell Barkley's three-point play pulled the Pirates to within four at 32-28. Then two Shawn Williams bombs helped ECU briefly cut the A&T lead to one.
Olujobi's three-point play in the paint extended the Aggie lead to four with 1:10 to play in the half before two Amari Hamilton free throws extended the A&T margin to six with a minute to play in the period.
Shawn Williams' reverse lay-up at the buzzer kept the Pirates within striking distance at halftime at 43-40. Barkley and Williams led ECU with 14. Olujobi, who averages 29.4 points a game, was held to just 13 points at the break.
ECU(2-4) took a three point 49-46 lead on an Isaac Fleming drive early in the second half but the Pirate point guard collected his fourth foul with just under 16 minutes to play. Three Denzel Keyes baskets and an Aaren Edmead bucket kept the Aggies ahead 68-62.
The Pirates tied it up again at 69-69 on a Fleming to Tyson feed and two Fleming free throws. But an Aaren Edmead drive for A&T(5-1) had the Aggies leading by four and a subsequent three-pointer from Edmead gave them a five-point 76-71 lead with less than four minutes to go.
Olujobi's three point play in the paint expanded the Aggies' cushion to 83-76 before two Fleming free throws trimmed the lead to four with a minute and a half on the clock. Then Aaren Edmead's three-pointer as time was about to expire on the shot clock kept A&T up by six.
The Pirates didn't have the best luck from the free throw line down the stretch and when Jabari Craig fumbled what looked to be an sure rebound and potential score, Edmead converted a pair of free throws at the other end to make it 87-80 with less than a minute to play. The Aggies held on from there to take the victory.
Issac Fleming led the Pirates with 23 points to go along with 19 from Kentrell Barkley and Shawn Williams. The Pirates scored 38 points in the paint but 16 ECU turnovers led to 21 points for A&T who all told got 43 points from their bench. Barkley and Tyson played forty and thirty-eight minutes of the game respectively for the Pirates.
ECU hit 7 of 16 from the arc but went just 20 of 27 from the stripe to go along with 46.6 percent shooting overall to 50 percent for A&T who went 6 of 19 from the arc and hit 85.3 percent of their 34 free throws in the victory.
PirateIllustrated.com was there to bring you Jeff Lebo's post game press conference along with the post game words of Kentrell Barkley and Isaac Fleming.
COACH LEBO RECAPS N.C. A&T GAME
KENTRELL BARKLEY & ISAAC FLEMING'S POST GAME RECAP