Pirates Fall at USF 20-13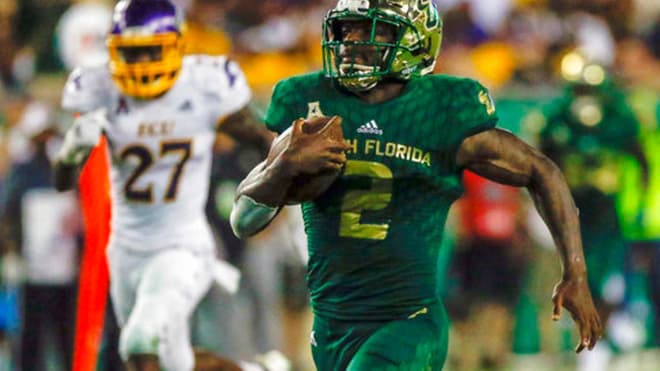 ECU put together a solid outing after being on the road for the last ten days but in the end, the Pirates came up on the short end of a 20-13 contest Saturday night at Raymond James Stadium in Tampa.
Jordan Cronkite's 80-yard touchdown up the middle proved to be the difference maker for the Bulls.
Blake Barnett went 12 for 20 for 179 yards and a touchdown and all told, Cronkite ran for 129 more to lead USF to their fourth straight win of the season.
Reid Herring passed for 253 yards on 21 of 48 passing with one interception for 1-2 ECU. Trevon Brown caught six passes for the Pirates for 99 yards and Blake Proehl had five receptions for fifty yards to lead ECU.
ECU freshman quarterback Holton Ahlers got into the act again and led the rushing attack with 48 yards while Hussein Howe accounted for another 40.
The Pirates recorded six sacks in the contest from a defense that continues to show marked improvement under new defensive coordinator David Blackwell.
Scottie Montgomery said in the end the game basically ended up coming down to just a pair of snaps.
"We played hard. When we look at the stat sheet it's going to hurt. 412 yards of offense to 295 yards of offense, two penalties. This was the kind of game we wanted to play. A low scoring game - run the football effectively," said ECU head coach Scottie Montgomery, "It came down to two plays. We overthrew the first one in the first half and in the second half we dropped it."
"We knew it was going to be this kind of football game. They've got a much better football team than we've got. They've got a great football team. They play really well especially in tight situations. I thought we had them in a lot of situations in the run game that we liked," said Montgomery, "We just got off schedule a couple of times. We've got to do much better on offense in the second half."
Montgomery gave an improved ECU defense, that ranked last in the nation last year but looked solid for the majority of the night, a lot of credit while taking no joy in moral victories.
"Defensively we played our butts off. If we make two plays that we did not make then you're looking at a 600 yard day on offense and a 150 yard day on defense," Montgomery said, "I'm proud of our kids for working hard but there are no moral victories. We've got a big one next week, we'll be ready to go. We tried to play for One Carolina tonight, our guys played their butts off. We're coming home, we miss you and we'll see you soon."
Trevon Brown's 47-yard third down reception from Reid Herring to the two-yard line set up a Holton Ahlers touchdown run up the middle that gave the Pirates an early 7-0 lead.
After an early ECU stop, Blake Barnett found Johnny Ford for 39 yds to the ECU 17. Then Barnett faked to the running back inside and then scampered around the left end for a 2-yard touchdown. Coby Weiss' point after attempt was blocked by defensive lineman Alex Turner as the Pirates held a 7-6 lead after one quarter of action.
Just over a minute into the second quarter, Blake Barnett found a wide open Darnell Salomon to the right on an ECU defensive secondary bust for an 66-yard touchdown that gave USF their first lead of the game at 13-7.
A USF pass interference penalty on third down with just 34 seconds to go in the half kept an ECU drive alive. That led to a 28-yard Jake Verity field goal that allowed ECU to close to within three at 13-10 as time expired in the first half.
The Pirates generated a fumble defensively on USF's first series of the second half on a big hit from Tank Robinson that boundary cornerback Mike Witherspoon recovered. That led to a 24-yard Jake Verity field goal that tied the game and proved to be the only points scored in the third quarter.
USF retook the lead at 20-13 early in the fourth period when Jordan Cronkite delivered the news on an 88-yard touchdown run right up the middle of the ECU defense.
Pirate defensive end Nate Harvey delivered a sack of Barnett with 5:20 to play that halted a USF drive, giving ECU an opportunity to put together a game tying drive late in the contest. ECU came up short at midfield and then opted to punt with just 3:10 to play.
The ECU defense held giving the Pirates the football with just 2:05 to play with no timeouts remaining. But Herring threw an an out pattern that Nate Roberts picked off to salt away the win for the Bulls.