Pirates Fall to (4)UNC in 11 Innings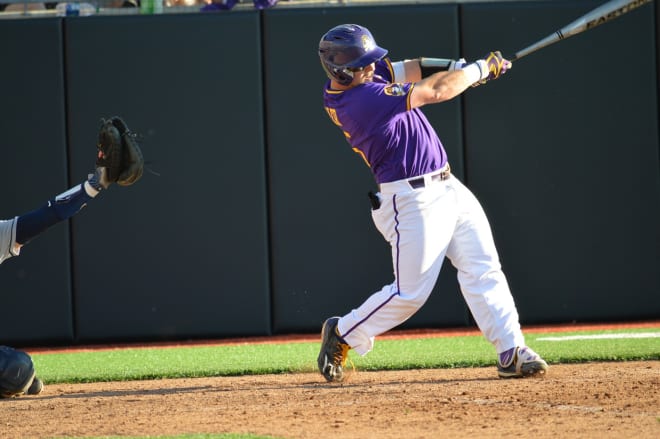 Ashton McGee's base hit over the head of T.J. Riles in the bottom of the eleventh scored Adam Pate from third base to win the game for (4)UNC 3-2 in Boshamer Stadium Tuesday night in Chapel Hill.
Austin Bergner picked up the win to move to 2-1 for UNC(23-6) while Joe Ingle absorbed the loss for the Pirates to fall to 3-3 on the season.
"The ball goes off of T.J. Riles' glove. He's busting his butt to get there and it's a game of inches, but if we continue to play like we did tonight we're going to win a lot of games," ECU head coach Cliff Godwin said.
"I thought we played one of our better games tonight. Obviously we left some guys on and had an opportunity to score and we didn't, but I thought we played tremendous defense. I thought we pitched very well," said Godwin, "What Kirk Morgan did for his first outing, Sam Lanier, Matt Bridges and then Tyler Smith, those guys pitched tremendously and they gave us an opportunity to win and we just ran out of time so to speak, I guess."
ECU(18-12) took an early 1-0 lead when T.J. Riles blooped a single to centerfield to bring Eric Tyler in after Tyler got the Pirates' second double of the game in the second inning.
North Carolina scored a pair of second inning runs to take a 2-1 lead when Kirk Morgan plunked a pair of Tar Heel batters. Morgan walked Michael Busch with the bases loaded and then Cody Roberts' pop fly to right brought Zack Gahagen home for the second run.
The Pirates had men on second and third after a Brett Daniels wild pitch. Then Turner Brown's ground out to first scored Dusty Baker to tie the game at 2-2 and the game was taken into extra innings.
Eric Tyler singled to open the top of the tenth. Then Brady Lloyd doubled down the right field line to put Pirates aboard at second and third. T.J. Riles' fielder's choice in the UNC infield was fielded and Tyler was thrown out at home plate. Bryce Harman then struck out to end the threat.
Joe Ingle came in to pitch for ECU and plunked Zack Gahagan to open the bottom of the 11th inning. Michael Bush advanced Pate to second, who came in to run for Gahagan, on a ground out to third base. Ingle then walked Cody Roberts. After Brian Miller popped out to Bryant Packard in left field, Ingle walked Logan Warmoth to load the bags for Ashton McGee who hit the ball past a diving T.J. Riles in right field to bring Pate home from third and win the contest 3-2.