Pirates Land 7-Foot Usman Haruna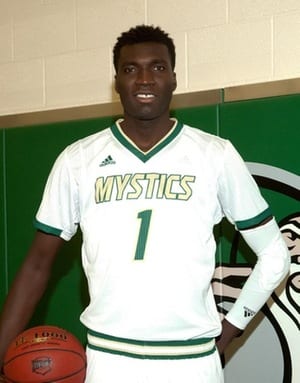 The Pirates picked up a much needed post man in Kaduna, Nigeria seven-footer Usman Haruna who played his junior college basketball at Bismarck State.
ECU lost one seven footer to graduation and a 6-10 post man via transfer after last season, so this addition come at the right time.
Haruna averaged just over ten points and ten boards this season and just over ten points a game as a freshman to go along with nine rebounds a game.
His 29 rebounds in one game against United Tribes Technical College January 23, 2017 set the school record. The old school record was 26 rebounds in one game. Two former Mystics shared that record for 51 and 22 years; Dave Lawson, 1966; and Godwin Owinje, 1995; respectively.
He held offers from Charlotte, Iona, Jacksonville, VCU, Stetson, Duquesne and South Florida along with heavy interest from Memphis.
Coming out of high school, Harman held nine offers in 2015 including one from East Carolina but had to go the junior college route initially.
Haruna attended high school at Potters House Christian Academy in Jacksonville, Florida.