Pirates Peppered by Pepperdine in a 12-2 Loss in the KLC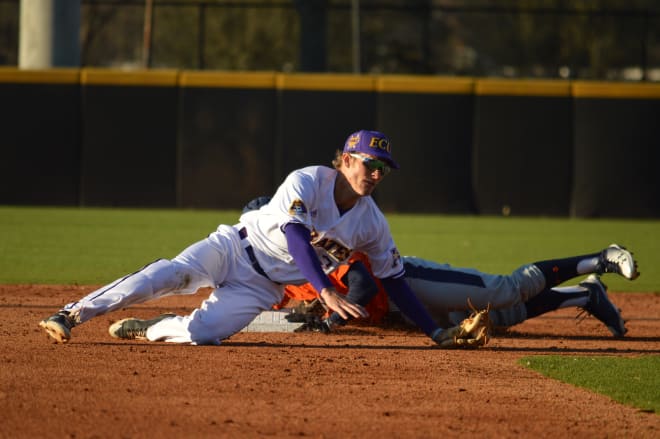 Pepperdine scored eight runs in the top of the ninth inning and went on to defeat (18)East Carolina 12-2 on the opening day of the Keith LeClair Classic in Greenville.
The Waves, who evened their record at 4-4 with the win, delivered with twelve hits to nine for ECU(7-2) who left eight runners stranded in just their second loss of the season.
Five different Wave players had two RBI led by Mike Malinchak and Aharon Modlin, both of whom went 3 for 4 for the day.
Jake Washer had three hits on the day to lead the Pirates with a pair of RBI in the Friday loss. Connor Litton and Bryant Packard added a pair of hits each for ECU.
"We didn't come ready to play today.The guys looked at the score from the Campbell-Pepperdine game & thought we could just roll the balls out there and win," said Cliff Godwin, "The best team doesn't always win, it's the team that plays the best that wins and Pepperdine played way better than we did."
Sophomore right hander Wil Jensen went six innings, giving up just one run and improved his record to 2-0 with the victory for Pepperdine. ECU starter Trey Benton, who went six innings, yielded four runs on eight hits and struck out four to fall to 2-1 with the loss.
"They executed their plan and got on top of the baseball. They hit ground ball after ground ball and we hit pop up after pop up," Godwin said, "Their pitcher was better than our offense was tonight and that was the difference in the game. They were tougher than we were tonight."
"We just didn't execute pitches. They had the momentum and we put ourselves in bad counts and had to bring the infield in. When you get in bad counts and you walk guys and you hit guys, you give up crooked numbers and that last inning was very ugly."
The two teams were relatively quiet until the third inning when Quincy McAfee reached on a fielder's choice and both Duncan McKinnon and Aharon Modlin scored on the play to give Pepperdine a 3-0 lead.
ECU got on the scoreboard in the bottom of the sixth to make it 3-1 when Jake Washer's double to center brought Spencer Brickhouse across home plate from second base where he had advanced on a passed ball from Pepperdine right hander Wil Jensen.
The Waves were at it again in the top of the seventh when Mike Malinchak scored after a Chandler Jenkins fielding error in right field.
Washer singled again in the eighth for ECU to score a run and cut the Pepperdine lead to 4-2 and things were starting to get interesting.
But after ECU's Chandler Jenkins bumped hard into Pepperdine reliever Michael Mahony who was attempting to make the tag in the first base path near the bag, the two benches emptied. A fight was averted and both Jenkins and Pepperdine first baseman Brandt Belk were ejected from the contest. Neither will be available to play for their respective teams in Saturday's games in the Keith LeClair Classic.
That episode seemed to set a fire under the Waves who came alive offensively again in the ninth tacking on eight runs. Malinchak scored again after a wild pitch. ECU walked in Cory Wills from third base to give the Waves a four run cushion. McAfee was hit by an ECU pitch and Billy Cook was walked to score two more Pepperdine runs that made it 8-2.
Then with one out in the top of the ninth, Jordan Qsar's double down the right field stripe scored two more runs to expand Pepperdine's lead to 10-2. Malanchak came around to bat again for Pepperdine and his triple down the left field line scored both Qsar and Cook to add two more runs to make it 12-2.
ECU lefty Jake Agnos(0-0) is expected to start against Missouri State's Dylan Coleman(1-0) who has had twenty strikeouts in 14 innings this season with a first pitch scheduled for 4:30 p.m.