Pirates Pound Towson in Game Two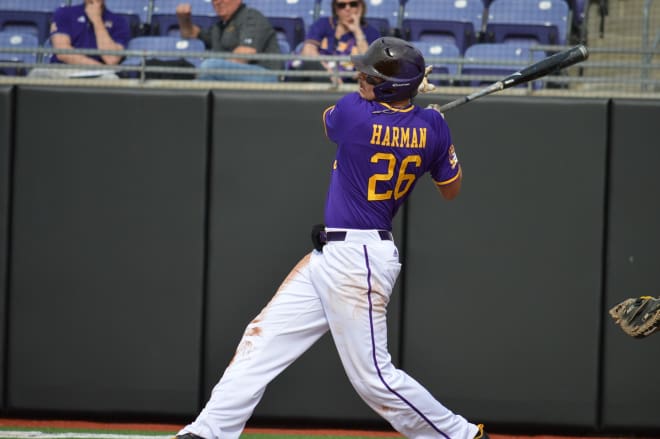 East Carolina exploded late in a seven-run seventh inning and went on to beat Towson 8-5 in game two of a three-game set in Clark-LeClair Stadium on Saturday.
The Pirates overcame a 2-0 deficit and took the lead when Dwanya Williams-Sutton's single brought home Bryce Harman for his second run of the game. Then Turner Brown's single to right allowed Brady Lloyd to cross home plate to give East Carolina their first lead of the contest.
ECU's Travis Watkins added to Towson's seventh inning misery when he singled up the middle and Williams-Sutton scored. Turner Brown got into the act and scored on a fielding error on first baseman Mark Grunberg. Then Luke Bolka's two-run shot to left center blew the game wide open for East Carolina(16-8) in an 8-2 contest.
Trey Benton picked up the win to move to 3-0 for East Carolina. With the loss, Kyle Stricker fell to 1-1 on the season for Towson.
"The third inning was his worst inning and to be a freshman, sometimes that might be the end of it. It might get worse, but I really thought he regrouped and I thought he pitched his best after the third inning. For him to hold it at two was tremendous," Cliff Godwin said after the game.
Getting Williams-Sutton back in the lineup is paying immediate dividends for East Carolina going 3-5 on Saturday with a big RBI for the Pirates.
"Sometimes Dwanya gets down on himself if it doesn't happen early, but today he got that big RBI in the fifth and the hit he had in the seventh, I don't know if you can hit a ball harder than he did there," said Godwin.
Bryce Harman is beginning to find his stride after being out injured for the first part of the season. He talked about the team's grit in coming back from a four-game home slide and winning two in a row now. Harman still has high hopes for this Pirate ball club.
"We're tough man. Being down, we just scratch. We just have to stay together as a team and if we stay tight as a team, we're going to do some good things this year," Bryce Harman said.
Towson took an initial 2-0 lead in the third when Richard Miller's single up the middle of the ECU infield brought Tristan Howerton across. Then Logan Burke singled to left to allow Miller to score.
That lead lasted until Dwanya Williams-Sutton's second RBI of the season on a single to right brought Bryce Harman home to make it 2-1 in the ECU half of the fifth inning.
The Tigers added a run in the top of the eighth frame on a Richard Miller RBI that brought Mark Grunberg across home plate in an 8-3 game.
Towson(8-9) mounted a rally in the ninth when a Cuinn Mullins ground out allowed Lennox to scoreafter Colin Dyer's double moved him to third base. Dyer then scored to cut the ECU lead to three at 8-5 when Richie Palacios popped out for the second out of the inning before Trey Martinez popped out in foul ground near first base to end the contest.
Game three of the series wraps up on Sunday with a 1 pm first pitch at Clark-LeClair Stadium.