Pirates Put Together a 55-21 Senior Night Win Over Connecticut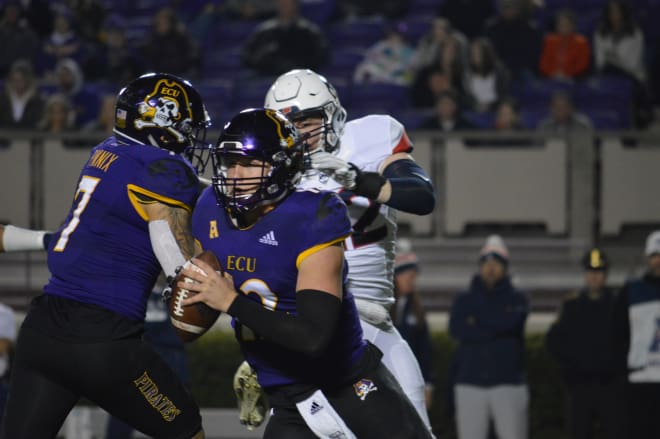 Few teams in America needed a win more than ECU did and Saturday night the Pirates put together a much needed 55-21 Senior Night victory in Dowdy-Ficklen Stadium.
It was the most points scored by a Scottie Montgomery led team since he arrived in Greenville three years ago.
In doing so, Holton Ahlers accounted for five touchdowns and senior wide receiver Trevon Brown surpassed the 1,000 yard mark in receptions, giving ECU at least one in the last seven seasons and ten in this decade. That is the longest active streak of any FBS team in the country.
All and all it was a sound performance from an ECU(3-7/1-6 AAC) team that will now try to string together a couple more wins with Cincinnati and N.C. State still to come. If they can do so, and it will be a tall order, 5-7 might buy Scottie Montgomery another year to show what he is trying to build in Greenville.
"It is a night to enjoy. It's probably the first game where we played well on offense, defense and special teams," Montgomery said, "We put it all together tonight and ran the ball effectively. We worked really hard this week to try to throw a lot of new looks at them and different alignments at them in the run game and it worked."
The third year ECU coach talked about how big it was defensively to send his seniors out on a high note in their final appearance in Dowdy-Ficklen Stadium. Montgomery hopes it isn't his last home game as well and he talked about the magnitude of Saturday's win in the big scheme at the moment.
"Huge. They will always remember this. Nobody can take this night away from them, so, it was really important. Also, I liked the way our senior leadership helped us on defense. In the second half, we shut them out," said Montgomery.
"Once we adjusted on defense, man - you just forget about how dominant of a performance that was defensively tonight. That was a dominant performance defensively in the second half, especially I can't say enough about the adjustments and how well those guys did."
There were also a lot of other freshmen making big plays on offense to go along with Ahlers who plays more like a senior than a freshman.
"If we can play even to a head on our offense now with the adjustments that we've made in it, I'm sure you can see a lot of them, we've got a lot of young guys coming on playing well now. Xavier Smith, Tyler Snead. We've got some weapons," Montgomery said.
The 5-7, 166 pound freshman Sneed caught six passes, three for touchdowns, becoming the first to do so since Davon Grayson in 2013. Trevon Brown added four catches and a touchdown in his final appearance in Greenville.
"It felt great. I'm used to getting a lot of catches and a lot of yards. I told Coach on the sideline that I just wanted to get into the end zone one more time. The first game on this field I scored and the last game on this field I scored, so that's all I wanted," Brown said.
Meanwhile, Ahlers with 130 yards rushing and Trace Christian who busted loose for 102 yards, subbing in for Darius Pinnix who sprained an ankle early in the game and did not return, gave ECU two one hundred yard rushers in the same game. That was the first time that has happened since Marvin Townes and Vonta Leach did it in a questionable loss against USF back in 2003. It was also the first time an ECU quarterback has run for 100 yards since David Gerrard back in 2000.
The Pirates scored points in every quarter behind Ahlers who under center connected on 22 of 31 for an efficient 242 yards and four touchdown strikes. He also scored on a two-yard run where he was completely flipped over in the process. All told, ECU rang UConn up for 657 yards of total offense including 415 on the ground and also recorded a pair of interceptions and a fumble recovery on defense.
"He has the Superman in him, no question, and sometimes he pulls out that cape out," said Montgomery.
Ahlers wanted to pick up the win for the seniors who have put in a lot of work over the course of the last four and in some cases five years.
"They came in here and they worked their tails off. They proved what it meant to be a Pirate. They didn't leave, they continued to work hard and trust in these coaches and everyone around them and I wanted to win for them," said Ahlers, "I've been saying it all year long."
"Once we get our first one under our belt especially with me as the starter we get used to winning - we can roll with it," Ahlers stated after the game, "I trust in these guys. We're Pirates and we're not going to back down to anyone. We don't care about records now, we're going to play for those seniors and we're going to play to win."
David Blackwell's ECU defense limited UConn to just 274 yards of total offense despite giving up three touchdown passes from quarterback David Pindell who was held to just 156 yards through the air on 15 of 25 passing. Kevin Mensah led the UConn ground game with 88 yards on 14 carries.
UConn head coach Randy Edsall was not pleased with his team's performance but insisted that a lot of his teams issues come down to size and strength.
"You can't fix this right now. It's not getting fixed. You know, as I've said and people might not want to hear it, but we're playing with guys who shouldn't even be playing here. They aren't big enough. They aren't strong enough, aren't fast enough," said Edsall.
"I said that when I came in and I said that it doesn't get fixed during the season. It's that simple. It is frustrating. But I know this, there's only things you can fix during the season and you try to and you can't so guess what? It's got to get fixed in the offseason. The kids have got to get bigger and stronger."
ECU shut the Huskies out from the 11:16 mark in the second quarter until the final whistle of the game behind ten Ray Tillman tackles from his linebacker position and nine more from nickel back Devon Sutton.
In doing so, defensive end Nate Harvey set an ECU single-season and an AAC record for tackles for a loss record to go along with a forced fumble. Houston's Ed Oliver held the previous record with 23 in 2016. Harvey now also has a league leading 13.5 sacks after his three on Saturday night.
"Well it's the same things I've been saying. You watched the game and defensively we didn't tackle. Some guys, it's hard to single out. There's some guys who do some good things out there but collectively we didn't attack well," Edsall stated, "We weren't physical enough. We didn't take our shots on certain things and you know that's what happens."
ECU loads up next against 24th ranked Cincinnati where the Pirates will look to tie together back to back wins on Black Friday and hope to show continued improvement in their final two games of the season.
PI POSTGAME AUDIO: SCOTTIE MONTGOMERY
PI POSTGAME AUDIO: ECU PLAYERS