Pirates Seek to Improve AAC Tourney Seed vs UConn on Sunday
The Pirate basketball team is playing perhaps their best basketball of the year after coming off an 82-80 road win at Tulane Wednesday night.
With UConn coming to town for a Sunday tilt in Minges Coliseum, ECU will once again be without the services of Jabari Craig who has been hampered by a foot injury. The Pirates will once again play without Kentrell Barkley in the lineup due to what the program is terming a suspension due to failure to adhere to team rules.
So the Pirates will be short handed numbers wise but they will have two of the hotter players in the league dressed in Shawn Williams who hit an ECU record six straight three-point jumpers in Wednesday night's win. An AAC rookie of the year candidate, Williams is the top freshman scorer in the league at 11.6 points a game. He has been even more prominent in conference play where he has averaged 14.3 points.
In the last eight games, Williams has scored in double-figures every time and has averaged 19.4 points a game over that span including 31 of 65 from three point land. His 29 points led ECU in scoring in the Tulane win to go along with 22 from senior guard B.J. Tyson who remains in a neck and neck battle with Houston's Rob Gray for the all-time scoring lead.
"Everything that happened when we played there was based off of turnovers and how we played defense. I feel like if we come and play on Sunday like we played up there, we're at home now so we'll feel a lot more comfortable," B.J. Tyson told PirateIllustrated.com, "I feel like we're going to hit a lot more shots, so that's going to be a big challenge for us, especially at home."
UConn is 5-1 all time against the Pirates. The Pirates were one Tyson three-point shot away from tying the game late in the last contest between the two teams and Sunday's game promises to be another barn burner.
"I still think about that last second shot to send us into overtime so of course that's in the back of my head when we play them again," said Tyson, "I'll make sure that I don't miss another one. We've just got to keep the same mindset that we had when we went up there and played them."
"We're small now so I feel like we can run them a lot more. They're small too but I feel like we're a lot faster."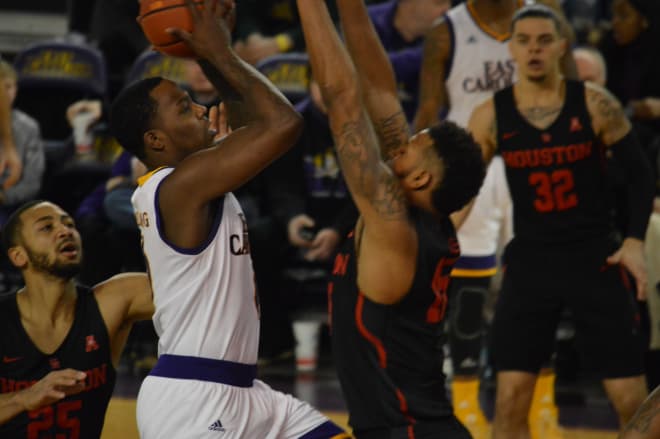 Jalen Adams leads the Huskies in scoring at 17.5 points a game along with Christian Vital at 14.8 and Terry Larrier at 13.8.
ECU ranks third in the AAC in three-point defense while UConn ranks eleventh. That stat could prove to be pivotal in the Pirates' fortunes Sunday afternoon. The Huskies rank 12th in field goal percentage while ECU ranks seventh.
Junior point guard Isaac Fleming is playing his best basketball since transferring to ECU from Hawaii. Fleming is averaging 4.8 assists a game to go along with six straight double-figure scoring outbursts.
With both Barkley and Craig out, 6-5 K.J. Davis' role has increased to just under fifteen minutes a contest and 6-8 power forward Justin Whatley is getting better and better every week. He along with Dimitri Spasojevic have shared that role and both have a very bright future for the Pirates. Spasojevic can do a little bit of everything and his maturity level on the floor is clearly evident to anyone who watches Pirate basketball. Aaron Jackson at 6-6 is also rounding into form as the season progresses.
The Huskies enter the game with a 12-14 record and 5-8 in AAC play while the Pirates stand at 10-14 overall and 4-9 in the conference. With several teams bunched up near the bottom of the AAC draw, a win on Sunday would go a long way toward assuring ECU a better conference tournament seeding.
SMU entered Saturday's play tied with UConn for 8th place before falling to the Knights 52-37 in UCF Arena making Sunday's ECU-UConn matchup increasingly interesting. The Pirates have an opportunity for a bit of home revenge especially if there is a good student and alumni turnout in Greenville.
Game time is 3 o'clock in Minges Coliseum Sunday afternoon on ESPNews.