Pirates Whip Cincinnati 14-3 as Godwin Picks Up 100th ECU Victory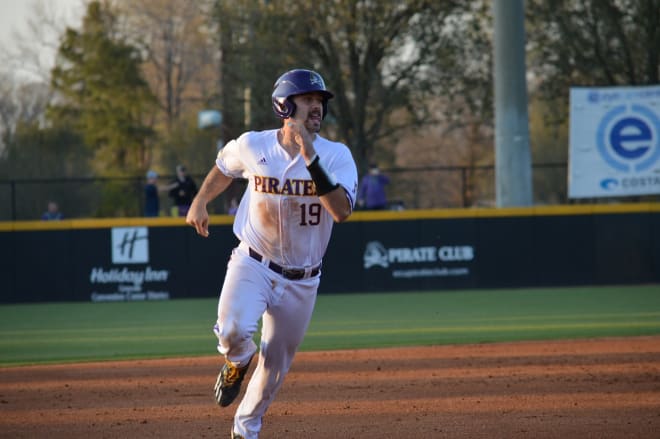 East Carolina continues to crawl back on track after taking a weekend series at Cincinnati with a 14-3 Sunday win for Cliff Godwin's 100th victory.
ECU blew the game wide open in the fourth scoring seven runs to take an 8-1 lead. The Pirates then scored six runs in the eighth inning behind a Charlie Yorgen two-run shot and a Travis Watkins double that scored two more runs.
Watkins led ECU going 4 for 4 including his fifth home run of the season to go along with four RBI.
Connor McVey had a pair of RBI in the game for Cincinnati while Manny Rodriguez, Eric Santiago and R.J. Thompson each had a pair of hits for the Bearcats who fall to 20-20 overall and 5-7 in American Athletic Conference play.
Tyler Smith moved to 2-0 with the victory in one and two-thirds innings of scoreless work for the Pirates after starter Jake Agnos allowed three runs on seven hits for the Pirates. Wes Covington shut it down at the end for ECU who moved to 22-19 overall and 2-19 in AAC play.
A.J. Kullman fell to 5-4 with the loss after being charged with five runs all told on five hits after Nathan Kroger was yanked early in the third inning.