Robert Prunty Fine Tuning His ECU D-Line Both On and Off The Field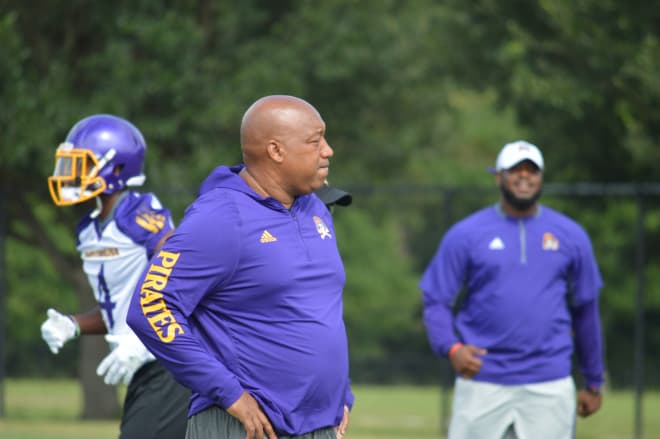 Robert Prunty has had an immediate impact on the defensive line and the team overall both on and off the field.
The Virginia native comes over from the University of Cincinnati and also used to be the head coach at Hargrave Military Academy.
He has made his presence known on the recruiting trail as well and the Pirates are off to one of the fastest starts ever with 19 commitments before the season ever starts.
The Pirates move primarily to a 4-2-5 defense this fall which should provide more up front pressure defensively. Prunty talked about the progress of his defensive line on Wednesday.
"We're a 4-2-5 team now. You might see us get in a little three but most of the time we major out of the 4-2-5. I think we're developing more of a pass rush because instead of three you've got four now which is good," said the first year ECU defensive line mentor.
"Guys are improving, getting better, playing with better hand placement and playing with leverage and with a little more physicality and it's good to see that," Prunty told PirateIllustrated.com on Wednesday.
Depth shouldn't be much of an issue at least as ECU enters the season along the defensive front and that has been a pleasant surprise for the Pirates. Prunty didn't even want to list standout guys because there are so many of them.
"We have three units and all of them are tied," said Prunty, "I don't even have a starter right now. All of these guys are performing at the same level. We can go twelve deep as far as players go. We can go six on the outside and six on the inside. That does a lot for you when you face teams that like to run tempo and you can get these guys in where they don't get tired. Also most players get hurt when they're fatigued. We can stay away from that fatigue part and rotate guys in and out and everybody knows depth changes everything. We've got depth."
Prunty says to expect him to play a boatload of guys in the trenches this season for ECU.
"There ain't no question. I've done it everywhere I've been. I'm going to rotate them every four plays."
One of Coach P's biggest impacts has been off the field where he is mentoring the players in a number of ways.
"The best thing I've seen is Chuck (Young) is the chaplin here and on Wednesdays we've been averaging 75 kids to bible study. In last week's bible study we had the whole team and we're expecting the whole team tonight," Prunty told PI, "We're excited about that. Anytime you can get young men to come in on their own, of course it's voluntary, and just come in at peace with who they are because these guys have a lot on their mind. This gives them a chance to relax and be around their teammates and it's a great time to bond and just develop their love for each other. That's been the biggest thing for me this summer is having an impact with Chuck and being able to help out. God is love and that's really what I'm about, man."
Prunty comes into this season with high hopes for the immediate future of his defensive front and the Pirate defense overall.
"I feel really good but I will tell you this now, we've got to get better on techniques and fundamentals and steps. If we clean that up the effort is good. The physicality is where we need to be but we've got to clean up some fundamental stuff and that's on me and I'll get it done."
East Carolina opens the season at home on September 2 against defending FCS National Champion James Madison. Kickoff is scheduled for 6 p.m.