Russo Throws Four Touchdowns as Temple Topples ECU 49-6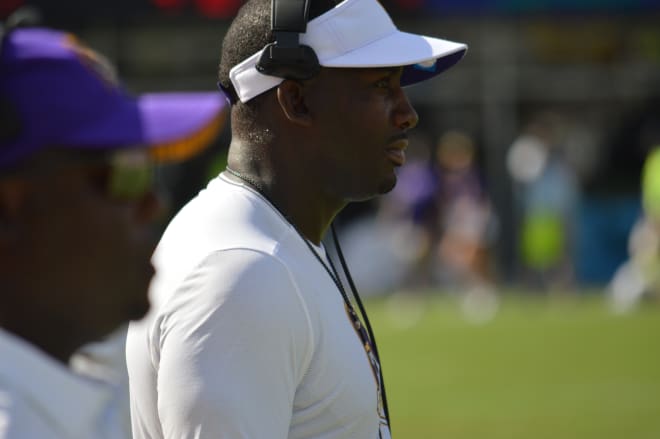 Ever improving Temple scored five first half touchdowns and never looked back in a 49-6 rout of ECU Saturday afternoon at Lincoln Financial Field in Philadelphia.
Owl quarterback Anthony Russo had another solid day, throwing for 255 yards and four touchdowns on 21 for 25 passing including 184 yards and three touchdowns in the first half alone. Ryquell Armstead also got into the act, rushing for 91 yards on 20 carries to lead the ground game for the Owls before going out in the second half with a leg injury. 65 of those yards came in the first half.
Temple generated 470 yards off offense against the Pirates, who looked at times like they skipped breakfast. ECU only generated 94 first half yards on offense before ending up with just 196 total yards.
Reid Herring was sacked three times and went just 17 of 31 for 112 yards through the air for ECU(2-3/0-2 AAC) before being lifted for Kingsley Ifedi and eventually Holton Ahlers who split time in the fourth quarter. Ahlers led the ECU running attack with 56 yards on just five carries. Tailback Anthony Scott was held to just 20 yards on seven carries for the Pirates but did have 115 all-purpose yards overall.
ECU linebacker Bruce Bivins recorded ten tackles, five of which were solo stops while Tank Robinson had nine stops defensively for the Pirates. Alex Turner added eight tackles and the nation's leading tackler behind the line of scrimmage Nate Harvey had seven stops including a sack and a three tackles for a loss all told.
It was the first time in six years in a 27-6 loss at North Carolina that ECU did not score at least one touchdown. Temple has beaten ECU the last five straight times dating back to 2014. The Pirates haven't beaten Temple since a 32-22 win in Greenville 1995 after which there was a 19 year gap before resuming the series as conference members in 2014. The last time ECU won in Philadelphia was a 28-21 victory in 1994.
"Very disappointing from the start to the finish, defensively, offensively and special teams. We didn't come to play today. It goes directly to what we talk about every single day preparing," ECU head coach Scottie Montgomery said after the game, "We thought we had a great week of preparation. We were really sharp all week, had a great Friday. We just didn't come out here and play very well at all today."
ECU got behind early on and were never able to strike back offensively to try to make a game of it when the Pirates got their hands on the football.
"We had the recipe for disaster. We got down by two touchdowns, couldn't protect the quarterback and then because you're down by so many touchdowns you can't run the football," said Montgomery, "When you can't run the football it's all uphill after that."
Temple clearly had something figured out in terms of getting a solid rush on the quarterback and the Pirates were never able to find an ample solution.
"We are just very, very concerned our inability today whether it was schematically or fundamentally to protect the quarterback and then they made some plays on the perimeter on our DB's that we haven't seen made so we've got a get done in the next seven days," Montgomery said, "We just didn't make plays and we didn't give them the best chance schematically to make plays."

HOW IT HAPPENED
After ECU was unable to capitalize on an early Corey Seargent interception, Temple got on the scoreboard first on Sean Ryan's first career touchdown catch. The 24 yard reception from Anthony Russo and Will Mobley's extra point put the Owls up 7-0 midway through the first quarter.
The Pirates were stopped on the ensuing drive when ECU opted to go for it on fourth-and-one on their own 43-yard line. Temple(3-3/2-0 AAC) then converted on a 7-yard Russo to Brandon Mack touchdown strike into the right corner of the end zone that put the Owls up 14-0 after one quarter of play.
Despite the interception, Anthony Russo connected on eleven of his first twelve throws. Then four plays into Temple's third drive, Ryquell Armstead's one yard blast capped a quick five play 44-yard drive that put the Owls up by 21.
A quick three and out by ECU led to a 59-yard Isaiah Wright punt return for a touchdown to give Temple a 28-0 lead just 2:38 into the second quarter. That marked the sixth-straight game for the Owls with a non-offensive touchdown.
ECU finally got on the scoreboard midway into the second quarter when four Temple defensive penalties put ECU in business at the Temple twelve yard line. But the Owls kept ECU out of the end zone and limited the Pirates to a 29-yard Jake Verity field goal with 6:30 go to in the half to make it 28-3.
Isaiah Wright's second touchdown of the day on a pass from Russo from 19 yards out put the Owls up 35-3 with 2:15 to go before halftime.
Russo found Randall Jones on a one hand catch in the left corner of the endzone to cap a five play 56 yard drive that extended the Temple lead to 39 at 42-3 with 5:37 to go in the third period.
A career high 55-yard Holton Ahlers scamper up the middle led to a 42-yard Jake Verity field goal with 12:19 to play to make the score 42-6. Verity is now ten for ten on the season.
Todd Centeio then came on at quarterback to go 4-5 through the air for 43 yards for Temple. Centeio led the Owls on a ten play 75-yard drive that was capped by a one-yard touchdown run from 330 pound Freddie Lloyd-Booth. Will Mobley's PAT extended the Owl lead to 49-6 with 8:34 to go to end the scoring.
The Pirates return to Dowdy-Ficklen Stadium next week to host Houston. Kickoff is slated for 7 o'clock on the CBS Sports Network.
VIDEO HIGHLIGHTS: TEMPLE 49 ECU 6