Scottie Montgomery Recaps Day One of ECU Fall Football Camp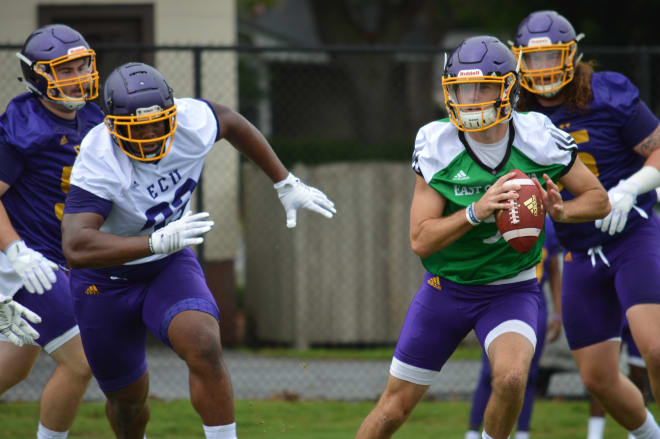 With deteriorating weather conditions expected for Friday afternoon, ECU opened their fall football camp under cloudy conditions at Hight Field Friday morning.
"I thought it was great that we had to throw them a little curve ball today. Mother nature, we have to deal with it a little bit but the best thing about camp and some of the new NCAA rules is that we have basically a good window of time when we can get out and practice and get them going," Scottie Montgomery said, "So the least likely time for it to rain was when we decided to come out in that time of the day and it just worked out. We'll try to come back this evening and get a walk-through which is probably what we'll probably be doing the rest of the time here. They handled it well."
The attitude of the coaching staff was very intense on Friday. They were taking no nonsense and that translated into the players who were putting out a hundred percent on every drill and ever snap. When they didn't, someone was in their grill to ratchet up the attentiveness and intensity.
"We've got to maintain it. We can't give it lip service. We know the situation we're in with getting our guys ready. I'll say it right now we're ready to play right now. I don't doubt it whatsoever. We've got to get ready to play A&T. We're prepare, we're just not ready to play A&T. The intensity level is going to have to be maintained from the coaches throughout the season, the offseason. The bar has been raised and I'm appreciative that we have this staff together being able to work together."
"There was a great energy level. There is always a great intensity level on the first day. The challenge is how do we maintain that energy level and bring out that energy level again tomorrow, the day after tomorrow and so on."
It's year three of the Scottie Montgomery era. He wasn't left much when he got to Greenville and has had to really get after it in recruiting to try to improve the situation personnel wise. He has done that in many positions on the field but a few still remain.
With just six wins in his first two seasons at ECU, the pressure is on to turn things around in a hurry.
"Really we're a lot further along than we thought we would be today. You can tell that the offseason was productive. It was productive for football, not for just strength and conditioning. We got a lot of competition at a lot of spots," Montgomery told PirateIllustrated.com after the opening practice of this year's fall camp.
"We don't know how great or how bad practice was today. We've got to turn on the tape. We do know that we saw a lot of competitive playmaking whether that was on offense or defense. Just a lot more bodies in camp than there were in the first two years."
The quarterback situation does show some promise with Reid Herring and Holton Ahlers who look to be the immediate future under center along with Kingsley Ifedi.
Both Herring and Ahlers looked sharp on Monday throwing the football an both seem to have a pretty good command of the day overall. To be successful this season, Montgomery knows that he will have to get the most out of his quarterbacks for the next month and he said the play of his quarterback play stood out on Friday along with the defensive ends and the play on the back end of the defense by the ECU cornerbacks.
"We are a lot further along at the quarterback position. We've got three guys who I feel can go out and play ball. The other thing, there has been a lot of growth in our run game. I think we've tweaked some things in our run game and of course Don Mahoney coming in gave us probably one of our better starts in to the year in our run game," said Montgomery.
"I don't think I've given him a lot of confidence. I've just talked to him about the way the team feels about him. Reid's got a lot of confidence right now. He's got a big chip on his shoulder. He's texting me in the middle of the night. It's been created from a lot of sources and he's ready to go. I'm very pleased with him and the way he's handled the position he is in and the way the team has molded around him."
"Then defensively our corners made a lot of plays on deep balls. It's very hard to block our defensive ends right now. Futrell, I would say just looking at it with the naked eye, he probably got to the quarterback too many times. We got the ball out quick so it didn't show up very much but our defensive rush from the end position. Cornerbacks, the run game and then the quarterbacks."
After practice was over, Coach Montgomery recapped the first day of fall football camp at ECU on PI AUDIO. Catch it in it's entirety here on PirateIllustrated.com along with Friday's PI FALL CAMP PHOTO GALLERY.
Stay tuned for interviews and Coach Mo's address to the press on ECU football media day Saturday afternoon here on PirateIllustrated.com.