Seth Caddell and East Carolina Topple Wofford 13-8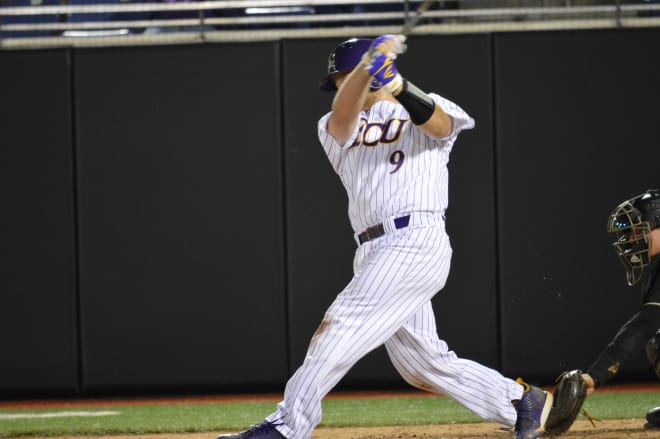 The Pirates' six run seventh inning keyed a big comeback and turned a two run deficit into a four run lead as (11)ECU gutted out a 13-8 midweek victory over Wofford Wednesday night in Clark-LeClair Stadium.
Seth Caddell went 3-3 with five RBI including a home run and Connor Litton also homered in the Pirate victory for the fourth straight game. All told, five ECU batters had multiple hits as the Pirates snatched victory from the jaws of a potential defeat.
Cliff Godwin expressed pride in the way Caddell stepped in at catcher as well as at the plate in ECU's fourth straight win.
"I was proud of the three hits and the three-run homer was huge. The ball was hit good and just the way he caught. He's been blocking better and we've been working on that. He was ready to go and did a great job," Cliff Godwin said after the game, "We just had a lot of quality at-bats up and down the lineup. We got down and the guys just kept on fighting."
Zach Barnes came on in relief, going two and a third innings of work to notch his first win of the season against no losses for ECU. Jake Hershman fell to 0-2 with the loss for Wofford.
Terrier catcher Cody Miller helped Wofford draw first blood in the first inning on a single to centerfield that allowed Colin Davis to score.
In the bottom of the second frame ECU's Seth Caddell's RBI pop fly to center brought Jake Washer across home plate to tie the contest at 1-1. Then Bryson Worrell tripled and Connor Litton scored before Worrell benefitted from a Clay Schwaner wild pitch to score another ECU run.
Bradley's base hit allowed Alex Malsch to score a Wofford run to cut the Pirate lead to 3-2.
Seth Caddell's homer into the left field jungle brought two more ECU runs across home plate as the lead expanded to 5-2.
"It was a good feeling to hit that ball," Caddell said after the game, "I'm just thankful for the guys on base in front of me getting good quality at-bats and letting me drive them in even if it isn't a home run."
Wofford(20-10) remained aggressive at the plate and a Colin Davis double down the left field line in the fifth inning brought Reed Massey home to get the Terriers back within two runs at 5-3. Then in the bottom of the frame Spencer Brickhouse knocked in Bryant Packard with a base hit to right to make it 6-3.
The Terriers blew up for five runs in the sixth inning on a wild pitch, a single from Colin Davis that scored a pair of Wofford runs, a sac fly from Mack Nathanson that brought Alex Malsch home for a run and a fielder's choice from Reed Massey that allowed Davis to score. Suddenly it was 8-6 Wofford.
But ECU(22-6) wasn't through. The Pirates loaded the bases in the bottom of the seventh with no outs on a walk and pair of Pirate hits from Bryant Packard and Brady Lloyd. Wofford reliever Anthony Garcia then walked Jake Washer and Connor Litton to bring in two ECU runs to tie the contest at 8-8.
Then in the same inning a Drew Henrickson base hit to left brought Brickhouse home from third base as ECU reclaimed the lead at 9-8 before a Seth Caddell base knock to left scored two more Pirate runs to put ECU up by a field goal. The Pirates added two more runs when Barber's grounder to first allowed Henrickson to score.
Connor Litton's eighth inning homer to left put the icing on the cake for the nationally ranked Pirates.
After four straight home wins, ECU will fly to the west coast to take on the University of Washington in a three-game set starting Friday night at 9:05 eastern time on the Pirate Sports Radio Network.