Shon Brown Finds a Home at ECU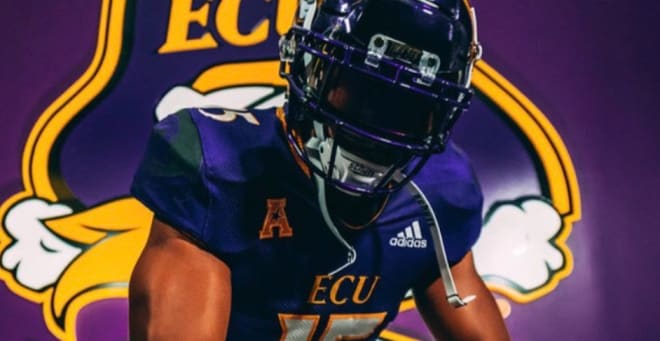 ECU picked up yet another June commitment Wednesday night when Shon Brown made his pledge to the Pirates.
The 6-1, 223 pounder out of Clover, South Carolina was recruited by Pirate assistant De'Rail Sims and visited the Greenville campus on June 10 where the ECU staff got to see his ability up close and personal.
Ten days later Brown is a Pirate.
"First and foremost I would like to thank God. Without Him I wouldn't be in the position I am in today and I want to thank him for the blessings to my family and I along the journey to the next chapter in my life," said Brown, "I'd like to thank my Mama and my Grand Mama and my brother for raising me and showing unconditional love and inspiring me to do what I love to do. Without them I wouldn't be the man I am today."
Brown also gave kudos to his coaches and teammates along with his coaches for his progression to making it to the FBS level.
"I want to thank my coaches for believing in my talents and abilities for pushing me in the right directions on and off the field. Without them I wouldn't be the man I am today. I want to thank all of my teammates at Clover for the brotherhood we have created and I love each and every single one of you guys."
"Lastly I want to thank all of the coaches who have recruited me and have shown interest in me but with that said I'm going to further my athletic and academic career at East Carolina University. Go Pirates."
Last season Clover went 5-5 in 5-A Region 3 play in South Carolina.
Brown gives ECU six commitments in June and the fourth commitment in the last four days.
That gives ECU their ninth commitment for the class of 2020. In addition to linebacker Shon Brown, Orlando Edgewater linebacker Eric Doctor, Highland springs cornerback David Laney, J'Vian McCray from West Brunswick, Palmyra, Virginia lineman Walt Stribling, Irvington, N.J. defensive back Nasir Clerk, Southwest Edgecombe defensive tackle Jaquaez Powell, Fredrick, Maryland offensive lineman Isaiah Foote and cornerback CJ Crump from Greensboro Page.
More as events warrant here on PirateIllustrated.com.