Spellacy and McGhin Are Set to Lead the Pirate Offensive Line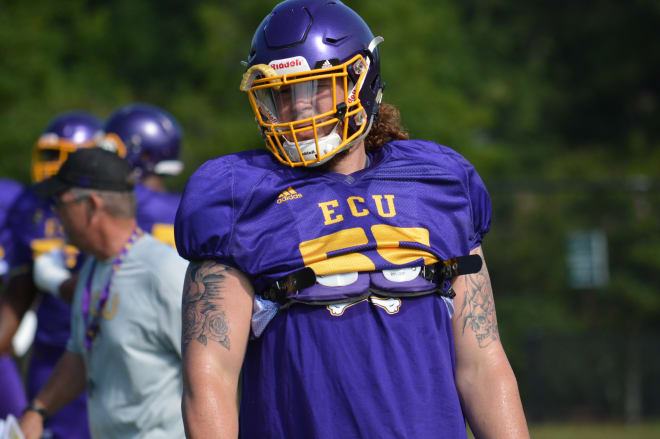 Just three days into fall practice, senior right tackle Garrett McGhin and center John Spellacy continue to hone their craft along the offensive line.
McGhin checks in at 6-6, 303 and looks to be moving well after a year where he went through some ups and downs physically. He is working at right tackle this season.
"Physically I'm feeling great. It's very hot out here and I'm losing weight but at the end of the day we're tired of losing so you kind of put that in the back of your mind. When you get tired you just keep thinking 3-9."
"I'm loving it. Going against great guys every single day in practice is only going to make me better. Kendall Futrell, Michael Swift and Chance Purvis are guys who are really working me every single day," McGhin told PI, "I'm not going to go against anyone faster than Kendall in this league or in our non conference season at that so every day I'm going against the best of the best, getting better every single day and just trying to do what's best for this team."
For McGhin it's his final go-round in a Pirate uniform this season and he wants to make the most of the experience. He described how Tuesday went for his group up front.
"Today's workout went well. We've got some things we've got to work out in the run game. On Sunday we did great job of staying on our double teams, having great combination blocks ," McGhin told PirateIllustrated.com on Tuesday, "It just felt like we struggled away from that a little bit and we've just got to make sure we stay on it day in and day out to work on the little things so we can make this run game as dominant as we think it can be."
John Spellacy was thrown into the fire early as a freshman after McGhin went down at center last year with some knee issues. The 6-1, 290 pounder got his feet wet in a hurry before having some physical issues of his own along the way. Both guys seem in good shape coming into this season and Spellacy talked what a year of experience has done for him.
"It's helped a lot. Technique wise especially coming from high school, not everyone knows the technique in college. That's probably the biggest factor if not effort too," Spellacy said, "Starting fast and getting things going the first day of camp instead of waiting the first week or two."
"Guys like Garrett and D'Ante (Smith) who have been here for years, they're helping the offensive line day in and day out ," said Spellacy, "We've got a really good room in there and everyone is gelling and everyone is working hard so you've just got to get better each and every day."
McGhin and Spellacy break down the main ingredients that ECU is going to need to be successful this season, where they are now as a unit and what you can expect when game one comes in September against N.C A&T.
PI POST FIRST TUESDAY PRACTICE: McGHIN & SPELLACY TALK ECU OFFENSIVE LINE PLAY