Stucky Mosley's Runner at the Buzzer Lifts JMU Past ECU 73-72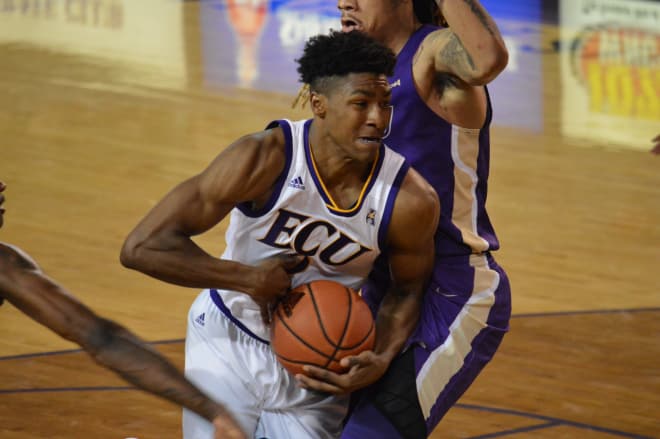 Stucky Mosley banked in a miracle one hand runner as time expired to lift James Madison to their second straight victory to open the season, 73-72 over ECU Friday night in Minges Coliseum.
ECU forward Seth LeDay led all scorers with 21 points. K.J. Davis added 16 including four treys while point guard Isaac Fleming added eleven points and six assists. Darius Banks led JMU with 19 points and eight rebounds to go along with 16 points from Mosley, eleven from Matt Lewis and ten points from Dwight Wilson.
With the Pirates down by one at 71-70, Dwight Wilson's missed turnaround shot in the paint for JMU gave ECU the basketball with 22.7 seconds to go. Then with eight seconds to go, Seth LeDay scored in the paint and was fouled to give ECU a 72-71 lead that looked to be the game winner, but he missed the free throw. That proved to be pivotal down the stretch.
JMU rebounded the basketball and called timeout with 4.9 seconds to play. Coming out of the timeout, the Dukes got the ball near half court. Stucky Mosley got the ball outside the hash mark, seemed to bobble the ball on the drive, but recaptured it in time to loft up a runner off the glass that went in as time expired to give JMU the win.
"The kid made a lucky shot. We were right there," said LeDay. He had two defenders with a hand in his face. We've got to give them credit. We had 22 turnovers and we've just got to play better. That's just unacceptable. It hurt. We worked real hard. We've been working all summer and all year, but it's only the second game. We've got a long season, we've still got thirty games left and we've got another game on Sunday, so we have just got to forget about it tonight and just pick it up tomorrow."
Isaac Fleming added, "Very" to the lucky shot comment from LeDay and he then talked about the loss.
"Losing is not good, especially when we fought back so hard," said Fleming who addressed the crowd support Friday night, "We feed off the fan's energy. When the fans are into it and hyped that gets us hyped and gets us going and has us moving faster than we're normally moving. We love our fans and we're sorry we let them down tonight."
"K.J. played great defense. He was right there," said Fleming, "The only thing, we let him dribble downhill but despite that, the kid fumbled the ball with like one second left and as soon he got it he wasn't even looking and he just threw it up and just happened to bank in. They just had God on their side tonight."
Joe Dooley talked about what ECU was trying to do defensively on the final play of the contest.
"We needed to be at the level and we let him get downhill. We were switching everything and we sort of backed off instead of leveling it off. If you get the guy going toward the sideline, it's a tougher angle to shoot and he got a decent angle going downhill. We were supposed to be at the level, hedging it. We were switching it toward the sideline and we backed up a little bit is what it looked like."
For Dooley, it was his second game back at the helm at ECU and his team fought hard in what was largely a turnover fest for both teams with JMU committing 26 turnovers and a young ECU team coughing it up 22 times. No doubt it has been some time since he has seen that many miscues in one game combined.
"Not in a while. We did it in spurts too and they were really egregious ones too. It was simple pass and catch and we had a series where instead of making easy plays we tried to make home runs. When we made easy plays at the beginning of the game I thought the offense looked really good," Dooley told PI, "You can't turn it over 22 times and go 15 of 26 (from the stripe). You look at the stats and you shoot 51 percent (from the floor) and shoot 57 percent from the free throw line. Shooting 51 percent at home usually gets you a lot of wins and that's a rough way to lose."
For a team looking to try to get on an early run of wins, this was a tough one to swallow for a loud ECU contingent in the seats as well as the players on the floor.
"Obviously we're very disappointed with the outcome. I thought we gave ourselves a couple of opportunities to win the game and they had a couple of opportunities to put us away and the guys responded," said Dooley, "I thought when we looked like we were dead in the water, the guys did a good job of fighting back and making some plays, but the amount of times we put them on the free throw line doesn't help and then we've got to make our own free throws. But we've got to make sure we're not putting teams on the free throw line 37 times and obviously at a lot of inopportune times also."
The Pirates opened up as much as a seven point 16-9 lead on an Isaac Fleming fast break dunk with just under thirteen minutes to go in the first half.
James Madison then began to wear ECU down a bit defensively as well as in transition to take a six-point 33-27 lead on two Dwight Wilson baskets and a pair of buckets from Darius Banks. Matt Lewis' basket underneath as time expired gave the Dukes a five-point 35-30 cushion at halftime.
K.J. Davis' 11 first half points in the period included three treys for ECU. Seth LeDay added nine points in the first twenty minutes for the Pirates while Darius Banks led JMU with nine heading into the locker room.
The JMU lead grew to as much as eleven on a Stucky Mosley drive in the paint and a pair of Darius Banks free throws with 13:33 to go. Then the Pirates began to make a solid run midway into the second period. Tae Hardy's baseline jumper and a Tyler Foster layup was followed by a Seth LeDay tip in the paint to cut the Dukes' lead to five. Then a Foster dunk on a steal trimmed the James Madison lead to just two at 55-53 with eight minutes to play.
K.J. Davis fired in a three pointer from the corner with 2:49 to go that got ECU to within a point at 66-65. Stucky Mosley answered at the other end with a trey of his own for JMU. Two Jayden Gardner free throws then kept ECU within two and a pair of missed free throws from JMU's Matt Lewis with 2:07 to play led to an Isaac Fleming basket at the other end that tied the game at 69-69 setting up a slugfest down the stretch.
ECU returns to the court Sunday afternoon when the Pirates host Lamar in Minges Coliseum. Tipoff is at 4 o'clock on ESPN3.
PI POSTGAME AUDIO: JMU 73 ECU 72