Temple Grabs a Convincing 34-10 Road Victory Over East Carolina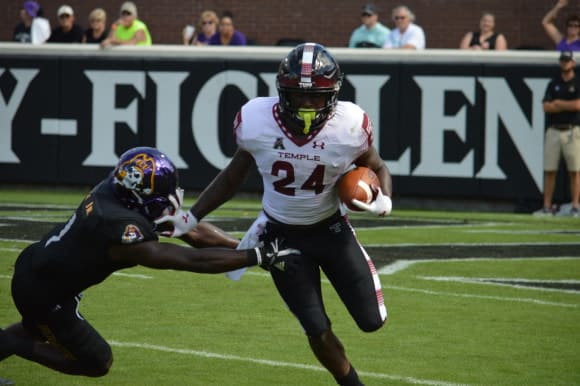 Things are not getting any easier for an ECU team that fell to 1-5 after a 34-10 loss to Temple Saturday afternoon in Greenville.
Logan Marchi got his first 300 yard game throwing for 321 yards and two touchdowns and David Hood rushed for 106 yards and a touchdown to lead Temple. The Owls also got six receptions and a touchdown from prime receiver Isaiah Wright in the victory.
ECU(1-5/1-2 AAC) had all kinds of trouble trying to run the football and ended up with just 34 total yards on the ground on just 22 total carries. Thomas Sirk hit on 20 of 38 passes for 253 yards and a touchdown, but in the end it wasn't enough to keep ECU from falling to 1-2 in AAC play.
A clearly upset Scottie Montgomery pointed to a lack of overall discipline and conditioning of his team after the game and he made his position clear.
"Great job by Temple today. They came out and dominated the game if you look at the time of possession. But I think the biggest thing is how we performed on third down inside of the game," Montgomery said, "Outside of the game, the one thing I'm most disappointed about is our discipline. What I talked about and what I brought to this program was discipline and conditioning and we didn't have that today. The next football team we put on the football field will be a lot more disciplined. I don't know who it may be or who it may not be but I'm going to put guys on the field that remind me of the way I want out guys to be."
Temple(3-3/1-2 AAC) was held scoreless by ECU in the first quarter, but the Owls scored 24 second quarter points to take a 24-3 lead over the Pirates at intermission. Adonis Jennings, David Hood and Rob Ritrovato all scored touchdowns in period to go along with a 29-yard Aaron Boumerhi field goal.
The Owls raked up 327 first half yards on 235 in the air and 92 on the ground and generated 15 first downs to just 160 first half yards for the Pirates. Jake Verity's 25-yard field goal mid-way into the first period gave ECU their only points at intermission.
"Our third down conversions were pitiful by our offense. I thought defensively what they did to us was their defensive front got after our offensive front quite a bit," Montgomery said, "I also thought we had some drops in the first quarter and first half that were critical to our offens and we had too many third-and-shorts that we were not able to convert. All and all they out rushed us, they out gained us on offense. They stopped us with their defense and just too many errors and mistakes in our front."
"My disappointment comes from our lack of discipline and all of those penalties today. Anytime that I look at a sheet of paper and I see more penalty yards than rushing yards, you know that you've got a major problem that we've got to get worked out and that bothers me," said Montgomery.
ECU looked like they were going to get things rolling offensively four minutes into the second half after a ten-yard Thomas Sirk to Quay Johnson touchdown pass that cut the Temple lead to 24-14.
Temple to struck back when Logan Marsh found Isaiah Wright wide open on a wheel route that caught the ECU defensive secondary sleeping and extended the Owls' lead to 31-10 with 2:04 to play in the third quarter.
"We've got to sustain drives and put seven points on the board instead of three especially at the first of the game when they scored a touchdown to gain momentum," quarterback Thomas Sirk said, "The zone read wan't really a part of our plan and that's probably why you didn't see that as much in terms of quarterback runs."
"We've got to hold each other accountable. Jimmy (Williams) said it after the game. There aren't enough people holding themselves accountable here offensively, defensively or in any situation," said Sirk, "You shouldn't be afraid for an offensive player to hold a defensive player accountable and that's the type of team we have to have and we've got to continue to grow in that area moving forward."
After ECU went for it on fourth down late in the third quarter and came up short, the Owls struck again with a 39-yard Boumerhi field goal to begin the fourth quarter. That pushed the Temple lead to 34-10 and the Owls coasted the rest of the way.
Temple controlled the time of possession 37:20 to just 22:40 for ECU and both teams had eight penalties in the contest.