Thomas Sirk Questionable for This Week's Game Against Virginia Tech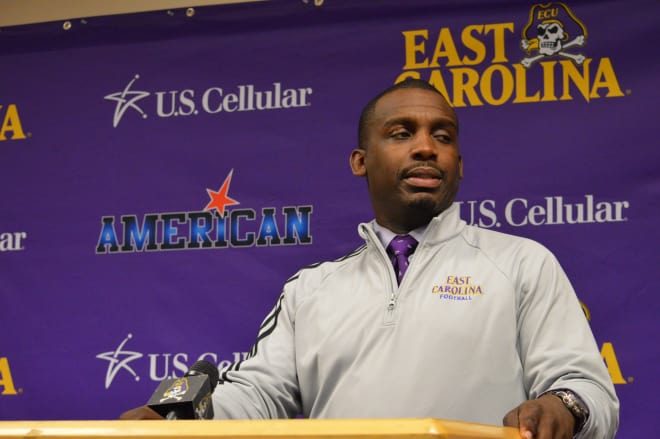 Scottie Montgomery says Thomas Sirk is still his quarterback for this week but is on concussion protocol after taking a hard hit last Saturday in Morgantown in ECU's 56-20 loss to West Virginia.
He will be monitored this week and Montgomery hopes that he will be ready to play by Saturday.
Virginia Tech comes into Greenville with a 2-0 record after a 27-0 win over Delaware State on Saturday.
The Hokies' 4-2-5 defense will present problems for ECU offensively and the Pirates have to find ways to score points early and often if they are to stay in the game against Virginia Tech.
Field cornerback Colby Gore is also going through concussion protocol this week in addition to Sirk. If Sirk is unable to go, look for Gardner Minshew to step in at quarterback.
Montgomery says he brought all of the Florida players to the front of the meeting room on Sunday and prayed for them and their families in light of Hurricane Irma's impact on the state on Sunday.
The Pirates had a good meeting on Sunday where they brought out the positives of last week's loss to West Virginia. They hope that effort carries into this week's home game against Virginia Tech.
With new defensive coordinator Robert Prunty in the fold, Coach Mo says to look for a few more variances in the front four of the defense and expect the defense to rally behind Coach P.
PirateIllustrated.com was there to bring you Coach Montgomery's weekly press conference in it's entirety.
THE SCOTTIE MONTGOMERY VIRGINIA TECH WEEK MONDAY PRESS CONFERENCE