Trey Benton and (19)ECU Beats Charlotte 3-1 Friday Afternoon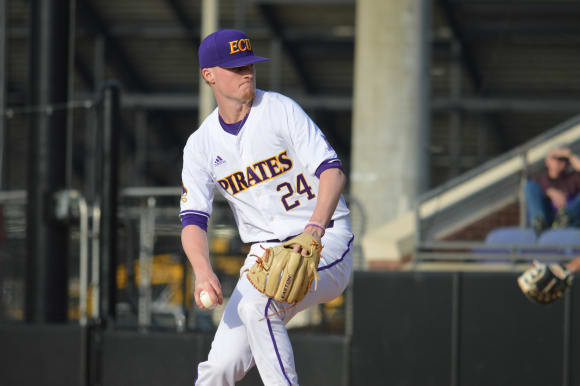 (19)East Carolina took to the road and picked up a 3-1 victory over Charlotte in the first of a three game set at Hayes Stadium behind the pitching of Trey Benton who went a career high eight and two-third innings to pick up the win.
Benton gave up just one run on five hits with six strikes before yielding to Pirate reliever Alec Burleson who nabbed his second save of the season.
Josh Maciejewski went six innings for the 49'ers giving up three earned runs on seven hits with six strikeouts to take the loss for Charlotte to fall to 2-1.
Jake Washer had a pair of hits that accounted for a pair of Pirate runs. Spencer Brickhouse went two for four with one RBI for ECU(10-3).
"Today was all about pitching and defense. This was just like a Friday night game in The American, where two aces were going at it and not a lot off offense. Trey and Alec were unbelievable and so was our defense," said ECU head coach Cliff Godwin.
"Connor Litton's play at third in the fifth (double play) and Turner Brown's diving stop in the fourth were spectacular. We had clutch hitting early with Washer's two RBI and Brickhouse's RBI as well as enough quality at-bats, but really today was about pitching and defense."
The Pirates wasted little time getting on the scoreboard when base hits from Spencer Brickhouse and Jake Washer produced a pair of first inning runs to give ECU a 2-0 lead.

Washer was at it again in the top of the third when his double to centerfield brought home ECU's third run of the day.
Harris Yett's single brought Reece Hampton home to get Charlotte(8-5) on the scoreboard in a 3-1 contest in the bottom of the sixth.
Yett singled for the third time in the bottom of the ninth to bring the tying run to the plate in the form of Drew Ober who reached on a fielder's choice and Yett was thrown out at second base for the second out. Burleson then struck out Dominick Cammarata for the third out to end it for the Pirates.
The Pirates return to action on Saturday with a double-header scheduled against Charlotte at 1 o'clock. The second game will start 45 minutes after the end of game two of the series.