Tulane Holds Off ECU 71-69 in OT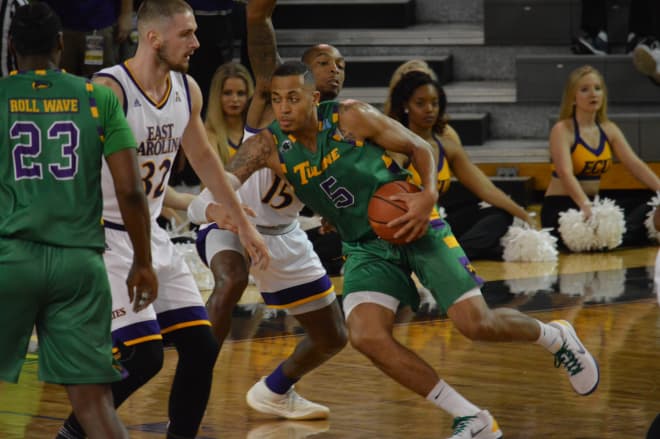 Melvin Frazier scored 18 of his 22 points in the first half to go along with eight rebounds to lead three Tulane players in double-figures as the Green Wave held off ECU 71-69 in overtime Wednesday night in Minges Coliseum.
Shawn Williams led ECU with 15 points while Kentrell Barkley added 12 points to go along with a career high 18 rebounds. B.J. Tyson also scored 12 including a basket underneath that put the game into overtime off of a full court pass from Kentrell Barkley. Isaac Fleming and K.J. Davis added ten points each for the Pirates who fall to 8-13 and 2-8 in conference play with the loss.
"We had it right there in our hands. It's a tough one, a real tough one," B.J. Tyson said after the game, "We fought back. Guys guys gave it all that they could and we just lost it at the end."
"It was a tough ending to what was a heck of a night for us particularly in the second half," interim ECU head coach Mike Perry said.
"I'm really proud of the effort of our guys. They did all of the things that you do when you're at home in defending your home turf. You get down and you fight hard to get back both on the defensive end and offensive end to give yourself a chance to win and unfortunately we couldn't finish it off. We've got a lot of inexperienced guys out there on the floor so we're still learning how to win and how to finish off games. We made the plays to put us in a position to win but how to finish, we're still a work in progress there."
K.J. Davis came off the bench and tossed in a pair of early three-pointers to give ECU a one-point 20-19 lead with seven minutes to go in a tightly contested first half.
A pair of Samir Sehic baskets and a Melvin Frazier trey found Tulane up by eight with under three minutes to play before halftime. Jordan Cornish then got out in transition to extend the Green Wave to ten at the two minute mark before a pair of Melvin Frazier buckets gave him 18 points in the first half alone and Tulane a 39-28 lead at intermission.
The Green Wave connected on nearly 52 percent of their shot attempts in the first twenty minutes and led on the glass 19-13 at halftime. K.J. Davis led the Pirates with three treys and ten first half points.
Kentrell Barkley cut the Tulane lead to six on a drive with 12:24 to play. Tulane traveling call led to an ECU basket from Justin Whatley. Then Shawn Williams trimmed the Tulane lead to three at the ten minute mark with a free throw. Then a pair of Barkley drives cut the lead to one with eight minutes to go.
Shawn Williams gave the Pirates their first two-point lead of the second half with a three-point bomb with 7:34 to play. The Pirates held a one-point lead at the three minute mark.
Isaac Fleming's traveling violation with 40 seconds to play led to a Tulane basket by Melvin Frazier with eleven seconds remaining. Tyson scored for ECU with six seconds to go and the Pirates got the stop at the other end of the court with two ticks left on the clock and called timeout.
Kentrell Barkley tossed a full court pass to a tumbling B.J. Tyson who flicked the ball into the basket with eight tenth's of a second remaining to send the game into overtime.
The Pirates had the basketball for the last possession of the contest, down by two points with 8.1 seconds remaining. Shawn Williams turned the ball over with an errant pass and ECU fouled Cam Reynolds who missed from the free throw line. ECU got the rebound but B.J. Tyson caught the basketball but turned the ball over in transition and the Green Wave held on for the victory.
With the win, Tulane moved to 13-8 and 4-8 in AAC play. The Pirates take on Memphis this Saturday in Minges Coliseum. Tipoff is at 2 o'clock.