UConn Holds Off ECU 84-80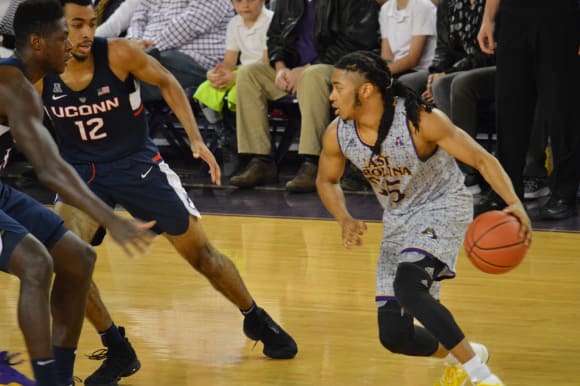 Jalen Adams scored 26 points and Terry Larrier added 20 to lead four Huskies in double-figures in UConn's 84-80 win at East Carolina Sunday afternoon. With the victory, UConn pulls to within one game of .500 at 13-14 for the season and they move to 6-8 in conference play.
The Pirates were led by Shawn Williams who also scored 26 points to go along with 20 points from B.J. Tyson. ECU got a double-double from point guard Isaac Fleming who scored 13 points to go along with 10 boards an 10 assists against just a pair of turnovers.
"It was a heck of a basketball game I'm sure to watch. On the sideline you don't get a chance to enjoy it but I knew there was a good basketball game going on and we would have loved to come out on the winning side of it," ECU head coach Michael Perry said, "We certainly did enough on the offensive end to do that but we didn't do enough on the defensive end. We gave a valiant effort. We were under manned but our guys fought and competed hard. I'm really proud of the effort they gave out on the floor. They really contributed to a heck of an evening of college basketball."
But when the game was tight in the second half, ECU hit a stretch of four or five minutes where they turned the ball over several times without ever getting a shot and blew a five point lead. Perry said ECU was trying to take UConn deep into the shot clock to slow their transition game down a bit but that proved to be much of the difference in the contest in the end.
"Hats off to UConn because they really dialed up a heck of a shooting effort for a team that had not really been shooting the ball well," Coach Perry said, "We threw a lot of different defensive looks at them but you can never be able to anticipate a team making thirteen threes when they haven't been shooting the ball well."
"We were just frustrated and rattled. They sped us up. We didn't stay disciplined and we didn't fight hard together as we should have," Shawn Williams told PirateIllustrated.com.
"It was a tug, but I give it to the guys. They fought to the end. I can say we let another one slip away from us," said senior guard B.J. Tyson, "We had it right there in our hands. A couple of more stops - you know we shot the ball great. They shot the great too. We've got to have defensive stops and we would have won this game."
HOW IT HAPPENED
Both teams started off hot with Fleming, Tyson and Williams for ECU and Vital and Adams for UConn combining for seven straight treys to open the game in a 12-9 ECU contest.
Christian Vital gave UConn their first lead of the game at 22-20 with 12:24 to go in the period. Jalen Adams' three-pointer put the Huskies up by six at the midway point in the first half.
A Shawn Williams three-pointer from the corner off a feed from B.J. Tyson, two Isaac Fleming free throws and a subsequent tap in and then a three-pointer from K.J. Davis pulled the Pirates to within two with a minute to go before the half. The Pirates retook the lead on a Shawn Williams trey and two Tyson free throws had ECU up by two at halftime.
Williams with 14 and Fleming with 13 led ECU at the break while Terry Larrier had 14 and Jalen Adam had 13 points at intermission. Field goal percentage wise, ECU was at 53.6 percent including 8 of 12 from the arc while the Huskies hit 56 percent of their shot attempts and 56 percent from three-point range.
ECU quickly took a 51-46 lead four minutes into the second half on baskets from B.J. Tyson and Shawn Williams.
With five minutes left, UConn held a six point 73-67 cushion. The lead expanded to eight on a Tyler Polley trey with 2:14 remaining.
The Pirates cut the Husky lead to six in the last minute of the game on a Dimitri Spasojevic bucket but Antwoine Anderson answered for UConn to keep the Huskies up by eight.
Three Shawn Williams free throws cut the lead to five with 28.6 seconds to play. Williams then lobbed in a bomb with 15.6 seconds to play to cut the lead to just two at 82-80 before fouling Jalen Adams on the inbounds play with 14.7 seconds on the game clock. Adams hit both shots to extend the lead to four and UConn held on for the victory.