UConn Tops East Carolina 72-65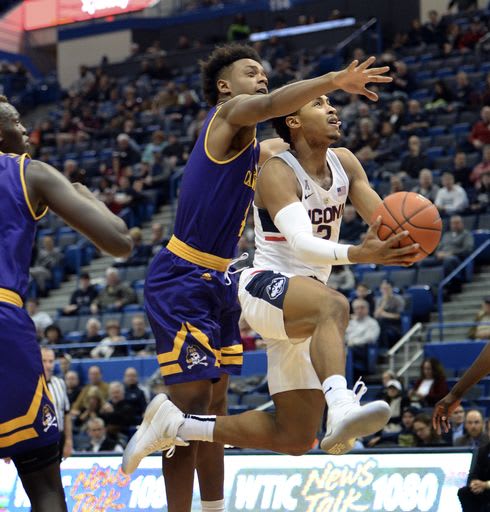 HARTFORD, CONN. - Jalen Adams led four Huskies in double-figures with 19 points and Kentan Facey had a double-double with 13 points and 10 boards to lead UConn to a 72-65 win over ECU Sunday night. Rodney Purvis scored 16 and Amida Brimah added 13 points in the victory for the Huskies.
Connecticut, who only dressed six scholarship players, went on a 24-3 run in the first half and connected on 54 percent from the floor which pretty much decided the outcome.
The Pirates lost their sixth straight game on 34 percent shooting despite 18 points from Kentrell Barkley, 14 from Elijah Hughes and 13 from Caleb White who showed signs of coming out of his shooting slump.
"I'm very proud of the effort that they brought to the table. They were tenacious at times and really tough both physically and mentally," said interim ECU head coach Michael Perry, "Obviously we're disappointed by the results, but sometimes in this business you have to crawl before you can walk. We just need to be able to sustain the effort and clean up a few mistakes and we'll be right there. Winning is what we want to do. We want to value ourselves by the wins we have, not by the effort, but this was encouraging - no doubt about it."
The two teams traded buckets in the first first seven minutes when a Kentrell Barkley three-pointer gave ECU a 14-13 lead. UConn then went on a 21 point run.
Three-point plays from Jalen Adams and Amida Brimah midway through the first half along with baskets from Kentan Facey and Jalen Adams added to the damage as UConn's lead ballooned to 34-14 with 5:40 to go in the half.
Elijah Hughes finally broke the run for the Pirates with a three-pointer and his subsequent drive to the hoop along with a pair of baskets from Kentrell Barkley helped ECU in a 14-4 run of their own to cut the lead to a ten-point 38-28 halftime margin.
UConn dominated the glass 22-12 in the first twenty minutes, 18 of which came on the defensive glass. The Huskies rode 56 percent shooting from the field and 88 percent shooting from the stripe in the first period while holding ECU to just 38 percent and just 2 for 4 from the charity stripe. Jalen Adams with ten points, Kentan Facey with nine and Amida Brimah with eight led the Huskies in scoring at intermission. Kentrell Barkley scored 14 first half points for the Pirates.
A three-pointer from Jeremy Sheppard allowed ECU to trim the UConn lead to seven at 48-41 with twelve minutes to go and ECU trimmed the lead to seven again on a Michel Nzege basket at the 10:12 mark. But anemic ball movement and an inability to get the ball deep enough into the post to draw any real defensive attention didn't yield ECU many open shots. Pirate turnovers then led to seven straight points from Rodney Purvis that helped expand the UConn lead right back sixteen at 60-44 with just under eight minutes to play.
Christian Vital's steal and score along with baskets from Purvis and Adams added to the problem for ECU despite three Caleb White baskets and an Elijah Hughes trey that cut the lead to eleven with four minutes remaining.
Two three-pointers from Jeremy Sheppard and another from Kentrell Barkley for ECU sliced the UConn margin to seven with nine seconds left, but a pair of Kentan Facey free throws down the stretch ended the threat late in the game.