UNC Evens Weekend Series With 5-4 Win Over ECU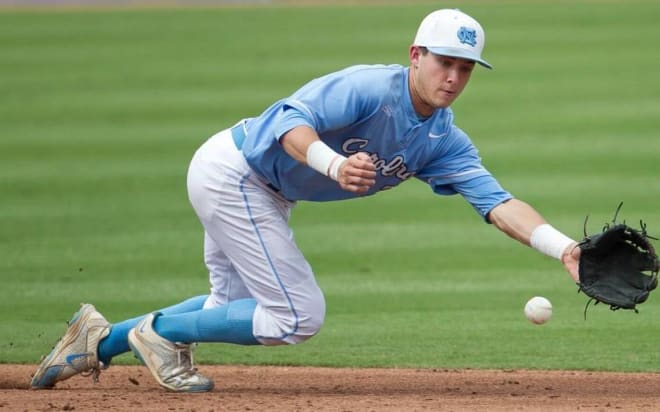 North Carolina picked up a much needed 5-4 victory to deliver ECU's first loss of the season in game two of a three-game weekend series Saturday night in front of an attendance of 4,508 at Durham Bulls Athletic Park.
Austin Bergner (1-0) picked up his first win of the season and Josh Hiatt got the save. Ryan Ross took the loss for ECU(5-1) after coming on in the sixth to pitch one inning of work among eight Pirate pitchers to see action on the night.
UNC starter Tyler Baum went four and two-thirds innings, giving up three runs on five hits with eight strikeouts.
"First, I thought Tyler Baum was really good tonight. I thought early it was tough for our hitters to do anything with his pitches as he struck out eight on the night and it was tough to hit off him. We worked him and got him out of the game," said ECU head coach Cliff Godwin.
The Pirates clawed back from a deficit and took a 4-3 lead on a Spencer Brickhouse homer.
"Brickhouse put a big swing on it that gave us the lead, which was an awesome moment. But we gave one run right back to them. Really the story in my opinion was just too many free passes by our pitching staff," Godwin said, "That was just uncharacteristic for our guys."
Michael Busch got North Carolina on the scoreboard in the first inning with a single up the middle and Cody Roberts scampered home for an quick 1-0 lead.
Busch and the Tar Heels were at it again in the third inning when his single to right scored another run. Then a wild pitch from Jake Agnos allowed Roberts to score again to make it 3-0.
A Turner Brown base hit to centerfield in the bottom of the fifth frame scored Brady Lloyd to bring across ECU's first run of the game. Then Brickhouse's homer brought scored three Pirate runs to give ECU a brief one run lead.
But UNC didn't take long to react when Kyle Datres went yard on ECU pitcher Sam Lanier to tie the contest at 4-4. Then Freeman grounded into a double play in the seventh but Brandon Martorano scored in the process to make the score 5-4.
With two outs and a pair of Tar Heel runners onboard in the top of the ninth, Drew Henrickson made a diving catch of a Datres blooper to retire the UNC threat.
Then, with one out in the bottom of the ninth inning, UNC(3-4) executed a double play with two Pirates on base to secure the victory.
The two teams convene on Sunday at Boshamer Stadium in Chapel Hill for game three of the weekend series with a 1 o'clock scheduled first pitch.