UNC-Wilmington Tops ECU 95-86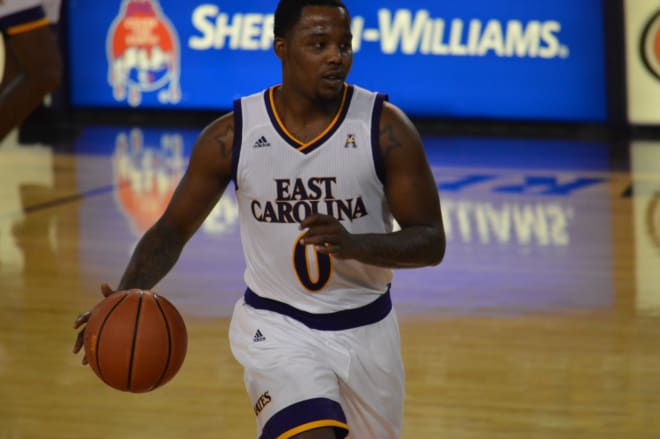 Jeantal Cylla led four players in double-figures with 20 points and eight boards as UNC-W had no problem dispatching visiting ECU 95-86 in a game that wasn't nearly as close as the final score indicates.
Kai Toews scored 16 to go along with ten assists for a double-double. Ty Gadsden and Jaylen Fornes both added 15 points each for UNC-W to go along with 12 from Ty Taylor for (4-4)UNC-Wilmington.
"We gave them some confidence with some easy looks. Our scouting report defense tonight was below average. We had a number of switches that we had gone through a number of times that we didn't execute them like we need to," Joe Dooley said after the game, "They got on a little bit of a roll. We did a good job on Cacok for the most part and the rest of the guys hurt us."
"Toews by far was the best player in the game. He was dominating in the game. His floor game, ten assists, sixteen points, he just controlled the whole flow of the game," said Dooley.
Jayden Gardner did generate a game high 30 points and 15 rebounds to go along with four blocked shots for ECU in a losing cause making him the first freshman ever at ECU to have multiple 30-point games.
"He's a guy we're going to build around in the future and we all know that," said Dooley, "He's going to play a bulk of the minutes. We're going to let him go ahead and continue to get better and better. I know that he's got a bright future and I know we've got to put some guys around him and we will but he's a great building block for our program and he does the right things."
"Their big guy really had a great game, 30 and 15, We couldn't keep him off the boards. They had 15 offensive rebounds and he had seven of them," Wilmington coach C.D. McGrath said, "He was just around the basket the whole time, they did a good job screening for him. He got a bunch of shots inside right there at the rim. We knew that, we were prepared for it but we didn't go a very good job executing our defense."
Seth LeDay added 15, K.J. Davis had 13 and Shawn Williams scored 12 for ECU.
With the loss ECU fell to 4-4 on the season and Joe Dooley fell to 0-5 all time in Track Coliseum.
The Seahawks passed and shot the ball well at nearly 58 percent from the floor and 10 of 24 from the arc. ECU hit just 41.7 percent and just 3 of 16 from the arc.
"I love 20 assists and 29 baskets, that's pretty good. We still had a few turnovers that we need to clean up," said McGrath.
In the early going, two baskets each from Kai Toews and Jeantal Cylla along with a Devontae Cacok score in the paint had the Seahawks up 15-10. Two Ty Taylor left hand jumpers, another Toews basket and a Ty Gadsden three-pointer quickly expanded the lead to fourteen at 27-13 in just the first eight minutes of the game.
Then Seth LeDay, who mysteriously sat on the bench the first eight minutes of the game again Tuesday night then scored on a drive for ECU followed by his subsequent dunk that cut the Wilmington lead to ten midway into the first half. But two Jaylen Fornes bombs quickly negated ECU's efforts and extended the Seahawk lead back to sixteen.
Jayden Gardner then took over for a spell for ECU with a pair of baskets in transition followed by a steal in the midcourt that he took all the way for a score and was fouled for his thirteenth point of the half. The 7-0 run cut the UNC-W lead to nine at the 7:31 mark in the half and gave Gardner a game high 14 points at the break.
With 3:45 to go in the half, UNC-W maintained an eleven point cushion before going cold for a time. Jaylen Fornes' trey for his team leading eleventh point of the half sent the Seahawks into the locker room with an eleven point 46-35 lead. Jeantal Cylla added ten first half points to help lead UNC-W in scoring.
Wilmington shot at a 57 percent pace including nearly 54 percent from the arc in the first twenty minutes. UNC-W got to the stripe 13 times and made seven. ECU hit just 44 percent from the field, going two of seven from the arc and only got to the stripe in the first half five times, hitting just three.
Jay Estime' got into the act, lighting up the scoreboard early in the second half for the Seahawks with a pair of quick baskets. Then Jeantal Cylla's basket gave UNC-W a 6-0 start for a 52-35 lead in the first two minutes of the second frame. Two Gadsden buckets had the Seahawks up 56-39 less than five minutes into the second half.
Jeantal Cylla's first trey of the game had and Cacock's dunk then gave UNC-W a 69-47 lead before a Seth LeDay three point play got ECU back somewhere within the same zip code. Gadsden then found the mark again from three-point land and Wilmington opened up as much as a 24 point lead midway into the second half.
ECU then made a bit of a comeback behind three baskets apiece from LeDay, Gardner and K.J. Davis and suddenly ECU had cut the lead to twelve. Subsequent three-point play's from Gardner and Davis followed by a Gardner basket underneath cut the lead seven before Wilmington held on to take the victory.