Undefeated UCF Pounds ECU 63-21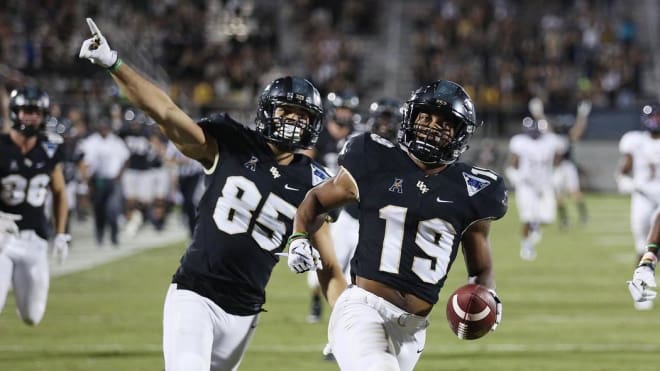 (21)UCF celebrated Space Night in Orlando with special helmet stripes Saturday night where they found an abundance of running space to commemorate the event against rudderless ECU in a 63-21 bombardment at Spectrum Field.
It was another typical night at the office in the flag fest American Conference with twenty total flags between the two teams. But UCF rolled up 600 yards of offense on 8.33 yards per play to just 326 for ECU(1-6/1-3 AAC) who dropped almost as many balls as they caught.
UCF quarterback McKenzie Milton passed for 324 yards and a pair of touchdowns to go along with one rushing touchdown to lead the Knights to their fifth straight win.
ECU quarterback Thomas Sirk went just 9 of 21 through the air for a paltry 91 yards but did manage to throw a pair of touchdowns in a losing cause for the Pirates. Darius Pinnix had a collegiate career high 93 yards on the ground for ECU while Davon Grayson, who Scottie Montgomery called "the most competitive player on the team right now," was also bright spot hauling in six passes for 96 yards and a touchdown.
Quarterback Gardner Minshew came on in the second half to go 6 of 12 for 69 yards and a touchdown for the Pirates.
"We just couldn't get the stops that we needed to get. Offensively we just didn't get it done. I thought we had way too many drops in the game, didn't protect the quarterback at all and got him hit," ECU head coach Scottie Montgomery said, "We had some guys in some good spots, but we dropped the ball and we didn't play well."
"That's what happens when you play against a good offensive football team. At one point in the ballgame they had to take two touchdowns off the board because of an interception when we don't protect when he's trying to step up in the pocket," said Montgomery, "Then we planned on kicking the ball out of bounds away from Mike Hughes and we kick it right down the field not once but twice and he made us pay. It's just unfortunate."
Melton got UCF(5-0/3-0 AAC) on the scoreboard early in the first quarter on a 48 yard pass to Jordan Akins for a 7-0 lead. Then midway through the period, UCF benefitted from a late hit in the ECU secondary. That kept a drive alive where Milton then found defensive end turned receiver Jamyius Pittman on a four-yard touchdown to cap a 14-play 70-yard drive and a 14-0 UCF lead.
On the next drive, Darius Pinnix's 57-yard run moved ECU to the 18-yard line and a subsequent interference penalty on New Bern's Mike Hughes put ECU in business at the seven yard line. Thomas Sirk then found wide receiver Deondre Farrier in the back of the end zone to cut the lead to 14-7.
The contest appeared to be relatively competitive at that point until UCF scored for the third time with twelve seconds to play in the first period on a 3-yard Adrian Killins run to give the Knights a two touchdown cushion.
After an ECU offensive three-and-out followed by a pair of blown tackles on first and second down on defense, Melton found Cam Stewart with a 42-yard strike to the ECU 18-yard line. Otis Anderson's 17-yard pass reception to the one-yard line set UCF up for a quarterback keeper around left end midway into the second quarter that snookered the ECU defense and extended the Knights' lead to 28-7.
One minute later things went from ugly to even uglier for ECU when Trey Neal's 49-yard pick-six of a Thomas Sirk pass ballooned the UCF lead to 35-7.
ECU got back on the scoreboard when Sirk found prime receiver Davon Grayson on a slant pattern for a touchdown. But UCF countered and went right back down the field late in the half. Tre'quan Smith's 37-yard catch and a Pirate holding penalty in the end zone set UCF up for a 4-yard Taj McGowan touchdown and a 42-14 halftime lead.
UCF had 291 yards through the air on 19 of 22 passing from McKenzie Milton in their 391 total first half yards with 22 first downs. Otis Anderson had seven catches in the first two quarters for 76 yards to lead the Knights. Meanwhile ECU was limited to 195 yards of total offense in the first half.
After ECU stripped the football at the one yard line to prevent a UCF third quarter touchdown, the Pirates ran it up the middle three straight times and punted to Mike Hughes who promptly ran it back for another UCF touchdown as the score mushroomed to 49-14.
Noel Vedral came on at quarterback to run for a 13-yard touchdown and a 56-14 UCF lead with just under thirteen minutes remaining.
ECU eventually got its third touchdown of the game when freshman Taj Dean was the recipient of a 17-yard Gardner Minshew touchdown pass to make it 56-21 at the 10:41 mark of the fourth quarter. Greg McCray's twenty-yard UCF touchdown made it 63-21 and just added insult to injury for the Pirates.