USF Presents Challenges For Fast Improving East Carolina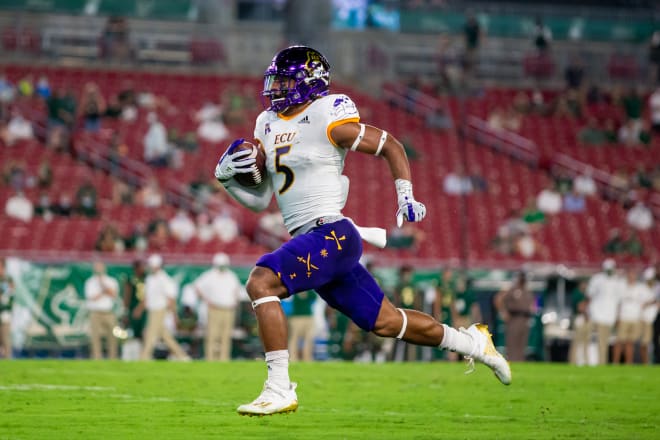 East Carolina faces another AAC challenge this week when South Florida rolls into town for a 7:30 pm Thursday night matchup on ESPN.
"Their offensive line is drastically improved. They're a big physical group. They move very well. They're very well coached," said Mike Houston, "I've known Allen Mogridge for two decades. He does a great job, always has and it's what you'd expect in their second year to see that kind of improvement on the offensive front. They have a big powerful back and a couple of smaller fast backs."
"The young quarterback is dynamic. He is a multiple threat guy. He can throw it and he can run it and does a great job in the quarterback run game and scrambling when the play breaks down and extending plays. He throws it well on the run and extends plays and runs on the ground. They have some talented receivers. They're going to be a tremendous challenge for us Thursday night."
The Bulls pounded Temple 34-14 last week doing most of their damage on the ground. Jaren Mangham rushed for 152 yards to go along with 125 from Kelley Joiner and 77 yards from Brian Battie. Timmie McCain passed for 77 yards and a touchdown.
Through seven games the Bulls rank third to last in the AAC in total offense at 378 yards per game and 2,462 offensive yards this season. They pass for just under 170 yards per game and 182 yards on the ground.
ECU doesn't have much time to get ready. Their practices both on Monday and Tuesday will be very important. The Pirates have to get the work in and still try to be rested enough to perform well against an improving Bulls team that at 2-5 has lost a one point game to Tulsa and a one touchdown game against nationally ranked BYU.
"It got compounded drastically with everything from Saturday night. We got back sometime Sunday morning and it wasn't early Sunday morning either. It was on up into the morning," said Houston, "Yesterday we looked at the film with the kids, did a walk through. My biggest concern was to get a little bit but not get anything on their bodies, try to get them some sleep last night. Today is critical, tomorrow is critical. Hopefully the weather cooperates. You've got to do the best you can and it's a challenge."
"A quick turnaround and Thursday night a big home game for us against a very, very good South Florida team coming in here. They pounded Temple Saturday evening down in Tampa and anytime you have a 45 minute time of possession and run for 454 yard it was obviously a dominant performance this past Saturday night by them. They have been playing better and better every week. It's going to be a dog fight. The kids will be ready to go. We've got a big practice this afternoon."
One bright spot for the Pirates has been the improved play of a defense that spent much of the evening in the Houston offensive backfield, causing disruptions for the Cougars and putting ECU in a position to win.
"I think you saw it last year throughout the year and I think you continue to see it this year throughout the year," Houston told PirateIllustrated.com, "The kids are playing very hard. They're playing together. They have embraced how we want to play, but they're really going to be challenged Thursday night so we will need to improve again."
USF averages 23.9 points per game to 28.6 points a game for ECU. At 418 yards a game ECU finds itself within two yards per game of Cincinnati that is in fourth place in the AAC in that category. The Pirates will have to bring their best on the offensive end of the field to be competitive and that starts at quarterback with Holton Ahlers.
"It's huge. Obviously I'm looking for us to get back to 4-4. All of our goals are still ahead of us with a bowl game and stuff so it's a huge stretch of games," Ahlers told PirateIllustrated.com on Tuesday, "It starts with this one. It's a big Thursday night game for us."
"They're a good football team. They're better than their record shows. Their defensive is a multiple front, kind of like we run. Not to that extent but it's something you don't see every week. It's going to be a tough matchup and we've just got to go out there and execute. We've just got to execute better. It's starts on third down. It starts really on first down and when you get to those third downs we've got to be better. Everybody knows our third down percentages are not good so we've just got to work on that and continue to execute. We've got the guys, we've just got to go out there and do it."
Ahlers talked about the importance of having an imposing Pirate crowd in Dowdy-Ficklen Stadium for what will become a more rare nationally televised matchup against the Bulls.
"It's huge, anytime you can show your brand like that it's huge," Ahlers told PI, "With all of this conference stuff, you don't know when the next one will come so it's huge for Pirate nation to show up and show what we're about and what we are because a lot of people are on the west coast. I watch every single ESPN game and what a lot of these student athletes do and then for the high school recruits to see a full stands and an electric environment would be cool."
Yielding 464 yards a game defensively, USF is ranked second to last in the American Athletic Conference. ECU is just one spot better, giving up 431.6 yards per contest, but the Pirates showed marked improvement on the defensive end on Saturday against Houston.
Linebacker Gerard Stringer likes where his defense is at the moment in terms of improvement and overall belief that they can get the job done.
"We're playing with a lot of confidence right now. We practice hard every day. We practice to get better, fast, physical and aggressive and we practice to do that in the game," said Stringer, "We've just got to have mental toughness every week."
"We're playing with our hair on fire," Stringer told PirateIllustrated.com, "That's the goal every week. Coach Houston always tells us to play with passion, play aggressive and just like I said, play with our hair on fire."
Bruce Bivens echoed Stringers' sentiments heading into Thursday night's AAC matchup against South Florida.
"We're ready to take on the challenge. We're real excited to display what we have to show to everyone. We come to work every day. We work on those things in practice and we go display it. We do what the coach tells us what to do and we work the scheme."
The Pirates enter at 3-4 in need of a victory after losing several close games this season. ECU is fresh off of a 31-24 overtime loss at Houston last Saturday night and after a day off to rest up after arriving.
East Carolina sophomore Ja'Quan McMillian was named one of 12 semifinalists for the 2021 Paycom Jim Thorpe Award, given to the top defensive back in college football, the Oklahoma Sports Hall of Fame announced Monday morning. McMillian logged four tackles on Saturday in Houston including a pair of impressive hits.