USF Runs Past ECU 61-31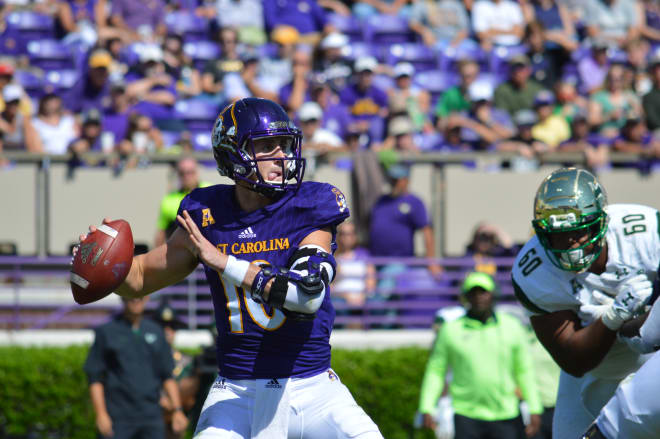 Quinton Flowers passed for 160 yards and ran for 111 more, passed for two touchdowns and ran for another in (18)USF's 61-31 demolition of ECU Saturday afternoon in Dowdy-Ficklen Stadium.
The Bulls offense scored almost every time down the field with rare exception and rolled up 575 yards of total offense while holding ECU to 414. Of that 575 yards, 390 came on the ground while the Pirates were held to just 108 overall.
ECU(1-4/1-1 AAC) did their best to make a game of it, but timely turnovers and the defense's inability to get stops made the task next to impossible.
"I really thought our guys came our and played with a lot of energy especially offensively. I told our guys coming into this game that it was going to be a possession for possession game," Scottie Montgomery said, "We started to execute a lot better on offense. Defensively our major problem today was there were a lot of one on one situations today on the perimeter that we lost. They hit so many big plays. They made their rushes and their plays count. We lost control in the second half and they continued to run the football effectively."
One of the bigger plays in the first half for USF was Augie Sanchez's 43-yard pick-six of a pass that bounced out of ECU's Quay Johnson hands and quickly turned a 14-10 game into a 21-10 USF lead.
"One of the biggest points of the game was the dropped ball that turned into a pick-six. But guys all over the field competed. We didn't have enough in the end of the third quarter and throughout the fourth quarter, but what we have to realize is this is the standard that we've got to catch in South Florida."
The Pirates hung in there within a touchdown until the 1:51 mark in the third quarter when Marquez Valdes-Scantling caught a four yard touchdown pass from Flowers to open up a 14 point lead. Overall Valdes-Scantling led USF (5-0/2-0 AAC) with six receptions for 94 yards to go along with the touchdown. D'Earnest Johnson was very effective in the Bulls' backfield, rushing for 111 yards and two touchdowns in the victory.
USF added a field goal as time expired in the third period and then scored twice more in the fourth quarter on a one yard Darius Tice touchdown and a D'Earnest Johnson ten yard touchdown run to win in the end by thirty.
It was no quarter for ECU in the final period as the Pirates failed to score despite 302 yards of passing, 87 net yards of rushing and two touchdowns in the game from Thomas Sirk.
"We just came out firing in the first half. We knew that in the game we were going to have to continue to score on offense and that's what we came out doing. We came out competing and I'm proud of our guys for competing," Sirk said after the game.
The hope is ECU will take some of the progress made on offense into the coming weeks in AAC play as well as an upcoming game against BYU in a few weeks.
"I think South Florida is a great team. You have to give them a lot of credit in how they competed on both sides of the football today and in special teams," Sirk told PirateIllustrated.com, "I think moving forward there are things we can look at on the film and get better at before going to Temple next week."
Davon Grayson led all ECU receivers with five catches for 101 yards and a 31-yard touchdown catch late in the first quarter.
"We can beat anybody. We can score on anybody. There's been flashes in every game that we've played in which our offense looked unstoppable and then we will kind of stall out. We've just got to find how to push through those times when the defense needs some help," Grayson said to PirateIllustrated.com after the game.
"They get tired too. They get out of position from time to time. The other team's offense has big play guys too so we've just got to do a great job of being prepared for those times in which we have to put it on our shoulders and be okay with it," said Grayson, "We can't complain. At the end of the day it's about staying tight as a complete team, believing in each other and that's what we're going to continue to do through thick and thin."
ECU tight end Steve Baggett was the recipient of a jump pass from Sirk at the 2-yard line as time expired in the first half and he hopes that playing ranked and quality competition in these first five games will lead to better things down the road.
"You can't really help but progress when we're playing these top 25 ranked teams. Whenever you play someone that is supposed to be better than you, you get better yourself," Baggett said, "I just hope we come together and play full games because I know that we have the talent to compete. We've just got to play together for four quarters."
SCOTTIE MONTGOMERY'S POST GAME PRESS CONFERENCE
THOMAS SIRK RECAPS SATURDAY'S ECU - USF GAME