Verity and Futrell Highlight Four ECU Players Honored by AAC
ECU senior defensive end Kendall Futrell and junior Lou Groza Award placekicker nominee Jake Verity made second team All AAC while junior offensive lineman D'Ante Smith and freshman wideout C.J. Johnson collected honorable mention honors according to an announcement from the league office on Wednesday.
Futrell, who was credited with 63 tackles including 37 solo stops, led ECU in four statistical catagories, it was his first all league accolade. He led ECU in sacks with 11 which ranked third in the AAC and also led the Pirates in tackles for a loss with 16, forced fumbles with three and quarterback hurries with 11.
He ranked 12th in the nation in sacks, 21st in tackles for a loss and forced fumbles. He also ranked third in the AAC for stops behind the line.
For Verity, it was his second All-AAC designation. He led the league in field goals with 24 and kick scoring with 105 points which ranked 20th in the nation and was third overall in the league in total scoring. Verity ranked second in the country in made field goals and field goals made per game with two.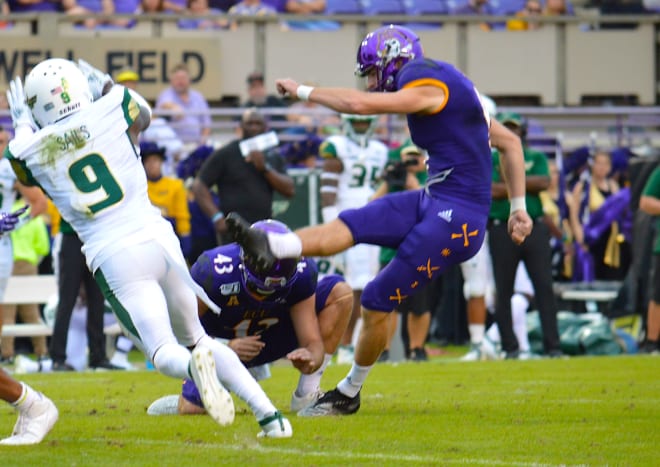 Verity, who has made at least one field goal in 13 straight games, set new all-time ECU records with 24 field goals this season and 60 career field goals. In doing so, Verity has moved into fourth place in total scoring with 280 points.
Johnson led ECU in receiving yards with 908, yards per catch with 16.8 and 100-yard receiving games with four. He ranked second on the team in total catches with 54 and touchdown catches with four. Johnson set both an ECU and AAC record with 283 yards against Cincinnati on a career high 12 receptions, the highest in the nation this season and ranked 6th in receiving yards per game at 75.7 yards and tenth in catches with 4.5 per game. He ranked 39th in receiving yards and 40th in receiving yards per game.
Smith started in all 12 games at left tackle for an ECU team that averaged 430 yards a game which ranked sixth in the AAC. That led to three one hundred yard rushing performances and five 300 yard passing days from Holton Ahlers including 535 yards against Cincinnati, a single game record. ECU's best offensive performance was 644 yards against SMU and the Pirates went over 480 yards six times this past season.
Four honorees is the most ECU has produced in one season since they had six honorees in 2015.