White's 22 and Washington's 21 Key ECU's 73-50 Win Over Stetson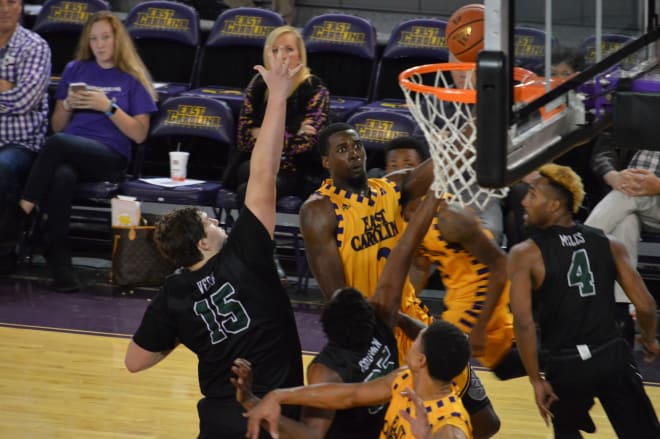 Big 7-1 Andre Washington had a career high 21 points to go along with six boards and Caleb White returned from a one game suspension to score a game high 22 as ECU got the better of cold shooting Stetson Sunday afternoon in Minges Coliseum.
Washington hit seven of his nine shot attempts to go along with six blocked shots in just 27 minutes of play.
The cold shooting Hatters hit just 14 of 69 from the floor after scoring 112 points Friday night in a four point loss to The Citadel. The Pirates held them to 16 percent shooting in the second half.
Stetson was led by Derick Newton's 15 points along with 10 points from Divine Myles who despite 3 of 12 shooting did most of his damage at the free throw line to go along with ten rebounds.
"It was a terrific win for our guys. Defensively we were outstanding. To hold somebody to 20 percent and 9 percent from three, that's pretty good," Jeff Lebo told PirateIllustrated.com after the game, "Some of it was good defense and some of it was they just had a horrendous night shooting the basketball. They're a good shooting team and that's where they can beat you, but our length bothered them a little bit on the perimeter and I thought our rebounding was a key."
"I don't know the last time you've seen three guys in double-figures rebounding the ball, but we had three in Clarence (13), Kentrell(11) and Andre(16) was a huge difference for us tonight. He was terrific scoring the ball. Face up jumpers, rebounding the ball, getting to the line. 21 and 16 is a big night," Lebo said.
It was the Andre Washington show early the game for East Carolina. Washington canned 5 of 6 from the floor to go along with a perfect 5 for 5 from the stripe to toss in 15 points in the first thirteen minutes of the contest. Then a Caleb White three-pointer found the Pirates with a 27-11 lead at the 7:39 mark.
ECU hit 45 percent of their shots in the first twenty minutes and took as much as a twenty point 34-14 lead on a B.J. Tyson floater in the lane. Stetson then found varying ways to score on four different occasions to cut the lead to 37-23 at intermission.
Luke Doyle had eight points at halftime to lead the cold shooting Hatters who hit just 8 of 32 from the floor, 14 of which came in the paint. Washington's 15 points and eight points from B.J. Tyson led the Pirates who dominated the glass 28-17 heading into the locker room.
Washington got to the stripe early in the second half twice to go along with a pair of Caleb White baskets. Kentrell Barkley scored in the fast break and the Pirates got a pair of buckets from B.J. Tyson as ECU took a 55-35 lead at the 12 minute mark.

Caleb White knocked down a jumper and a pair of treys to extend the ECU lead to 22. Then Clarence Williams, Andre Washington and White scored again adding to the damage and stretched the lead to 73-50 in the closing minutes.
It was Washington's best day as a collegiate player after transferring over from Wake Forest and he made the most of it.
"I just started off really well and my teammates saw that, so they just kept feeding me the ball. I am just thankful to be here. Thankful for God because without him I couldn't do none of that, but Coach Lebo has had my back and has given me the confidence to go to the basket and that's what I did today," Washington said, "I'm just thankful to my teammates to find me and I delivered so I'm just thankful."
White said it took the better part of a half before he kind of caught his breath and settled back into playing after sitting out the Thursday night loss to Charlotte.
"It takes a little bit of the pressure off of you when you can just feed it into him and he's just scoring at will. I know the first half I had to find my rhythm being off from practice a couple of days and not playing, so it just took me a couple of extra shots to get ready," said White who stated it was tough having to sit out for a one game suspension and it served as extra motivation for Sunday's game.
"It was hard because being a senior any game taken away hurts. I was down. It wasn't any type of bitterness because at the end of the day rules are rules. That first half was bad. I shot one off the backboard. I shot one that barely made it to the rim, so it took me the better part of that first half to get my wind and get my rhythm back, but in the second half I started to come around some more."
Stetson scored 17 points off of 21 ECU turnovers in the game, but the Pirates scored 28 points in the paint and out rebounded the Hatters 63-38. Kentrell Barkley added 14 points and Kentrell Barkley chipped in with 10. ECU hit just 42 percent from the floor and only 7 of 21 from the arc.
Stetson's 3 of 31 from three-point land was much of the equalizer in ECU's third win of the season against just one loss. With the loss, Stetson falls to 2-2 on the year.
Click into Sunday afternoon's Game Photos along with PI post game audio with East Carolina head coach Jeff Lebo along with Caleb White and Andre Washington.