Wichita State Manhandles ECU 95-60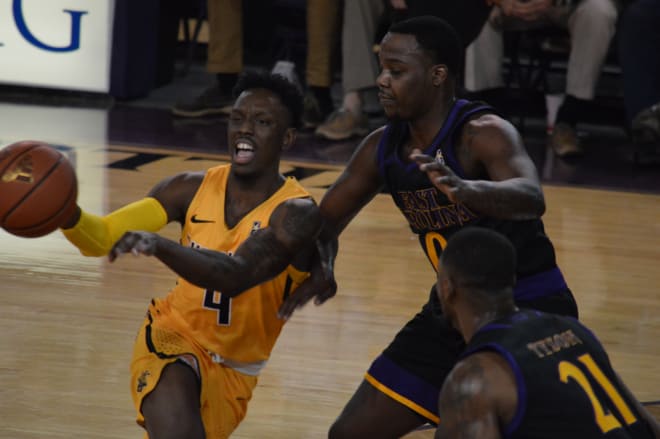 (5)Wichita State entered Thursday night's league game at ECU a decided favorite and it was no shocker when they came away with a convincing 95-60 victory to improve to 14-2 overall and 4-0 in AAC play.
Playing fifteen different players, the Shockers were led by Rauno Nurger who scored 14 points in just 15 minutes of play to lead four players in double figures. Wichita State hit 59.4 percent of their shots including a whopping 70 percent in the second half while holding ECU to just under forty percent.
The Pirates were led by B.J. Tyson who scored a game high 16 points to go along with 14 from Kentrell Barkley and 10 from Dimitri Spasojevic but the Pirates continue to play short handed. Add to it the fact that starting point guard Isaac Fleming was held out of the starting lineup for disciplinary reasons and when he finally got in the game he went just 2 for 10 from the floor for five points.
"I felt like we put in a lot of effort. I commend the guys on not giving up, but some of our shots just didn't fall," Tyson said afterward, "We played with them for ten or eleven minutes but we've got to start playing forty minutes together."
ECU interim head coach Michael Perry took the loss in stride and found some positives even in a 35 point home loss in front of the Pirates' biggest crowd of the year.
"For us we've seen the elite of the elite in this league and it's a learning experience for our guys. There is a lot to take away from this experience certainly," Perry said, "You see why they're the fifth best team in the country. They have got a lot of strengths and not a lot of weaknesses. They play well together, they play hard and there is a lot to learn from playing a basketball team like this. We're a better team right now for having played against them."
The Pirates kept the contest close for the first ten minutes before cooling off offensively, Meanwhile the Shockers heated up at their end of the floor after a cool one for ten start from the arc to take a twenty-two point 45-23 lead into the locker room at halftime.
"One of the things we saw is we can play with them for ten minutes but then the other thirty minutes you've got to figure it out," Perry said, "They're really good and we've got to be able to sustain that level of play for longer periods of time against elite level teams."
Wichita State connected on fifty percent from the floor and enjoyed a 28-11 advantage on the boards in the first twenty minutes. ECU(7-9/1-4 AAC) connected on just 32 percent of their first half shots and just 2 for 10 from the arc. Conner Frankamp tossed in a pair of long bombs for the Shockers and led all scorers with eight points at halftime.
"We knew coming in that they were a little short handed but I didn't realize how short handed. They had another player who did not dress tonight and they started out great and we just decided that we were going to make this a ton of possessions game," Wichita coach Gregg Marshall said, "We were going to press and try to wear them down and towards the end of the first half I think that's what we were able to do."
An early 16-6 run in the first four and a half minutes of the second half had the Shockers up 61-29. Two B.J. Tyson baskets cut the lead to 70-41 at the ten minute mark but Rauno Nurger's dunk made it 81-46 with just under seven minutes to go.
The Pirates finally cracked the fifty point mark with 3:15 to play on a Dimitri Spasojevic dunk in an 89-50 ballgame and a few made baskets by ECU in the closing minutes kept the game somewhere in a respectable realm.
The Shockers enjoyed a 50 to 30 scoring advantage in the lane. They got 51 points from their bench and 28 of their points from 15 ECU turnovers. The Pirates had hoped to get out in transition to score more but were only able to score four points in the fast break for the game. Cold 4 for 18 shooting from the arc didn't help matters for ECU either.
Wichita State's three point shooting improved to just under 41 percent overall on 9 of 22 from the arc and they hit 10 of 12 from the charity stripe while ECU connected on just 10 of 17 in the Pirates' ninth loss of the season. Overall the Shockers made 38 shots on 32 assists.
After the game, PI was there to bring you post game audio of both team's press conferences in their entirety.
WICHITA STATE HEAD COACH GREGG MARSHALL PRESS CONFERENCE
ECU PRESS CONFERENCE (Mike Perry, B.J. Tyson & Justice Obasohan)