Joe Dooley and ECU Sign Three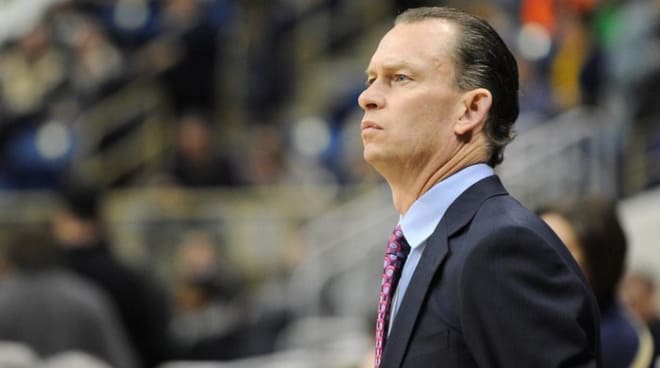 Joe Dooley ECU signed three players for their basketball class of 2019 on Wednesday. It is Dooley's first class since returning as the new coach of the Pirates.
Tyree Jackson out of Northwest Florida State College is a former Virginia Tech player. The versatile 6-1, 205 pound guard visited Greenville in mid September and the Pirates benefitted from his connection with new ECU assistant Steve Roccaforte who came over from Virginia Tech where he was on Buzz Williams' staff.
In 28 career games at Virginia Tech, Jackson averaged 3.0 points and 1.5 rebounds He averaged 18 points, seven boards and five assists to go along with five steals a game with Tift County High in Tifton, Georgia where he was named 6A South All-State.
"He played for a very good coach at Virginia Tech in Buzz Williams and now a great junior college coach in Steve DeMeo at Northwest Florida," Dooley said. "He's been very well coached. Coach DeMeo has bragged about how hard he's worked. I think that he's continued to develop and get better. He's another guy that brings a lot of toughness."
Jackson will have two years of eligibility remaining with the Pirates.
ECU also signed Logan Curtis, a 6-3, 175 pound guard out of Calvert Hall High in Baltimore. The Rivals three-star also held offers from Sienna and North Carolina A&T.
"Logan brings a lot of energy," Dooley stated. "He's got a lot of upside. He's off to a great start this year. His high school coach has bragged about what a great leader he's been and how hard he's been working. From an athletic standpoint and a playmaking standpoint, he'll be able to step in and make an impact."
Curtis, a 6-foot-4 guard from Baltimore, attended the same school as former Maryland All-America guard Juan Dixon and 2010-11 NBA All-Rookie Team member Gary Neal. As a junior, Curtis averaged 17.0 points, 7.0 rebounds, and 3.0 assists per game for the Cardinals. Curtis will have four years of eligibility with the Pirates.
Tremont Robinson could be the best one of the bunch. With offers from ECU, Auburn, California, Louisiana-Monroe, Southern Miss, Virginia Tech and Wichita State, Robinson is spending this year at Garden City, C.C. in Kansas where he is sitting out the season out as a redshirt. He wlil work out with the team so as to provide him three years of eligibility at East Carolina starting next year. Robinson began his college career at Northwest Mississippi Community College in 2017-18 before transferring.
"The thing I like the most about him is his competitiveness which is very evident on the defensive end," Dooley explained. "He loves to pressure the ball. The thing that everyone has said about him is that he's a winner and he'll bring that type of mindset to ECU."
The 6-1, 175 pound point guard will will reunite with fellow sharp shooting Pirate guard Shawn Williams in Greenville who he has known since ninth grade in Arkansas. They both played at Maumelle High. Along with Coach Dooley, Roccaforte has also played a big part Robinson's recruitment after earlier recruiting him for Virginia Tech.
"The guys that we've signed have added some athleticism, toughness and depth to our program," Dooley said. "We're very excited that all three have chosen to be Pirates. They've been very loyal to us and we're going to reciprocate that."