ECU Tops UNC-Wilmington 9-5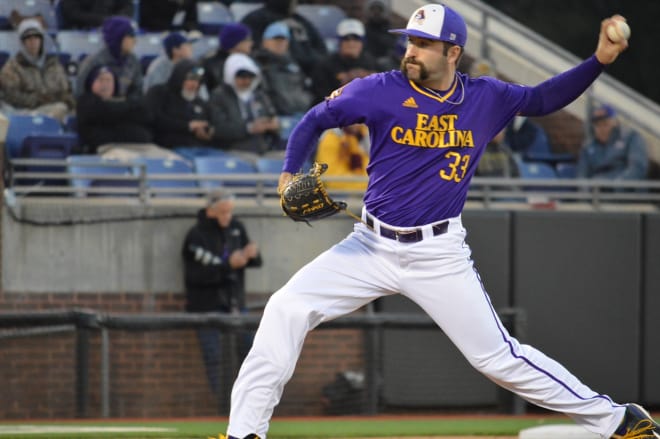 Charlie Yorgen went five for five with a double and a pair of RBI, Luke Bolka knocked a three-run homer to go along homers from Bryce Harman and Dwanya Williams-Sutton in ECU's second win in the month over UNC-Wilmington, 9-5 at Brooks Field Tuesday night.
After the game, ECU head coach Cliff Godwin was complementary of Yorgen's performance in Wilmington.
"Charlie Yorgen had two two-out RBI's and Bryce had one, but Charlie had a tremendous night for us, said Godwin, "I think he was on base all six times so anytime you can do that, it's a pretty good night."
The Pirates had 18 hits and left 12 stranded, but managed to produce nine runs in the process. With the win ECU improves to (20-18/0-9 AAC)
Jacob Wolfe improved to 4-2 with the victory for ECU. Clay Lockomon fell to 0-2 with the loss for UNC-Wilmington.
"Wolfe was tremendous tonight. I thought all of our guys out of the bullpen fought hard. Wes Covington did a good job, Sam Lanier and also Tyler Smith did a good job," the Pirate head coach said after the game, "We definitely swung the bats good and I thought we played really good defense. I'm just proud of them because they've continued to play hard no matter what our record is and I'm proud of the energy they had tonight."
It didn't take Wilmington long to open the scoring when a Nick Feight pop fly to left brought Casey Golden home to give the Seahawks an early 1-0 lead.
Jake Washer scored in the top of the second for ECU when Bryce Harmon singled to center to make it 1-1.
ECU kept the offensive pressure on in the fourth when Harman's two-run line drive homer to right field gave the Pirates a 3-1 lead. Harman described it after the game.
"I was just looking for a fast ball. I got ahead 2-1 and he threw me one about middle way and I got my arms extended and tried to get under it and get some lift on it. It was was blowing out to right, so I wanted to use the wind to my advantage and luckily I did," Harman said, "I'm just trying to set the fire and everything because a lot of things are going on with us. We're not getting many breaks but I just try to keep it simple up there and I'm a big guy so I'm trying to elevate the baseball. And it's just getting better pitches to hit. That's all it really is."
Godwin said that took a lot of pressure off of Jacob Wolfe on the mound and got the ECU offense going in high gear.
"I go back to the first RBI he had. We're down 1-0, Jacob Wolfe is on the mound. Obviously Jacob hasn't pitched as well as he would have liked all year so I thought it was big for us to get some momentum back and give Wolfe a breather so to speak," Godwin said, "So Harmon tied it at 1-1 and then the two-run jack got us going offensively."
Luke Bolka added to the Pirate barrage in the fifth inning when his three-run shot to center extended the ECU lead to five. Then a two-out RBI single from Charlie Yorgen brought Bryant Packard across home plate for a 7-1 lead.
The Pirates added another run in the top of the 7th when Dwanya Williams-Sutton homered to left field to make it 8-1.
The ECU lead was sliced in half in the bottom of the seventh when Riley Zayicek doubled to right to score a run. then Daniel Stack homered to left to for the Seahawks to bring home a pair of runs that cut the lead to 8-4.
But Wilmington (16-19) left three runners stranded with the bases loaded in the 8th inning when Matt Bridges struck Robbie Thornburn out.
Charlie Yorgen then doubled to center off of Wilmington pitcher Austin Easter to score a run that made it 9-4 before Daniel Stack got his second homer of the game in the bottom of the ninth for UNC-W to trim the ECU lead to 9-5.