Yorgen's Three-Run Shot Lifts ECU to a 10-7 Win Over Charlotte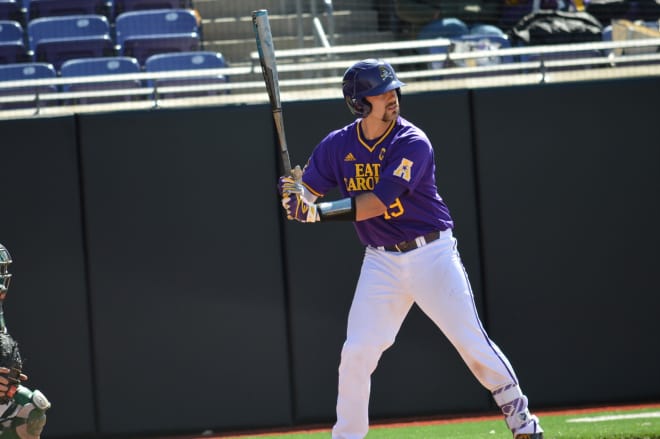 Charlie Yorgen's sixth career home run, a three-run shot to right field in the bottom of the tenth inning lifted eighth ranked ECU to a 10-7 game two win over Charlotte afternoon at Clark-LeClair Stadium.
Down 7-3 in the ninth inning, Charlotte scored four runs to tie the game and send the game into a tenth inning in the second game of the series and the first game of a Saturday double-header.
Joe Ingle picked up the victory to move to 3-0 for the Pirates while Matt Brooks falls to 2-1 with the loss.
Four straight hits after ECU(11-4) had two outs in the first got the Pirates on the scoreboard. Travis Watkins singled up the middle. Luke Bolka followed that with a single into right field. Spencer Brickhouse lined a single into right to load the bases off of 49'ers starter Josh Maciejewski. Then Watkins and Bolka scored on an Eric Tyler bloop single to centerfield to give the Pirates an early 2-0 lead.
Travis Watkins belted a towering grand slam to left field in the second inning that scored Bryant Packard, Dusty Baker and Charlie Yorgen and give East Carolina a 6-0 lead.
Charlotte got on the scoreboard on a bases loaded walk that scored Jackson Mims from third. The 49'ers scored again in the fifth on a Brett Netzer grounder to second that brought Hunter Jones across home plate.
The Pirates were at it again in the sixth when Bryant Packard's first career homer off of Charlotte's Bruce Morrison to right field made it 7-2 ECU.
Netzer singled up the middle and Jones scored again in the seventh frame in a 7-3 ballgame.
Charlotte wasn't through when Hampton score on a fielding error from Turner Brown. Then Mims' two-run ninth inning homer to right field off of Tyler Smith cut the ECU lead to one. Then a wild pitch scored T.J. Nichting to tie the contest at 7-7.
With Packard on second and Dusty Baker on first, Charlie Yorgen homered off of Charlotte's Jonah Patton to take the victory in the bottom of the tenth inning.