Zay Jones Gets NCAA Receptions Record in ECU's 66-31 Loss to Navy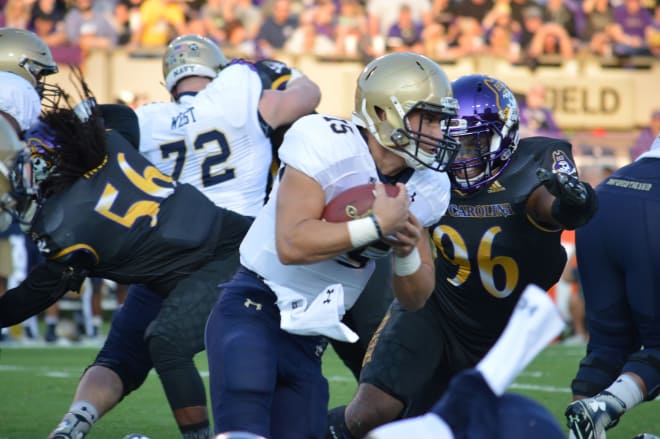 East Carolina lost it's eighth game in the last nine contests and Navy took a 66-31 victory over the Pirates Saturday evening in windy Dowdy-Ficklen Stadium. Navy, who has won five of it's last six games, set a Navy single game school record for touchdowns with nine.
The Midshipmen were led by quarterback Will Worth who ran for 159 yards on 28 carries with four touchdowns and he passed for 113 more on just 3 of 5 passing for the game. Fullback Shawn White was also big in Navy's fortunes with three touchdowns and 150 yards rushing of his own.
Overall, Navy put 593 yards of total offense together to just 414 for the Pirates who ran 23 less plays due to the ball control nature of the Midshipmen's offense.
For Zay Jones it was bitter sweet in his last game in Greenville setting the career FBS record for receptions Saturday night.
"Let me say how proud I am of Zay Jones breaking the NCAA receptions record. I can't put into words how hard he's worked. How all offseason he did what we asked him to do. He has probably one of the highest target to catch ratios I've ever heard of or ever been around," Scottie Montgomery said after the game, "I thought the game in the first part of the game was really going the way we wanted it to go. Our plan was to try to create big plays on first down and on second down shorten it a little bit and coming out of the first half we in charge of the time of possession."
"The critical time in the second quarter was when we had some three-and-outs and we were trying to steal possessions from Navy and they stole the possessions from us following the score and then the muffed kickoff return," said Montgomery, "We had a great call from (offensive coordinator) Tony Petersen down the opposite sideline on a wheel pattern that we weren't able to complete. We came back and formated it a little bit different and came back and didn't complete it again. It should have been two great completions."
When you're up against Navy, every possession counts and you have to come away with points or they tend to break serve on almost every possession. ECU played maybe one of their best games ever penalty wise with just one five-yard infraction the whole game but the defense's inability to beat Navy to the right spot proved to be much of ECU's undoing.
"In the second half, once you're one or two possessions down it made it really hard. I thought our guys played great penalty discipline. I thought we played hard even when we were down in the game we didn't quit," said Montgomery, "One of the differences in this game I thought was that we couldn't play enough defensive linemen in this game. We played as many as we had but their offensive front, it wasn't the cut blocking that bothered us. It was the drive blocking that gave us a hard time in allowing the fullback to get behind our defensive end. It was critical. We tried to adjust at halftime. We slowed them a little bit but we couldn't stop the bleeding at that time."
The Pirates, who were playing without starting senior quarterback Philip Nelson, got 238 and three touchdown passes from Gardner Minshew while James Summers rushed for 134 yards including an 81-yard touchdown run midway through the third quarter.
But the Navy offense gave ECU's defense fits despite 18 tackles from linebacker Ray Tillman who had perhaps his best day as a Pirate.
East Carolina jumped out to a quick 17-7 lead. Gardner Minshew's 40-yard pass to Zay Jones got the Pirates on the board first. Minshew then found Jimmy Williams from 8-yards out for the second score of the game. Davis Plowman's 43-yard field goal made it 17-7.
Will Worth got Navy on the scoreboard on an eight-yard run with 3:21 to go in the first quarter. Worth scored again on a one-yard touchdown. Bennett Moehring's PAT made it 17-14. Then Shawn White scored a pair of touchdowns of 41 yards and 7 yards as Navy took a commanding 28-17 cushion. It was the third straight game that the Pirates allowed 24 or more points in the first half.
The biggest bright spot for the Pirates was Zay Jones surpassing Justin Hardy's ECU and national FBS all-time reception record of 387 on a 19-yard catch in the second quarter. Jones now stands at 392 career receptions on twelve catches for 212 yards against Navy. That was a personal record for yards for Jones to go along with a pair of touchdowns. Hardy was in attendance to see it.
Jones also set ECU single-season receiving yards record with his 40-yard TD catch in the first quarter (1,685) and extended his streak to 46-straight games with at least one catch in the first quarter (seven yards) - the fourth longest active streak in the nation.
"It meant a lot to have my entire family here supporting me just to show that to my teammates as well. It was a special moment and I'm going to cherish that forever," said Jones who talked about the turning point in the game, "We kind of hit a wall and had some three-and-outs. We knew that Navy had a potent offense. Credit to them and their coaching staff. We kind of let it get away from us. We had some moments where we were firing back, but it wasn't enough to hold them off."
Bennett Moehring struck again with a 29-yard field goal with 1:03 to play in the half to give the Midshipmen and commanding 31-17 lead going into the locker room at halftime.
The ECU nightmare continued when Calvin Cass, Jr. scooted around right end to extend Navy's lead to 38-17 after a time consuming drive to begin the second half. Then to make matters worse for the Pirates, the ensuing kickoff hit Jordan Williams on the leg who lost track of the football. Navy fell on the ball putting the Midshipmen in business again on the ECU 37-yard line. Quarterback Will Worth on the next play tossed it deep to Jamir Tillman who burned Pirate defensive back Colby Gore on a first down circus catch at the ECU two-yard line. Worth then converted that into his third touchdown of the evening on the very next snap and Moehring's extra point made it 45-17 Navy with 8:37 to go in the 3rd stanza.
ECU(3-8/1-6 AAC) finally got back on the scoreboard with 7:40 to go in the 3rd quarter when senior running back James Summers scored on a personal record 81-yard touchdown down the right sideline.
Worth added his fourth touchdown run of the day on a 4-yard run to extend the Navy lead to 52-24. Then ECU quarterback Gardner Minshew found Zay Jones on a 77-yard scoring strike to cut the lead to 52-31 with just under three minutes to play in the third quarter.
Shawn White's third score of the evening for Navy came on a one-yard touchdown run with 11:13 to play that tied a Navy single game touchdown record with their eighth score of the day. That record was set five years ago in a 76-35 win against East Carolina in November of 2011 in Greenville. Jamal Daniel's two-yard touchdown was the Midshipmen's single season record setting touchdown to wrap up the scoring.
SCOTTIE MONTGOMERY RECAPS THE NAVY GAME