Zay Jones' Legend Continues to Grow as a Biletnikoff Finalist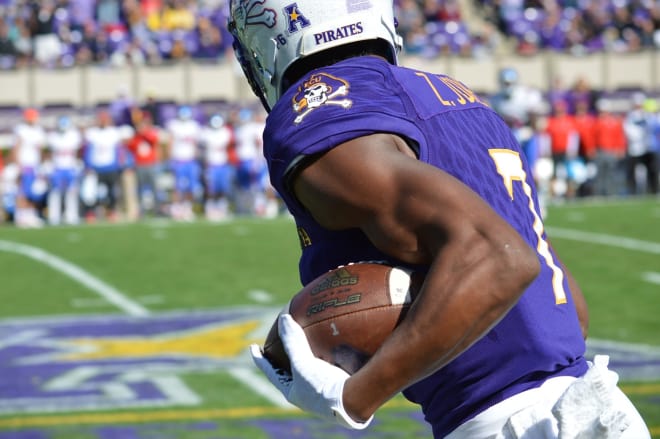 Tallahassee, FL - The Tallahassee Quarterback Club (TQC) Foundation, Inc., the Florida-based creator and sponsor of the Biletnikoff Award, announced their 10 Semifinalists for the 2016 Biletnikoff Award.
The secure and confidential electronic voting by the distinguished members of the Biletnikoff Award National Selection Committee was conducted from November 7th through November 13th.
East Carolina's Zay Jones made the cut as he continues his quest toward the all-time NCAA receptions record held by former East Carolina wide receiver Justin Hardy.
Last Saturday, Jones caught 12 passes for 173 yards and one TD. He extended his streak to 45-straight games with at least one catch in the first quarter (39 yards). That is the fourth longest active streak in the nation.
This season, Jones currently leads the NCAA FBS in four categories: receptions (139), receiving yards (1,473), receptions per game (13.9) and receiving yards per game (147.3). He stands fifth on the NCAA FBS single-season receptions chart and needs 17 catches over the next two games to pass current record-holder Freddie Barnes (155/Bowling Green/2009).
Against Tulsa, Jones set an ECU and American Athletic Conference single-season reception standard to eclipse former teammate Justin Hardy's mark of 121 set in 2014.
Jones has caught multiple passes in 47 of 48 career games (none vs. VT in 2013) and caught his sixth touchdown pass of the season which is a new single-season high. He has 21 career TD receptions, which is tied for third most on ECU's all-time charts. His 21st career TD pass of 8 yards came in the second quarter which moves him into at tie for third on ECU's all-time TD receptions list.
Jones has now snagged at least one pass in 37 of 40 quarters this season (none vs. WCU/4Q, CIN/3Q and UCONN/4Q). On Saturday against SMU, he registered his 17th double-digit catch and 18th triple-digit yard games in his career. That's eight double-triple (catches-yards) contests in 2016.
He has 380 career receptions, which ranks second on the all-time NCAA/FBS charts behind former teammate Justin Hardy (387/2011-14) and 4,006 receiving yards, which ranks second on ECU's all-time yardage charts. 165 of his 380 career receptions have gone for 10 or more yards (45 for 20-plus)
The Biletnikoff Award annually recognizes the outstanding receiver in college football. Any player, regardless of position (tight end, slot receiver and back, inside receiver, wide receiver, split end, and running back) who catches a pass is eligible for the award. As such, the Biletnikoff Award recognizes the outstanding receiver, not merely the outstanding wide receiver.
n ten games this season, he has caught a career-best six touchdown passes and registered eight double-triples (catches-yards), which includes a career-high 22 receptions for 190 yards at South Carolina on September 17. His 22 grabs against the Gamecocks are the most by an NCAA FBS receiver in a game this season and was one shy of an all-time NCAA FBS record.
On November. 7, Jones was formally recognized as a Heisman Trophy candidate by the Heisman Trophy Trust while being selected as a finalist for the William V. Campbell Trophy and Senior CLASS Award on November 3.
The ten 2016 Biletnikoff Award Semifinalists, as selected in voting by the distinguished members of Biletnikoff Award National Selection Committee, are as follows:
Austin Carr Northwestern University
Corey DavisWestern Michigan University
Amba Etta-Tawo Syracuse University
Carlos Henderson Louisiana Tech University
Isaiah "Zay" Jones East Carolina University
John Ross University of Washington
Taywan Taylor Western Kentucky University
Trent Taylor Louisiana Tech University
James Washington Oklahoma State University
Dede Westbrook University of Oklahoma