ECU Diamond Collapse Continues in a 7-0 Loss to UCF for Series Sweep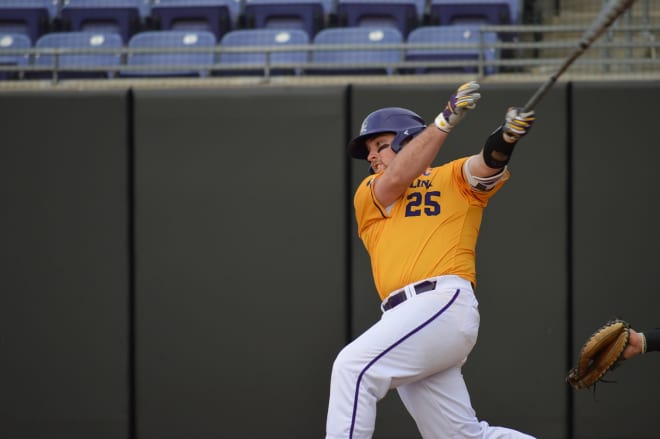 UCF scored a pair of runs in the sixth, eighth and ninth inning to go along with a single run in the third to shut out ECU 7-0 and take the three game AAC sweep in Greenville Saturday afternoon.
Joseph Sheridan got the win for the Knights, going seven and two-thirds innings with six strikeouts to move to 6-3 for the season.
Evan Kruczynski took the loss for ECU after going 65 pitches in five innings in his return from an injury. He gave up one run on three hits to go along with a pair of strikeouts.
"It was great to see him run out there. Just to see the big six foot six lefty go out there meant a lot to us. He pitched great, gave up one run in five innings. He was on a pitch count," Cliff Godwin said after the game, "We probably saw more pitches than we would have liked, but after the fourth inning which was probably his best inning he didn't want to come out of the game, so we gave him one more inning and he pitched really good for us."
ECU has lost ten of their last eleven games and falls to one game over .500 at 19-18 overall and 0-9 in AAC play with the loss. Godwin said the competition that his team has faced has something to do with his team's lack of fortune this season, but it's more about what ECU is not doing.
"It would be tough for us to beat anyone right now. It's not effort related. Today we had a plan offensively, we didn't execute it. One guy would execute it and the next guy wouldn't," Godwin said, "You've got to string your at-bats together. We get crossed up between a senior catcher and a sophomore pitcher on a sign that never happens. It happened today."
"I think they're really trying too hard and until we get back to playing like ourselves and trusting our preparation then we're going to continue to not play our best baseball. The teams that we're going to play from here on out are not going to give us a win. You're going to have to go out there and play better than them and right now we're just not playing better than a lot of teams and we've got to figure out a way to do that."
Luke Hamlin's sac fly to right field brought Kam Gellinger across home plate to give UCF a 1-0 lead in the third inning.
The Knights added two runs in the top of the sixth when Eli Putnam singled and Anthony George scored. Then Matt Mika doubled to center to score another run to give UCF a 3-0 cushion.
In the eighth inning, Brennan Bozeman's single down the right field line scored a run. Then UCF scored again on a Sam Lanier wild pitch that brought Gellinger across home plate to make it 5-0 Knights.
UCF(26-11/5-4 AAC) loaded the bases on Davis Kirkpatrick before a Kyle Marsh single in the top of the ninth delivered two more runs for the Knights to make it 7-0.