Mike Houston Headed to ECU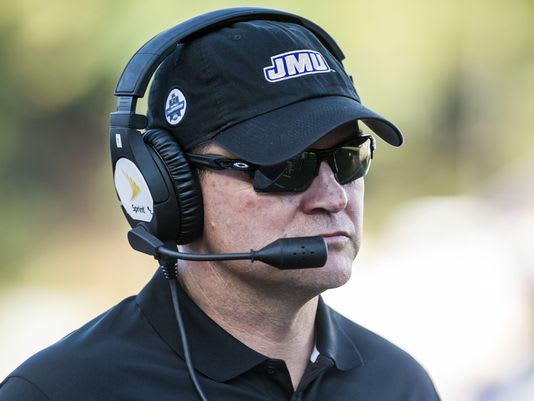 Mike Houston has agreed to become the new head football coach at East Carolina University according to multiple sources. The news was first broke by 94.3 The Game in Greenville on Sunday. Houston called a team meeting for Sunday afternoon at 5 o'clock where he will break the news to with his players.
Houston, who will be ECU's 22nd head coach in their football history, has been the main target of ECU for their football vacancy over the last few days. He was reportedly headed to UNC-Charlotte that announced they had a deal with him a few days ago, but there was only problem, he hadn't signed his name on the dotted line yet and when ECU came calling, he decided to pull back and listen to what the Pirates had to say.
The hiring process at Charlotte put a sense of urgency in ECU and likely sped up the process of firing Scottie Montgomery where in three years he won only nine games in consecutive 3-9 seasons and suddenly the Pirates were in the mix for Houston.
N.C. State easily beat ECU on Saturday 56-3. Montgomery opted to not coach in his team's final appearance of the year at Carter-Finley Stadium.
The Pirates have reportedly considered several others as well including former Tennessee head coach Butch Jones who worked with both Dave Hart and new incoming athletic director Jon Gilbert while in Knoxville.
Houston became James Madison's seventh head football coach in January of 2016. In three years at JMU he has led the Dukes to an amazing 37-6 record including 22-2 in CAA play. His team went 9-4 overall and 6-2 in AAC play this season. That follows a pair of 14-1 seasons in his first two years at Harrisonburg including an FCS national title.
Houston's team is fresh off a 23-20 loss at Colgate in the second round of the FCS football playoffs.
In eight years as a head coach, Houston holds an 80-25 overall coaching record.
In his second season at JMU, Houston led the Dukes to its first ever undefeated regular season, going 11-0, which included its second straight 8-0 CAA record to earn a second straight outright championship and a program-record third consecutive CAA title. The Dukes held the No. 1 seed for the FCS Playoffs for just the second time and earned home playoff wins against Stony Brook (26-7), Weber State (31-28) and South Dakota State (51-16) before falling in the title game to North Dakota State.
The Dukes led the country in scoring defense at just 11.1 points per game. They also led the FCS in interceptions (31), takeaways (44) and team pass efficiency defense (83.12 rating).
JMU ranked in the top 10 nationally in 14 categories, as it was also third in total defense (252.0), turnover margin (1.47), defensive touchdowns (5) and first downs (325), fourth in punt-return defense (3.33), fifth in sacks (3.4), seventh in rushing defense (90.5), eighth in fumble recoveries (13), ninth in completion percentage (64.9%) and net punting (38.77) and 10th in passing defense (161.5), third-down defense (30.1%), punt-return average (13.0) and blocked punts (2).
Eight players were voted All-Americans in 2017, including Andrew Ankrah, who was named a Consensus All-American after being tabbed to six different All-America First Teams.
Ankrah won the FCS ADA Defensive Player of the Year award and finished third for the STATS FCS Buck Buchanan Award.
Joining Ankrah on the All-America list were Aaron Stinnie, Jordan Brown, Rashad Robinson, Raven Greene, Kyre Hawkins, Jahee Jackson and Harry O'Kelly.
The Dukes also had 16 All-CAA honorees, which included three players garnering top-league awards. Ankrah was voted Defensive Player of the Year, John Miller tabbed Special Teams Player of the Year and Bryan Schor became JMU's first winner of the Chuck Boone Leadership and Excellence Award.
In his first season, Houston and the Dukes won the NCAA Division I Football Championship with a 28-14 win against Youngstown State.