Pirates Ready the Ship for Navy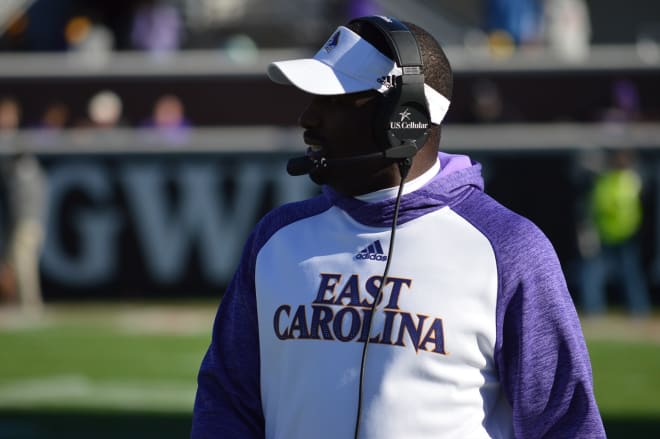 As the Pirates' season winds down to the final two games, the Pirates this week brace for (7-2) Navy who is 5-1 in their first season of conference football in the AAC.
ECU is still reeling having lost seven of it's last eight contests including a 55-31 loss to SMU last Saturday for Military Day in Dowdy-Ficklen Stadium.
For ECU, it could have gone much different against the Mustangs and the first year ECU head coach pointed to things that happened early in the game and often later in the game as the big difference in the outcome.
"Turnovers were the biggest contributor to where we are in the season and mental errors contributed to turnovers," Montgomery said on Monday, "We had a chance to be dominant when it was 7-3."
Montgomery said, "Laying the foundation is the most important things these days at ECU but laying the foundation can sometimes be the hardest part."
He pointed to Navy having a great defense this week and much of the difference that makes Navy shine is the toughness of their quarterback Will Worth who has rushed for 1,038 yards in the Midshipmen's option attack along with their running backs who are led by Chris High who has gained just under 500 yards this season along with Dishan Romine with 388 and Toneo Gulley with 354.
Worth has also thrown for 1,146 yards. Wide receiver Jamir Tillman is his prime receiver for Navy with 459 yards of catches this year in a run heavy offense that is averaging 35.3 points a game while only giving up just under 30.
Navy is averaging 309.6 rushing yards a game and just 132.3 through the air but when they throw it, the Midshipmen have a tendacy to catch defenses asleep which can lead to some issues if the ECU secondary isn't mindful.
Navy is 85 percent in the red zone and 78 percent of those scores have been touchdowns. They have only attempted six field goals all year and have connected on four of them.
"This is going to be a possession game. You can slow it down or speed it up but it's going to be a possession game," Montgomery said, "The biggest deal with Navy is the cut blocks."
Montgomery said he expects very few changes in the lineup this week although senior quarterback Philip Nelson sat out Sunday night's practice with a sore shoulder. Backup signal caller Gardner Minshew left the game after a hard hit to the shoulder on Saturday but he practiced Sunday night.
East Carolina(3-7/1-5 AAC) will need to play their best game if they are to have any chance of winning this week against a Navy team that has only lost on the road at Air Force 28-14 and in Tampa to USF 52-45.
Game time is 4 p.m. on ESPNews network television.
PirateIllustrated.com was there to bring you audio press conference coverage of Coach Montgomery's Navy Monday Press Conference.
SCOTTIE MONTGOMERY NAVY MONDAY PRESS CONFERENCE