UCF Converts Five East Carolina Turnovers Into a 37-10 Win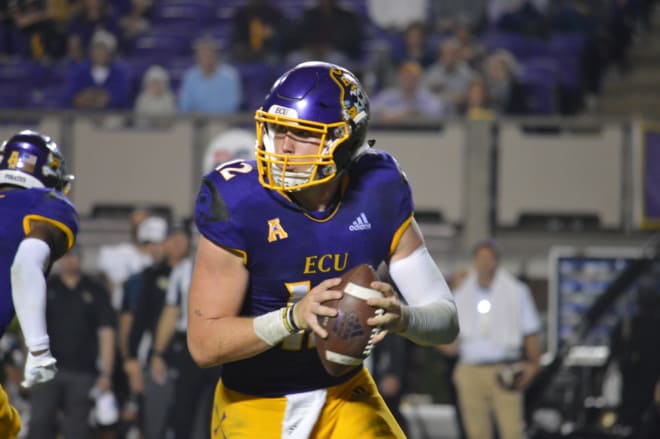 Darriel Mack stepped in at quarterback for an injured McKenzie Milton and ran for 120 yards and a touchdown to go along with 69 yards through the air to help lead (9)UCF to a 37-10 road win over ECU Saturday night.
Mack got plenty of help from running back Greg McCrae and Adrian Killins who combined for 143 ground yards and a touchdown as the Knights moved to 7-0 on the season overall and 4-0 in AAC play.
The Pirates had every opportunity to make a game of it right down to ten minutes to go in the game where ECU had the football on the two-yard line with a chance to cut the lead to just six. But a Holton Ahlers fumble of a slick football when he tried to throw a jump-pass over the Knight defensive line was fumbled and returned by Nate Evans 94 yards for a touchdown to effectively put the game out of reach.
Ahlers described what happened on the jump pass attempt near the goal line.
"We've run it a lot during practice ever since Carolina. I jumped up to throw it, he was mashed and I tried to throw it but it slipped away," Ahlers said, "It was terrible, but that's on me and I've got to learn from that and it won't happen again. Even though I'm a freshman, I can't make freshman mistakes. I'm the starting quarterback and my job is to lead them to win and I felt tonight without those three turnovers we're in this game."
Scottie Montgomery was complementary of Ahlers' efforts in just his first full game as the Pirate starter.
"Holton Ahlers played an incredible game. He did have a couple of mistakes. I think he's going to be a fantastic quarterback here in the next few weeks or so," said Montgomery, "He's doing everything we're asking him to do. He generated a run game. We've got to continue to work on our run game to make sure it's better but the story of the game is the way we turned the football over."
"When you're playing the number nine team in the country you've got to play penalty free and mistake free and you definitely can't have that many turnovers in the football game," Montgomery said.
All told ECU coughed it up four times to go along with one interception from Ahlers who otherwise gave the Pirate faithful a glimpse of the future. The former D.H. Conley star threw for a personal best of 406 yards and ran for 69 more. Ahlers' 29-yard touchdown strike to Trevon Brown midway into the third quarter trimmed the Knight's lead to 20-10 with 6:04 to go in the third quarter.
"I knew we got some yards, but it's not good enough. We didn't win. I had three turnovers and that's on the offense," Ahlers told PirateIllustrated.com afterward, "I told the defense, that's on the offense. We put them in some bad situations but that's on us. We're going to come back this week and we're going to work and we're going to be alright."
Ahlers found Trevon Brown ten times for 145 yards to go along with five catches from Deondre Farrier for career best 109 yards to lead all Pirate receivers.
But it was the ECU defense came up big time after time getting timely stops in a 6-3 game midway through the second quarter and giving the Pirates an opportunity throughout the game if the ECU could convert them into touchdowns.
Pirate nickel back Devon Sutton had twelve tackles to go along with ten each from linebackers Bruce Bivins (a personal best) and Aaron Ramseur. Cannon Gibbs added eight stops from his linebacker spot for an aggressive Pirate defensive group that continues to grow up before everyone's eyes under new defensive coordinator David Blackwell.
The Knights weren't too shabby on defense either with strong safety Kyle Gibson logging twelve tackles to go along with ten from linebacker Nate Evans and nine more from defensive end Titus Davis.
Greg McCrae's 74-yard touchdown run on third down with 6:14 remaining proved to be the icing on the cake for the undefeated and nationally ranked Knights who haven't lost in a nation's best 20 straight games.
The Pirates outgained UCF 496 to 427 overall, but that doesn't factor in a 94-yard UCF fumble recovery for a touchdown. All told, ECU(2-5/0-4 AAC) snapped the football a whopping 94 times to 76 for the Knights who still won the time of possession battle by a full three minutes.
After the game, ECU head coach Scottie Montgomery summed up his team's play.
"I thought we played really well at times on defense. We gave ourselves a chance to go and be successful. We held one of the best offenses in the country to just over 400 yards and got some major stops on third down," Montgomery said, "We were exactly the same on third down conversions. We out gained them on offense, but the offensive story was just turnovers."
Tight end Anthony Watley's four catches for 44 yards are both career highs and Darius Pinnix caught a personal best four passes for 54 yards. Both teams went 9 for 19 on third down conversions.
ECU takes a week off next week before returning to action in two weeks at home against Memphis.
PI AUDIO POST GAME INTERVIEWS: UCF 37 ECU 10